David Bowie 1973-04-17 Osaka ,Koseinenkin Kaikan – Live In Japan (Disc 6) – (second part of the show).
Sound Quality Rating
01. The Jean Genie.wav
02. Time.wav
03. Five Years.wav
04. lets Spend The Night Together.wav
05. suffragette City.wav
06. Rock & Roll Suicide – Land Of Hope and Glory (outro).wav
Label: HIVE – HIVEDB06
Audio Source: audience
Lineage:
Total running time: 0:31:12
Sound Quality : Not good ,much Noise ,very dull
Attendance: Sold out
Artwork: Yes.
The Live In Japan box set comprises seven of the concerts in Japan in April 1973. it's a premium item, in beautiful packaging, like a set of seven Japanese singles from the era. In some cases, however, the quality of the recording doesn't quite match the quality of the presentation.
Disc 6 was recorded at Koseinenkin Kaikan in Osaka on 17th April 1973 and, as always, is part of the concert only. This is a huge improvement in sound compared to the wretched Hyogo and Osaka bootleg. It's got whistly reverb for large parts of it, but it's a perfectly decent listen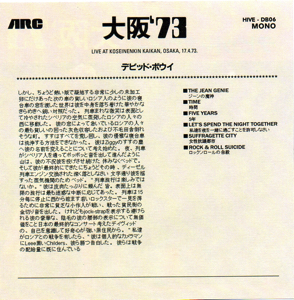 David Bowie Tour Band – The Ziggy Stardust Tour
David Bowie
– vocals, guitar, harmonica
Mick Ronson – guitar, vocals
Trevor Bolder – bass
Mick "Woody" Woodmansey – drums
Matthew Fisher – piano (20 Apr 1972 – 27 May 1972)
Robin Lumley – piano (2 Jun 1972 – 15 Jul 1972)
Nicky Graham – piano (1 Aug 1972 – 7 Sep 1972)
Mike Garson – piano, mellotron, organ (22 September 1972 – end of tour)
John Hutchinson – rhythm guitar, 12-string acoustic guitar (8 Apr 1973 – 20 Apr 1973 – 3 July 1973)
Aynsley Dunbar – additional drums (8 Apr 1973 – 20 Apr 1973)
Geoffrey A. MacCormack – backing vocals, percussion (19 January 1973 – end of tour)
Ken Fordham – saxophone (19 January 1973 – end of tour)
Brian Wilshaw – saxophone, flute (19 January 1973 – end of tour)

Crew
Robin Mayhew ,Will Palin ,Mick Hince ,Dean Heiser – Sound ,Ground Control ,Front of House Engineer ,Stage hands
Nigel Olliff, Nick Gilbey, Paul Normand and crew – Lights ,1972 Heavy Light ,1973 See Factor Industries NY Bob See ,Steve Hurston ,Mick Fussey
Peter Hunsley – Stage Equipment
Suzi Fussey – Wardrobe, Makeup and Hair




(Visited 429 times, 1 visits today)