David Bowie 1972-05-07 Hemel Hempstead ,The Pavilion – The Night Begins For One –
Sound Quality Rating
01. Hang On To Yourself.flac
02. Ziggy Stardust.flac
03. The Supermen.flac
04. Queen Bitch.flac
05. Song For Bob Dylan.flac
06. Changes.flac
07. Starman.flac
08. Five Years.flac
09. Space Oddity.flac
10. Andy Warhol.flac
11. Amsterdam.flac
12. I Feel Free.flac
13. The Wild Eyed Boy From Freecloud.flac
14. Moonage Daydream.flac
15. White Light White Heat.flac
16. You Got To Have A Job.flac
17. Suffragette City.flac
18. Waiting For The Man.flac
Label: From The Hunky Geordie Tapes – HUG135CD
Audio Source: audience
Total running time: 1:16:28
Sound Quality: noise ,dull ,but still good listened to
Attendance: 1.041
Artwork: by Steve23yh.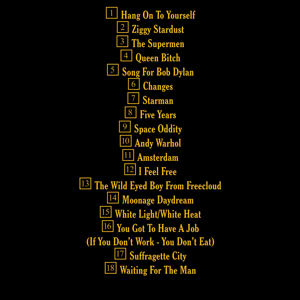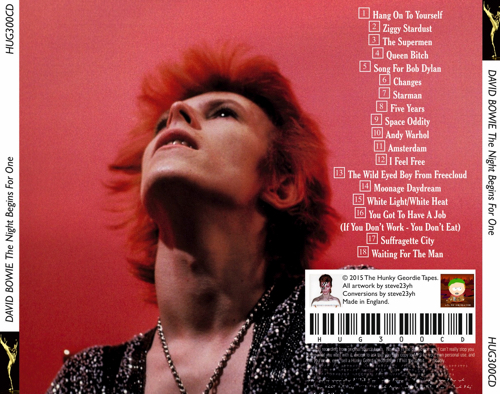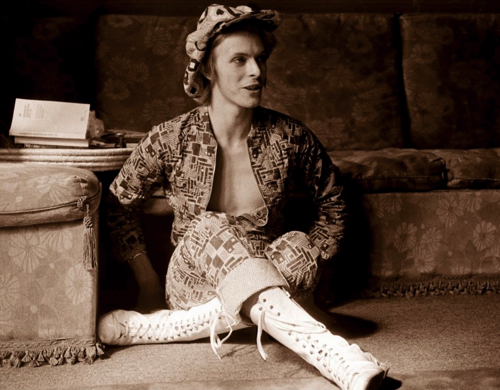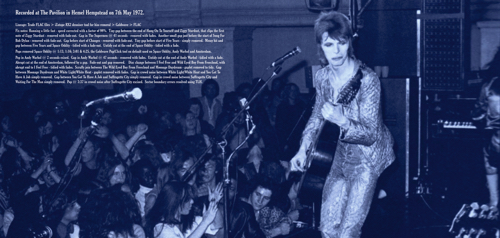 This show is one of the most sought after. It was rumored to be around in "certain circles" for quite a long time and only one song was open to a wider public until now: Gotta Get A Job. So .
The show itself is really great and soundwise it is close to the Kingston Polytechnic from one day earlier.
It is a bit annoying that there are cuts between the songs but there always things to complain about. It's simply another great document of the early Ziggy phase with powerful versions of Moonage Daydream (David shouting all his passion out) or Waiting For The Man with a mind-blowing guitar solo of Mick Ronson.
Also he performs some tracks only present in the early Ziggy phase like I Feel Free or Gotta Get A Job/Hot Pants.
David Bowie Tour Band – The Ziggy Stardust Tour
David Bowie – vocals, guitar, harmonica
Mick Ronson – guitar, vocals
Trevor Bolder – bass
Mick "Woody" Woodmansey – drums
Matthew Fisher – piano (20 Apr 1972 – 27 May 1972)
Robin Lumley – piano (2 Jun 1972 – 15 Jul 1972)
Nicky Graham – piano (1 Aug 1972 – 7 Sep 1972)
Mike Garson – piano, mellotron, organ (22 September 1972 – end of tour)
John Hutchinson – rhythm guitar, 12-string acoustic guitar (8 Apr 1973 – 20 Apr 1973 – 3 July 1973)
Aynsley Dunbar – additional drums (8 Apr 1973 – 20 Apr 1973)
Geoffrey A. MacCormack – backing vocals, percussion (19 January 1973 – end of tour)
Ken Fordham – saxophone (19 January 1973 – end of tour)
Brian Wilshaw – saxophone, flute (19 January 1973 – end of tour)
Crew
Robin Mayhew ,Will Palin ,Mick Hince ,Dean Heiser – Sound ,Ground Control ,Front of House Engineer ,Stage hands
Nigel Olliff, Nick Gilbey, Paul Normand and crew – Lights ,1972 Heavy Light ,1973 See Factor Industries NY Bob See ,Steve Hurston ,Mick Fussey
Peter Hunsley – Stage Equipment
Suzi Fussey – Wardrobe, Makeup and Hair
.
(Visited 1,099 times, 1 visits today)