David Bowie 1973-06-29 Leeds ,Kirkstall Rolarena – Busting Up My Brains –
Sound Quality Rating
01. Ode To Joy.flac
02. Hang On To Yourself.flac
03. Ziggy Stardust.flac
04. Watch That Man.flac
05. Wild Eyed Boy From Freecloud.flac
06. All The Young Dudes.flac
07. Oh You Pretty Things.flac
08. Moonage Daydream.flac
09. Changes.flac
10. Space Oddity.flac
11. William Tell Overture.flac
12. The Jean Genie.flac
13. Time.flac
14. The Width Of A Circle.flac
15. band introductions.flac
16. Let's Spend The Night Together.flac
17. Suffragette City.flac
18. White Light White Heat.flac
19. Round And Round.flac
Label: No label
Audio Source: audience
Lineage: TDK D90 tape > Denon DRM-500 tape deck
Total running time: 1:20:04
Sound Quality : Couldn't be worse !Nothing but a dull drone
Attendance: ???
Artwork: yes.
This is a very listenable quality show
The recording is none too good , but the tape is very rare and therefor of interest for collectors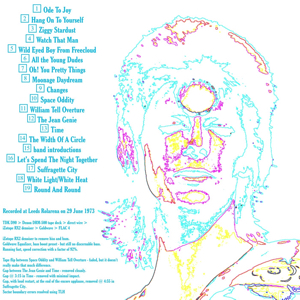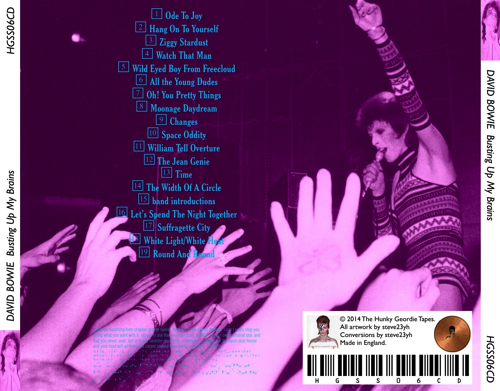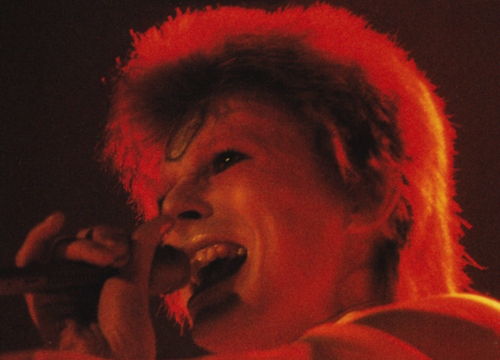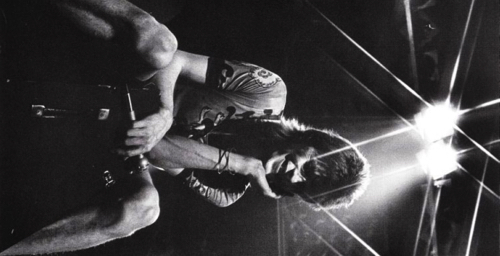 David Bowie Tour Band – The Ziggy Stardust Tour
David Bowie
– vocals, guitar, harmonica
Mick Ronson – guitar, vocals
Trevor Bolder – bass
Mick "Woody" Woodmansey – drums
Mike Garson – piano, mellotron, organ (22 September 1972 – end of tour)
John Hutchinson – rhythm guitar, 12-string acoustic guitar (8 Apr 1973 – 20 Apr 1973 – 3 July 1973)
Geoffrey A. MacCormack – backing vocals, percussion (19 January 1973 – end of tour)
Ken Fordham – saxophone (19 January 1973 – end of tour)
Brian Wilshaw – saxophone, flute (19 January 1973 – end of tour)

Crew
Robin Mayhew ,Will Palin ,Mick Hince ,Dean Heiser – Sound ,Ground Control ,Front of House Engineer ,Stage hands
Nigel Olliff, Nick Gilbey, Paul Normand and crew – Lights ,1972 Heavy Light ,1973 See Factor Industries NY Bob See ,Steve Hurston ,Mick Fussey
Peter Hunsley – Stage Equipment
Suzi Fussey – Wardrobe, Makeup and Hair



—————————————————————-
Yorkshire Evening Post : Thursday 27 June 2013

David Bowie: The day a starman landed in Leeds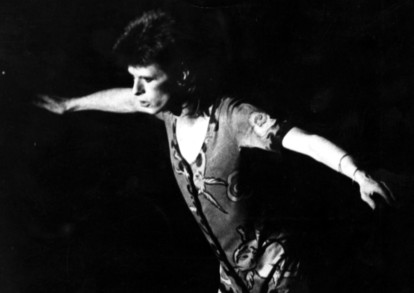 David Bowie performing at Kirkstall Rolarena in 1973.
David Bowie is one of the biggest names in pop history – and 40 years ago this week he brought his magic to a very unlikely venue. Jayne Dawson reports
It was the year the IRA brought its bombs to England, Last of the Summer Wine began on the telly and boys you knew started wearing earrings.
In June, Slade were at No 1 in the charts with Skweeze me, Pleeze me, which was pretty strange spelling.
But in Leeds that month, something even stranger was happening. On Friday, June 29, 1973, an alien landed in Leeds, and treated the teenagers of the city to their first ever sighting of… a man in a leotard.
David Bowie was in town, and he was being Ziggy Stardust.
What's more, he was being Ziggy Stardust in the unlikely setting of Kirkstall Rolarena, a former ice-rink on Kirkstall Road that had been converted to roller-skating.
Everything about this concert was strange and exciting. For a start, it was cancelled. Twice. The show had been intended to happen at Leeds University a few weeks earlier, but it had been called off – just three hours before Bowie was due on stage – because "the stage was too small".
This was probably news to the Stones, Led Zeppelin, The Who and Pink Floyd, who had all played there without mishap but, hey-ho, David Bowie was a proper artist.
The then president of the students union, Mr Abdul Hai, said as much when he gave his own succinct verdict on the cancellation to the Yorkshire Evening Post.
"He is an exhibitionist, and needs a lot of room," he said.
And Bowie made it to the city eventually, four weeks and one more cancellation later, to perform two shows in one day, so many in Leeds saw superstar Bowie as a matinee performance. Tickets were £1.25 each.
Among the audience was – me, but a bit more of that later. Also crammed in there was Paul Carroll, now an author and PR consultant, but then a 17-year-old Bowie fan living in Holt Park with his parents and five brothers and sisters.
Paul said: "It was one of the strangest couplings of performer and venue in rock and roll history.
"When the first show was cancelled, there was an emergency announcement on Yorkshire TV to alert gig goers who by then, no doubt, were fully made up, fully sequinned and ready for action. I know I was.
"Possibly the real reason for the cancellation lay in the rumour that the band were indisposed at their hotel, the Post House at Bramhall.
"Bowie's tour itinerary that June lists cancelled shows at Portsmouth and Coventry as well, which may give a clue as to the level of 'tour fatigue'."
When Bowie and his band, The Spiders From Mars, did make it to the stage, Paul managed to sneak a cassette player into the Rolarena and recorded segments of the show which he subsequently played to death, despite the terrible sound quality.
"I can only imagine I was saving the battery by recording some, rather than all, of the gig!" he said.
"It was fantastic right from the start. The Spiders came on to the Walter Carlos' version of Beethoven's Ninth from the film Clockwork Orange, and went straight into Hang On To Yourself.
"The crowd, even without skates, moved like tigers on Vaseline and never stopped until the end of the encore – White Light, White Heat.
"What I'd give for that crackly audiocassette tape now. All these years later, it's still one of the most memorable gigs I've ever attended."
Another Leeds boy at the early concert that day was Ian De-Whytell. Now he is a 55-year-old record shop owner who runs Crash Records in Leeds. He has seen David Bowie around 40 times, and has even met him at an aftershow party, which again happened on June 29, but in 2002.
But back on June 29, 1973, he was a 15-year-old watching his first concert.
He said: "I think I walked out of that gig with my mouth wide open, it just blew me away. It was amazing, I had never seen anything like it before.
"The way he was moving around within the strobe lighting really impressed me, it was all such a fantastic spectacle. I felt as if I was in the presence of something unique, someone head and shoulders above anyone else in terms of talent.
"Originally I was just going to stand outside the university gig, because I hadn't got a ticket, but when he cancelled I got a second chance.
"Me and my mates bought our tickets from a record shop called Scene and Heard in Leeds, but we didn't dress up for the concert. My dad would have clipped me round the ear. Growing your hair long was bad enough, without turning up with a Bowie cut."
But the Yorkshire Evening Post review of the concert was a little ambivalent about Bowie. Referring to the kerfuffle leading up to the concert, our man on the scene said, rather sniffily: "Pretty boy Bowie paid his dues and in turn the fans took him back and laid themselves at this feet – some literally.
"This man, who induces the same sort of apoplexy in parents that Mick Jagger did in the Sixties, stalked and strutted about the stage dressed in gowns most women wouldn't have been ashamed to be seen in.
"Between numbers, girls came on to the stage and stripped him, first to a toga and later to several leotards. Oh, I almost forget the earrings."
As for me, what can I say? There he was: gorgeous, exotic, David Bowie, sharing the same oxygen as the rest of us.
The building was dirty and ramshackle, my going-out dress was never the same again, and it was a ludicrous setting for such an ethereal character.
But none of it mattered because Ziggy Stardust was up on stage, and me and my friend Helen were in heaven – even if we didn't quite know whether it was alright to scream at a man who looked a lot like a girl.
We lived in a world where boys wore Doc Martens and shaved their heads, so he was a shock, but a bold, brilliant, beautiful shock.
The acoustics weren't the best, the Rolarena not being really wired for sound, but we knew the songs by heart already so it didn't matter.
Hammersmith, and Bowie's last ever show as Ziggy, was to follow only four days later. The Starman was dead, but those who saw him in Leeds caught a fleeting glimpse of pop genius.
We had felt privileged at the time and, as it turned out, we were.
THE SETLIST
Hang On to Yourself
Ziggy Stardust
Watch That Man
Wild Eyed Boy From Freecloud
All the Young Dudes
Oh! You Pretty Things
Moonage Daydream
Changes
Space Oddity
The Jean Genie
Time
The Width of a Circle
Let's Spend the Night Together
Suffragette City
White Light/White Heat
comments:
name : Real Loner
03/07/2013
where is the rest of the gigs photos the yep was there ………….
Name : Cosmo Kramer
3:29 PM on 27/06/2013
I went to the second performance and has we waited outside we heard the last two numbers which included the encore Drive In Saturday. That track was my new favourite has it had only been in the chart a week or two. Sadly he didn't play that at the end my gig and played what seems to be White light/White heat which may have been the B side to D. I. S.
Can't remember anything about the Universty gigs being cancelled not show how I got hold of the tickets. I don't remember the Rolarena stage been any bigger than any other stage. As the reporter says, it was dirty, enclosed, and about the same size if a different shape to my school hall. Don't even think they turned the lights down for the performance, one minute we were milling around the stage and next Bowie was on out of nowhere.
Would like to know how many attended both performances. It was such a small venue and even though it was full it didn't seem packed – all this was 40 yrs a go so maybe my memory might differ to other peoples recollections.
Name : kevalino
3:11 PM on 27/06/2013
This comment is hidden because you have chosen to ignore kevalino. Show Details
This comment is hidden because you have submitted an abuse report against it. Show Details
I, too was stood outside the Uni when the news came through and was gutted. It seemed like a lifetime waiting for the re-arranged show by which time the country was in a frenzy over Ziggy. I have seen many of the big named artists over the years but nothing will ever match that amazing night in Kirkstall. Just a few days later at Hammersmith, Ziggy retired and I still watch the video of that show and pretend it was filmed in Leeds! With the release of his latest album I was hoping for a final tour but no news as yet.
Name : Whitesaidfred
10:56 AM on 27/06/2013
This comment is hidden because you have chosen to ignore Whitesaidfred. Show Details
This comment is hidden because you have submitted an abuse report against it. Show Details
I was outside the university when I heard it was cancelled, devastated!! couldn't make the rollerena gig as Iwas on holiday with Mum and Dad and they wouldn't let me cancel (I tried) double devastated !!!!
By the way I seem to remember Bowie wearing Doc Martins on an album cover
(Visited 2,760 times, 1 visits today)