David Bowie 1972-10-07 Chicago ,Auditorium Theatre – Ace Invader –
Sound Quality Rating
01. Ode To Joy.flac
02. Hang On To Yourself.flac
03. Ziggy Stardust.flac
04. The Supermen.flac
05. Queen Bitch.flac
06. Changes.flac
07. Life On Mars.flac
08. Five Years.flac
09. Space Oddity.flac
10. Andy Warhol.flac
11. My Death.flac
12. The Width Of A Circle.flac
13. John I'm Only Dancing.flac
14. Moonage Daydream.flac
15. Starman.flac
16. Waiting For The Man.flac
17 White Light White Heat.flac
18. Suffragette City.flac
19. The Jean Genie.flac (performed for the first time).
Label: From The Hunky Geordie Tapes – HUG209CD
Audio Source: audience
Lineage: TDK SA90 (Arcorman) > Denon DRM-500 tape deck
Total running time: 1:20:07
Sound Quality noise ,dull ,but still good listened to
Attendance: 4.3000
Artwork: Steve23yh.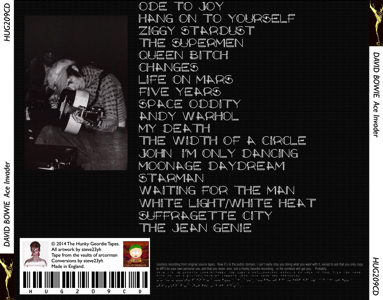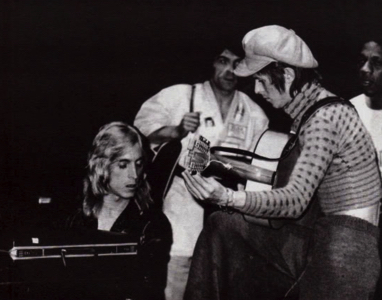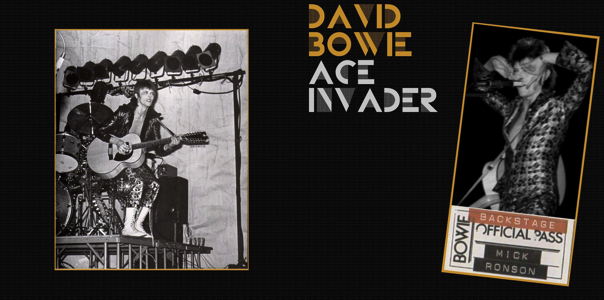 "Thank you very much,were gonna do a number from the Hunk Dory Album it's called Life on Mars" Bowie tells the audience who are reasonably enthusiastic and clap along with many a song.Afrer Five fears Bowie gets his 12-string guitar shouldered for Space Oddity,and meanwhile people from the audience call out the names of their favorite songn,e.g. Andy Warhol and Saviour Machine. Space Oddity Starts and the audience quite enjoy that too.It is splendidly performed with Robson playing the second part.
At the beginning of Andy Warhol Bowie stops and a lot of screaming of the audience can he heard. Something is happening with over-enthusiastic fans or something of the sort; at least Bowie soon continues.
This time Bowie does not announce My Death and when it Starts no one applauds,for no one knows it. But the audience are quite silent while the song lasts and gives it a great applause when it is over.
To Moonage Daydream Bowie.says "This is a number by Ziggy" and for the first line e he sings – off key – "Well I'm an ace invader"! Not very successful,so he stops immediately and starts anew. "This is a number from Ziggy,it's Called Moonage Daydream" .
"Thank you!" he calls gratefully when he is called back for Jean Genie. "We've done some recording and this is one we recorded in New York,and it's for a friend of ours,Iggy Pop. He's not here tonight so it's for you here,it's called Jean Genie". After this song there is Rock & Roll Suicide.
David Bowie Tour Band – The Ziggy Stardust Tour
David Bowie – vocals, guitar, harmonica
Mick Ronson – guitar, vocals
Trevor Bolder – bass
Mick "Woody" Woodmansey – drums
Matthew Fisher – piano (20 Apr 1972 – 27 May 1972)
Robin Lumley – piano (2 Jun 1972 – 15 Jul 1972)
Nicky Graham – piano (1 Aug 1972 – 7 Sep 1972)
Mike Garson – piano, mellotron, organ (22 September 1972 – end of tour)
John Hutchinson – rhythm guitar, 12-string acoustic guitar (8 Apr 1973 – 20 Apr 1973 – 3 July 1973)
Aynsley Dunbar – additional drums (8 Apr 1973 – 20 Apr 1973)
Geoffrey A. MacCormack – backing vocals, percussion (19 January 1973 – end of tour)
Ken Fordham – saxophone (19 January 1973 – end of tour)
Brian Wilshaw – saxophone, flute (19 January 1973 – end of tour)
Crew
Robin Mayhew ,Will Palin ,Mick Hince ,Dean Heiser – Sound ,Ground Control ,Front of House Engineer ,Stage hands
Nigel Olliff, Nick Gilbey, Paul Normand and crew – Lights ,1972 Heavy Light ,1973 See Factor Industries NY Bob See ,Steve Hurston ,Mick Fussey
Peter Hunsley – Stage Equipment
Suzi Fussey – Wardrobe, Makeup and Hair
==========================
Gap in The Supermen @ 1:39. Simply removed.
Bit of volume reprofiling to the middle of Five Years.
Gap at 2:36 in Space Oddity, with small clip inserted from another artist. Removed with fades.
Gap clipping the start of Andy Warhol – simply removed. Just before three pops from fiddling with the tape recorder – volume suppressed.
Tape flip between My Death and The Width Of A Circle in crowd noise (5:32) – removed, with light fade-in.
Gap at 3:21 in Moonage Daydream that cuts the start of the instrumental break. Removed with fades.
Two small gaps in crowd noise between Starman and Waiting For The Man (at 3:51 and 3:53) both removed with minimal impact.
Another small gap immediately before the start of Suffragette City. Removed.
Gap in crowd noise between Suffragette City and The Jean Genie (at 3:24) simply removed.
Three gaps in crowd noise at 3:57-3:58 in The Jean Genie, all removed.
Sector boundary errors resolved using TLH.
=========================
.
(Visited 599 times, 1 visits today)