David Bowie 1973-06-22 Birmingham ,Town Hall – Birmingham Town Hall 22nd June 1973 – (Remaster) –
Sound Quality Rating
01 – Intro.flac
02 – Hang On To Yourself.flac
03 – Ziggy Stardust.flac
04 – Watch That Man.flac
05 – Wild Eyed Boy From Freecloud.flac
06 – All The Young Dudes.flac
07 – Oh! You Pretty Things.flac
08 – Moonage Daydream.flac
09 – Queen Bitch.flac
10 – Space Oddity.flac
11 – William Tell Overture (Intro).flac
12 – Jean Genie.flac
13 – Time.flac
14 – Width Of A Circle.flac
15 – Band Intro.flac
16 – Let's Spend The Night Together.flac
17 – Suffragette City.flac
18 – I'm Waiting For The Man.flac
19 – White Light White Heat.flac
Label: l
Audio Source: audience
Lineage:
Total running time: 1:19:28
Sound Quality : Bad ,excessive noise ,extremely dull : can hardley be listened to.
Attendance: 1.450
Artwork: By Mossgarden
Remaster : By Learm
Bowie was one of the many legendary musicians to have performed at Birmingham's iconic Town Hall which has also hosted the likes of Led Zeppelin, Buddy Holly, Roy Orbison (supported by The Beatles) and Black Sabbath.
This tape seems to be very rare as it never appeared on any torrent tracker (as far as I could find out). The recording itself is by no means
complete as it is composed of the 2 shows of that day and from both shows quite some portions are missing.
what in my opinion makes this recording great is the atmosphere of the set, especially during more quiet passages. You can almost materialize how the fans are reaching out
their arms to touch David. Amongst others there are great versions of Time, Jean Genie/Love Me Do and especially Let's Spend The Night Together with a big portion
of Mike Garson's piano (who "is not really a Spider" according to David's band introduction). And what a nice transition from Wild Eyed Boy.. to All The Young Dudes.
Attached you find not only the cover from the original recording but also some other items I found in the web like a copy of the ticket stub, a very blurred photo of one of
the shows and the poster.
The recording is supposed for 2 cd's While as it is below 80 min. it fits on one cd. So it's up to you what you make out of it.
I hope you will enjoy this tape as much as I do.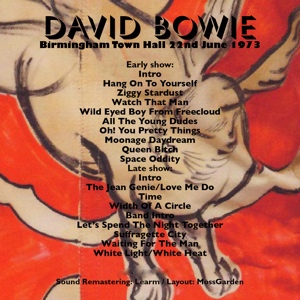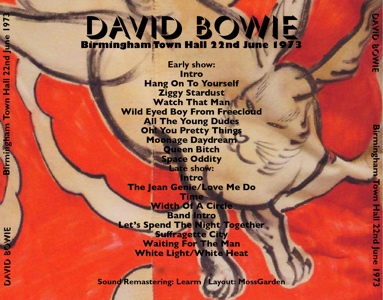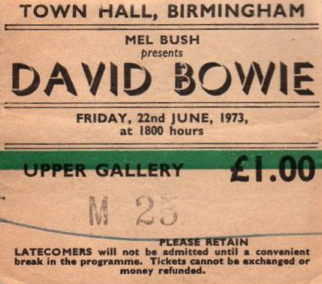 David Bowie Tour Band – The Ziggy Stardust Tour
David Bowie
– vocals, guitar, harmonica
Mick Ronson – guitar, vocals
Trevor Bolder – bass
Mick "Woody" Woodmansey – drums
Mike Garson – piano, mellotron, organ (22 September 1972 – end of tour)
John Hutchinson – rhythm guitar, 12-string acoustic guitar (8 Apr 1973 – 20 Apr 1973 – 3 July 1973)
Geoffrey A. MacCormack – backing vocals, percussion (19 January 1973 – end of tour)
Ken Fordham – saxophone (19 January 1973 – end of tour)
Brian Wilshaw – saxophone, flute (19 January 1973 – end of tour)
 
Crew
Robin Mayhew ,Will Palin ,Mick Hince ,Dean Heiser – Sound ,Ground Control ,Front of House Engineer ,Stage hands
Nigel Olliff, Nick Gilbey, Paul Normand and crew – Lights ,1972 Heavy Light ,1973 See Factor Industries NY Bob See ,Steve Hurston ,Mick Fussey
Peter Hunsley – Stage Equipment
Suzi Fussey – Wardrobe, Makeup and Hair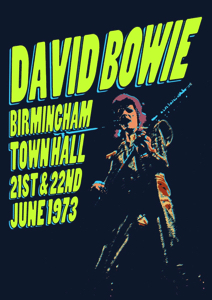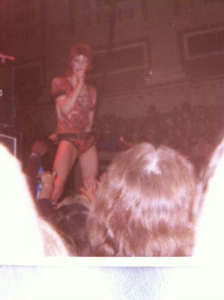 (Visited 1,321 times, 1 visits today)