David Bowie A Letter To Hermoine – Demos and Outtakes 1969 – SQ 8
Recorded at Falmouth ,December 26th 1968
01. Space Oddity.flac
02. Janine.flac
03. An Occasional Dream.flac
04. Conversation Piece.flac
05. Ching-A-Ling.flac
06. I'm Not Quite.flac
07. Love Song.flac
08. When I'm Five.flac
09. Life Is A Circus.flac
Recorded from "A Lunchtime Performance" London ,Hampstead The There Horseshoes ,May 6th 1969
10. Waiting For The Man.flac
11. Little Toy Soldier.flac
12. Right On Mother.flac
13. Lady Stardust.flac
This CD is recorded off the LP LETTER TO HERMOINE (1990), plus some outtakes from the LP LITTLE TOY SOLDIER (1983). The same very good and excellent sound quality as on the vinyls has been maintained. This was the first CD to contain the "Beckenham Tape", but not the last one!
LETTER TO HERMOINE (LP): A re-issue of LP THE BECKENHAM ODDITY (1987). This disc is not recorded from the master tape, but straight off the original release, so the quality hasn't improved.
THE BECKENHAM ODDITY (LP): This is the first release of this session with David and Hutch playing some songs intended for the coming album. A fantastic record with two previously unavailable songs LOVE SONG / LIFE IS A CIRCUS. It is like christmas every time that stuff like this gets available. LETTER TO HERMIONE is listed as I'M NOT QUITE on the cover. The sound quality is pretty good.
LITTLE TOY SOLDIER (LP): A very interesting album in marvelous sound quality! The outtakes stems from '67 -'71. There's no information on the cover regarding when these songs were recorded, and WAITING FOR THE MAN / LITTLE TOY SOLDIER might be as old as from 1967? A true must in every Bowie collection!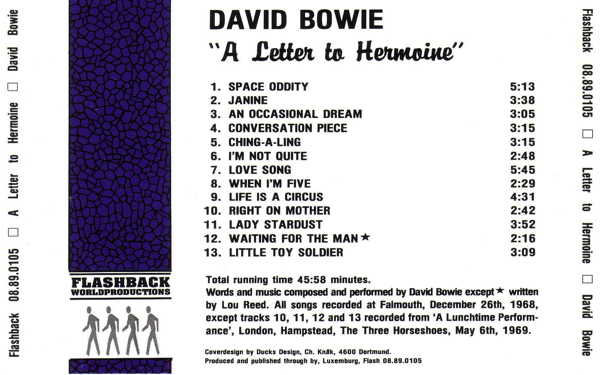 (Visited 1,960 times, 1 visits today)