David Bowie BowieNet Mash Up's 2004 (Remix).
Sound Quality Rating
01 – Major Days (David Bowie).
02 – Boys Keep Looking For Water.
03 – Goon Squad Vs The Disco King.
04 – Major Tom Is A Lucky Guy.
05 – Fly So Far Away.
06 – The Deranged Disco King.
07 – The Broken Men.
08 – The King Of Fame (David Bowie MashUp).
09 – Win (David Bowie, Tony Visconti Mash Up Remix).
10 – Something In The Air (David Bowie, MashUp).
11 – Don't Let Me Die In The Jungle.
12 – Fame (I Want To Be Loved, David Bowie).
13 – Looking For A Sense Of Mr. Gravedigger.
14 – Oblivion (9 Dreamers Mix).
15 – Oblivion (Psycho Scissor Mix).
16 – The Pretty Things Are Going To Hell (Because You).
17 – Legend (MashUp, Cut)
18 – Fame (Is It Any Wonder, Im Gonna, David Bowie, Live).
19 – Big Shaken Car.
20 – Looking For A Sense Of Mr. Gravedigger.
21 – Always Crashing In The Same Car (David Bowie, MashUp).
Label : No label
Audio Source :
Lineage : Unknown
Total running time : 1:18:52
Sound Quality : Excellent quality! Equals record or Radio/TV
Artwork : Yes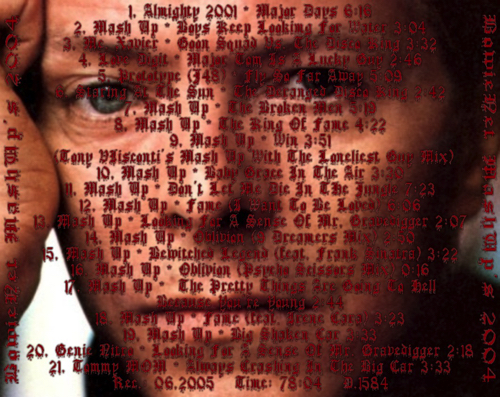 14 JUNE 2004
David Bowie?s Mash-up Remix Contest Crowns A Winner
After thousands of entries and tens of thousands of votes, a winner has been crowned in DAVID BOWIE?s ?mash-up? contest, a unique challenge for fans to create the best remix of a song from his current REALITY album combined with another track from his extensive catalog.
Southern Californian David Choi?who creatively mashed BOWIE's 'She'll Drive The Big Car' (from 2003's REALITY album) and 'Shake It' (from 1983's LET'S DANCE) to form 'Big Shaken Car'–was selected from the six finalists by a panel of judges that included BOWIE himself.
The 18-year-old self-proclaimed 'music freak' will be awarded the 2004 Audi TT coupe grand prize.
The contest was co-sponsored by BowieNet, BOWIE's pioneering online community, and Audi of America, which also presented the second North American leg of BOWIE's 'A Reality Tour.'Choi, who graduated from High School last week, said he chose to mash-up the song 'She'll Drive The Big Car' because 'the song has a nice groove to it' and the contest was for a car.'
At the same time, Choi selected 'Shake It' because 'it made me feel real good.' With musical tastes that range from DAVID BOWIE to Usher and Switchfoot, Choi says he'll study the music industry in college and hopes one day to produce albums and do A&R work.
In addition to creating music on his home computer, Choi enjoys hanging with his friends, watching movies and working out. Second prize was awarded to Steve Dunsford of Hamilton, Ontario, who created 'Picasso Lies,' a mash-up of 'Pablo Picasso,' BOWIE's version of the Jonathan Richman-penned classic (from 2003?s REALITY), and 'Telling Lies' (from 1997's EARTHLING).
He will receive a complete set of Sony Media Software titles including: ACID® PRO 4 software, Vegas® +DVD Production Suite, Sound Forge® 7 software, CD ArchitectTM 5 software, Four (4) Vision Series' Libraries and 50 Loops for ACID' Loop Libraries.
Third prize went to Yoni Gileadi of Salt Lake City, Utah, for 'Major Tom Is A Lucky Guy,' a mash-up of BOWIE's ?The Loneliest Guy' (from 2003's REALITY) and 'Space Oddity' (from 1969's album of the same name).
Gileadi will receive a Sony Vaio Z1 series laptop. At the same time, all finalists will receive a free subscription to BowieNet and the latest software from ACID.Meanwhile, Audi has been airing a television commercial wrapped around 'Rebel Never Gets Old,' a mash-up remix of BOWIE's 'Never Get Old'–a highlight of the critically acclaimed REALITY album–and his timeless 'Rebel Rebel.'
The TV spot generated such a favorable response that BOWIE asked mash-up guru Mark Vidler of Go Home Productions fame to take the two original masters and create a single version of 'Rebel Never Gets Old.' Entrants visited www.neverfollow.com to download portions of songs from REALITY and selected classic BOWIE tracks.
They were able to utilize a free version of the Acid PRO music creation software called ACID Xpress, which was made available at the site. www.neverfollow.com was created jointly by Audi and CondéNet, a division of Condé Nast.
BOWIE–who is overseas for an array of headlining performances at the top festivals in Europe and the UK–just closed the three-day Isle Of Wight Festival, thrilling an audience of over 35,000 with a set that mixed classic songs, fan favorites and tracks from REALITY.
The influential rock legend's first major world tour in nearly a decade is encompassing 17 countries and earning him the best live reviews of his career. BowieNet, at www.davidbowie.com, has been expanding the limits of artist/fan interaction and collaboration since 1998. Members have co-written a song with BOWIE, helped choose album art and packaging, participated in a variety of chats, webcasts and online events and even attended members-only concerts. Trial membership to BowieNet is included with every ticket sold for A REALITY TOUR. Ticket holders receive a free 3-month membership.
(Visited 973 times, 1 visits today)