David Bowie 1973-01-04 BBC Radio Oxford – The Jean Genie – BBC Top Of The Tops ,BBC Radio Oxford Broadcast Sometime in 2011
Interview with John Henshall about the 1973 video tape of the Jean Genie.
Sound Quality Rating
01. The Jean Genie [Audio Only].
02. Interview with John Henshall.
03. The Jean Genie [Audio again first ever broadcast].
04. Interview continued.
05. Complete in one track.
06. BBC News 1.
07. BBC News 2.
08. BBC News 3.
Label : No label
Audio Source : TV/Radio Broadcast
Lineage : Unknown
Total running time : 0:45:56
Sound Quality : Excellent quality! Equals record or radio
Artwork : None
In July 1972,
David Bowie made a legendary appearance on the British music show Top of the Pops, doing a version of "Starman" that took glam rock mainstream and inspired a generation of U.K. teenagers to shoplift gender-bending clothes. Six months later, in January 1973, Bowie returned to Top of the Pops for a victory lap: a triumphant performance of "The Jean Genie." Promoting a new album, Aladdin Sane, Bowie was still dolled up in his Ziggy Stardust persona, with a crepe-style plaid jacket over his bare chest, a chain around his neck, and a shock of bright red hair. The Spiders from Mars emphasized the single's martial stomp and Bowie wailed on his harmonica like he was worried the BBC might take it away from him.
"I wanted to get the same sound as the Stones had on their first album on the harmonica," Bowie once said. "I didn't get that near to it but it had a feel that I wanted – that Sixties thing."
For five minutes, the Top of the Pops performance showcases the power of the interplay between Bowie and Spiders guitarist Mick Ronson. When they lean into the microphone together and sing "let yourself go," it's a command that band and audience both obey.
The music to "The Jean Genie" was inspired by Bo Diddley's "I'm a Man"; Bowie wrote the song's lyrics in the New York City apartment of model-actress Cyrinda Foxe, then a publicist for his management company and later married to David Johansen of the New York Dolls and Steven Tyler of Aerosmith. But the actual subject of the song was Iggy Pop, or at least a fictionalized version of him, Bowie said. The lyrics were about somebody who "sits like a man but he smiles like a reptile." The title of the song was an homage to French novelist/dramatist Jean Genet – Bowie has told different stories over the years whether the reference was unconscious or deliberate – while the line "He's so simple-minded, he can't drive his module" would, in turn, inspire the name of the band Simple Minds.
Bowie regarded "The Jean Genie" as a manifesto, not just a 45-rpm single. The following year, in a Rolling Stone interview with William S. Burroughs, Bowie said, "A song has to take on character, shape, body and influence people to an extent that they use it for their own devices. It must affect them not just as a song, but as a lifestyle."
Bowie's Top of the Pops performance of the song gave viewers a wide range of lifestyle choices, from his shiny earring to the lyric "strung out on lasers and slash-back blazers" to the alarming haircut of bassist Trevor Bolder. But at some point after the broadcast on January 4th, 1973, the BBC wiped the tape to save money. The performance would never have been seen again – except that cameraman John Henshall had employed an unusual fisheye lens of his own invention. Wanting the "Jean Genie" footage for his professional reel, he had retained a videotape copy. It remained in his personal collection, unseen for 38 years, when he discovered that his copy was the only one in existence. "I just couldn't believe that I was the only one with it," Henshall said. "I just thought you wouldn't be mad enough to wipe a tape like that."

David Bowie's lost 1973 Top of the Pops performance of The Jean Genie

David Bowie's lost 1973 performance of The Jean Genie – BBC News explains the discovery
I danced in Bowie's Jean Genie video but have never seen it, says his friend Wendy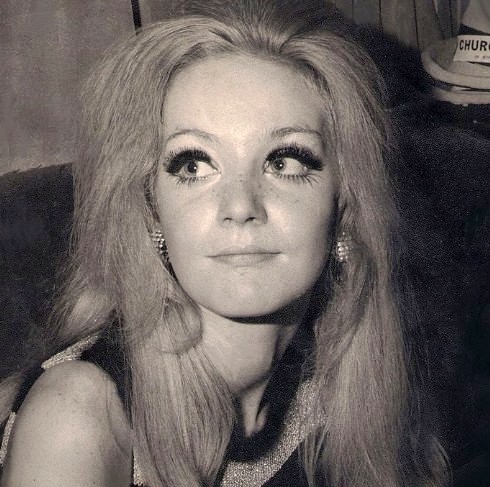 Wendy Kirby aged 19: as Freddie Burretti's flatmate, she met the Bowies at the Sombrero club's trendy Sunday feasts in Kensington — "We were the people always round David's house"
❚ "I WAS AT THAT TAPING," said Wendy Kirby on Facebook earlier today. "But I never got to see the video," she told Shapersofthe80s by phone later. She was talking about the longlost recording of David Bowie singing Jean Genie on Top of the Pops in 1973 — 38 years "Missing Believed Wiped" — and due to be screened tonight on BBC2 for the first time since.
Wendy was one of a posse of Bowie's friends he'd asked to accompany him to BBC TV Centre because, she says, he was feeling nervous — "If you can believe that! He comes across as very confident, but he was always very shy and didn't really want to go on Top of the Pops. Angie was the one with all the energy."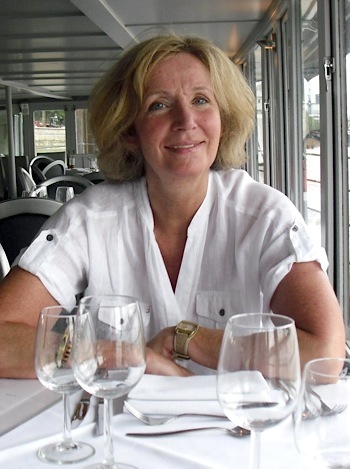 Wendy Kirby this year: "Amazing to see myself on Top of the Pops after all this time!"
When we spoke today Wendy was mildly surprised at all the fuss over the video she's never seen, but then, even as a 14-year-old schoolgirl she was a regular in the audience for Top of the Pops so had grown pretty blasé.
About five years later she'd become one of Bowie's "piss-elegant champagne-drinking" entourage after meeting David and Angie at the Sombrero disco (strictly speaking, called Yours or Mine, beneath the restaurant El Sombrero in Kensington High Street) during the Hunky Dory period when he was wearing the Mr Fish man-dress and had long cascades of blond hair. All that was lopped and dyed red by Suzi Fussey for the Ziggy persona which made him a star. On Jan 3 1973, Wendy donned a black fishtail dress "with an exceedingly low back" plus a long blonde mermaid wig, and stepped into Studio 8 and onto the dancefloor for Top of the Pops in company with her flatmate Freddie Burretti (Bowie's costume designer for whom Moonage Daydream was written), Angie Bowie and panda-eyed Daniella Parmar whose constantly changing hair colour had convinced Bowie "of the importance of a synthetic hair colour for Ziggy".
David Bowie, Missing Believed Wiped, Jean Genie,1973,Top of the Pops,BBC, Mick Ronson, John Henshall, Spiders from Mars,Wendy said: "We were the 'young dudes' who shaved off our eyebrows just for camp, because you could paint them on higher up — that gave us a strange unearthly look which David adopted. He was always open to suggestions and went through our wardrobes like a magpie!"
Bowie name-checked his friends in the lyrics of the glam-rock anthem All the Young Dudes in 1972: Wendy's stealing clothes/ from Marks and Sparks/ And Freddi's got spots/ from ripping off the stars from his face/. When David told her, she replied: "You could at least have made it Harrods!"
She added: "Thing is, the fame happened seemingly overnight. People had thought of David as a one-hit wonder with Space Oddity, then suddenly in 1972 Starman was a hit and everything went from ordinary to unreal. Nothing was the same again."
Wendy had no idea whether the cameras had caught them dancing in the Jean Genie video newly discovered and due for broadcast tonight. "Pan's People had done their dance number and were heading out of the studio when David went onstage. They all stopped to watch his act and were mightily impressed. I remember a couple of them were wearing red fox-fur coats…"


Here's the proof broadcast tonight for the first time in 38 years! Wendy and Daniella Parmar dancing on Top of the Pops in 1973, just behind Mick's guitar. (Videograb © BBC)
❏ Update at 8pm: "Yes, that's me between David and Mick, the girl with a ton of make-up, huge eyelashes and the red flower in the hair — we piled on tons of everything then. That's Daniella dancing next to me. Amazing to see myself on Top of the Pops after all this time! I've never seen this before. And I haven't seen David perform live since… Those were great days and I was too young to appreciate them."
Of Bowie's Sombrero posse, today Wendy lives in West London and Daniella in Worthing. Freddie Burretti (born 1951, raised as Frederick Robert Burrett in Hackney) was also aka Rudi Valentino while fronting Bowie's 1971 phantom band, the specially created Arnold Corns. His talents were better expressed as Freddie Burretti, making Ziggy Stardust's outfits from the first quilted jumpsuit onward. He died while living in Paris in May 2001. The male escort Micky King recorded the Bowie song How Lucky You Are, among others, and according to Bowie was gruesomely murdered by a client some years later.
Wendy Kirby,David Bowie, Jean Genie, 1973, Top of the Pops,video,All the Young Dudes ,Daniella Parmar ,Freddie Burretti
Very Swinging London, early 70s: Wendy Kirby in a black wig. Her friends among Bowie's young dudes included Daniella Parmar, hairdresser Antonello Parqualli and Sombrero face, Micky King
➢ Where to draw a line between Glitter and Glam – naff blokes in Bacofoil versus starmen with pretensions
AND HERE IS THE 'LOST' BOWIE VID AT YOUTUBE
(Visited 484 times, 1 visits today)