David Bowie – Aladdin Sane – RS1001 24bit/96Khz (collectors edition) – SQ 10
Runout Wax A Side: CPRS 4543 TD
Runout Wax B Side: CPRS 4544 TD.
A High Compliance Vinyl Restore
Digitised/Transcribed at 24bit/96Khz
Taken from my 6th play of a first issue LP.
Tracklist
01 – Watch That Man.flac
02 – Aladdin Sane.flac
03 – Drive-In Saturday.flac
04 – Panic In Detroit.flac
05 – Cracked Actor.flac
05b– Runout Groove.flac
06 – Time.flac
07 – The Prettiest Star.flac
08 – Let's Spend The Night Together.flac
09 – The Jean Genie.flac
10 – Lady Grinning Soul.flac
10b -Runout Groove.flac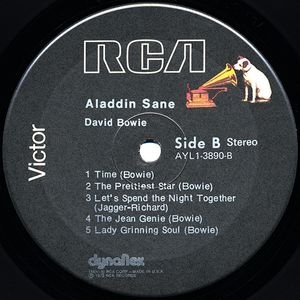 Transcription Equipment:
Ariston RD-11s turntable with sorbothane mat
Fidelity Research FR-12s tonearm
Nagaoka MP500 MM cartridge
Yamaha phono stage
Art Audio Isolation Transformer
Denon Pro DN-500R SDRecorder
Input S/N: -78db peak/-81 db average
Transcription Process:
Digital Stream Conversion by DN-500R
set at 24 bit depth 96khz sampling rate
One unique session per side saved to SD and USB storage
Output saved as 24 bit/96Khz Type 1 linear PCM.
Post transcription:
24 bit PCM files imported into Clickrepair.
Clickrepair 1 pass wavelet type setting 37.
Declicked file(s) saved to new file name(s). No change(s)
in file size(s) or format.
Imported into Cool Edit Pro 1.2. Editing performed on declicked file(s).
*Manually remove stray clicks, fade intros/outros.
*Used filtering in the following spots only: Pre echo B2, B3 and B4
*Amplify side(s) to 96.27% peak level. Track to track and channel to channel variances left intact.
*Locate mid points of silent wax, mark and cut out the individual tracks.
No dithering (reportedly) performed at any point in the transcription or editing process.
Individual tracks saved by cool Edit Pro as 24 bit packed integer (Type 1).
Import PCM files into Easy CD-DA extractor. Add file info and convert to FLAC using setting 0 (create largest size files). No changes in bit depth or sampling rate.
Make info file.
Post project on DN.
Restore Complexity:
Moderate (4/10)
Personal Restore rating:
Can't be objective about this one
Project notes:
This was a NM- high gloss low cooling relief first pressing as released in the UK in April 1973. The lacquers for this edition were cut at RCA studios in Toronto and were used on both the UK RS-1001 and Canada LSP-4852 catalogue numbers.
This unit was acquired in the aftermarket for the sum of about 68 dollars.
I have no accurate count of the previous plays but based on the lack of scuff marks and the fully intact mirror like glossy surface, I would suspect 10 plays or less would be an accurate number.
This is the 5th time I have played this unit and the second time with the MP500 cartridge.
This unit was virtually problem free with almost no calcium deposits, a mere handful of cooling clicks and only one pop in the right channel of B1. This was the likely reason I could not talk the vendor down any lower in price as he knew what he had.
This is the first mastering and did not appear on any of the later 120+ editions of this title. None of the tapes or CD's issued by the originating label used this master as their source. Only this edition with the hand lettered 'TD' is derived from the original master.
I've always felt this first master truly reflected the sound intended by Ken Scott and Mick Ronson. Later editions have a cleaner sound and some of the raw edge audible in this mastering disappeared afterward.
Since I have four different copies of this first mastering, I think it is safe to assert that this rawness
I hear is not an anomaly of this particular unit but the intended output of the 2 original mixers of this album.
The vinyl compound used was only similar to the first edition LSP-4852 Canada pressing. The Canada pressing had a somewhat duller appearance than this UK pressing.
(Visited 802 times, 1 visits today)