David Bowie The David Bowie Story – (BBC Radio 1 1993 and repeat on BBC6 Music – 6 CD's) – Presented by Paul Gambaccini
Sound Quality Rating
cd 1 Episode 1 – The Apprenticeship
First part of an in-depth look at the life and work of one of Britain's most important stars – David Bowie. This opening episode looks at his beginnings in the music industry.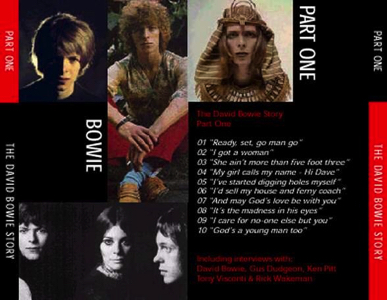 cd 2 Episode 2 – One Man Against the World
Continuing the in-depth look at the life and work of David Bowie, one of Britain's most influential stars.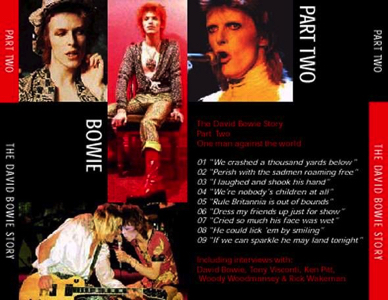 cd 3 Episode 3 – Fame
Paul Gambaccini focuses on the Aladdin Sane, Diamond Dogs and Young Americans period.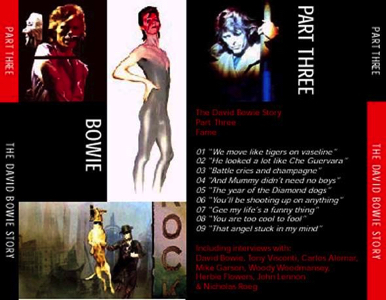 cd 4 Episode 4 – Don't Normalize It
Paul Gambaccini explores the Station To Station, Low, Heroes and Lodger period.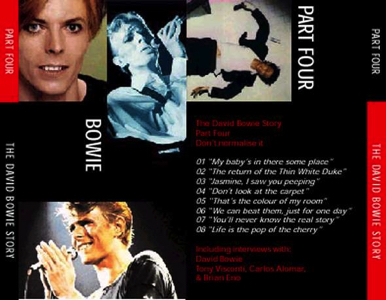 cd 5 Episode 5 – Out of Characters, Into Suits
Paul Gambaccini explores the 'Scary Monsters' and 'Let's Dance' period.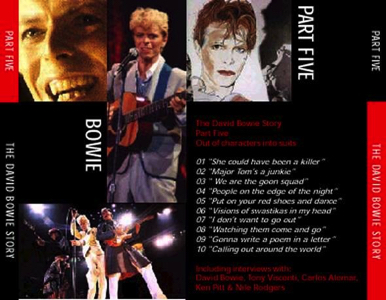 cd 6 Episode 6 – Falling Down, Standing Up
Covering the period from Never Let Me Down to 1993. Presented by Paul Gambaccini.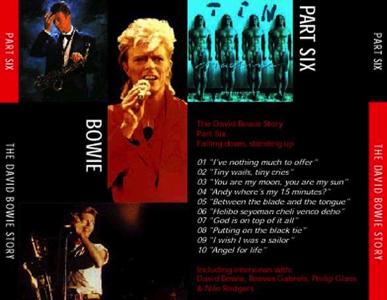 The David Bowie Story 1993 ,From BBC Radio one in the UK. Presented by Paul Gambaccini.
This was an authorised six part series that spanned the life of Bowie up to 1993 and includes specially recorded contributions from David Bowie, Tony Visconti, Nile Rodgers, Carlos Alomar, Brian Eno and many others.
Number of discs: 6
Audio source: Radio show.
Lineage: Cdr>EAC>WAV>FLAC
Each disc in just under an hour long and is one continuous track (this is how my original discs are).
Each disc contains interviews and snippets of music, the music is always in context of the era and is usually relating to what is being spoken about.
My set of six discs didn't come with artwork, although there is suitable artwork in the gallery if needed.
(Visited 841 times, 1 visits today)