David Bowie My Radio Sweetheart 2 (1977-1983 Japanese Interviews).
Sound Quality Rating
01. Low – The Idiot (April 1977 ,with Iggy)
02. "Heroes" (December 1978)
03. "Heroes" (December 1978)
04. Scarry Monsters (December 1980)
05. Elephant Man (New York, December 1981)
06. Crystal Japan advert
07. let's dance (Boston 1983)
08. let' dance (New York 1983)
Bonus Track
09. Northern Light, (Tyne Tees?) TV, June 1978
Label : No label > From The Hunky Geordie Tapes – HUG301CD
Audio Source : mostly from FM (possibly AM) but there are definitely one or two from TV as well
Lineage : TDK D90 (one side – Noggin) (tracks 2 & 9); TDK CHF90 (other tracks)
Total running time : 1:13:58
Sound Quality : Noise ,dull ,but still good listened to
Artwork : By Steve23yh
Some are clips from interviews discussed and expanded upon by the DJs, some are straight interviews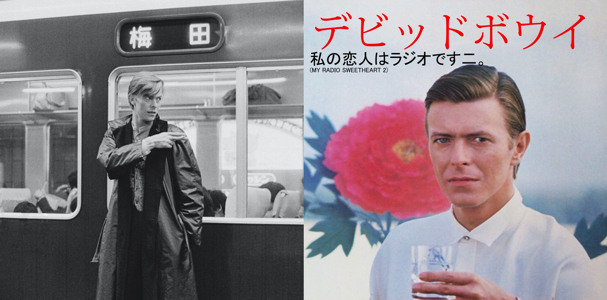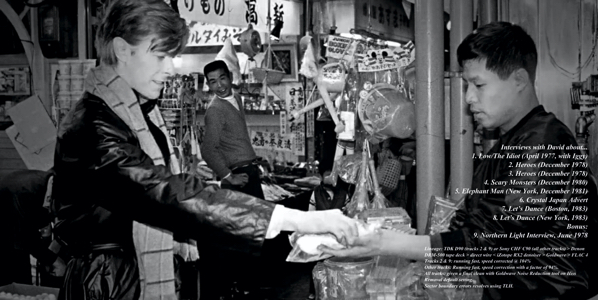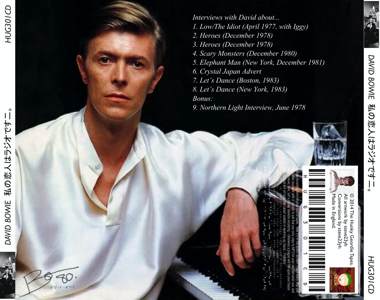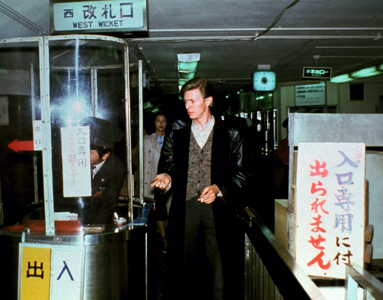 ============
Source: mostly nicmac, two from Noggin. Whichever source, these were hissfests, so I took the nuclear option and blitzed with Goldwave as they're interviews, rather than concert recordings.
I think they're mostly from FM (possibly AM) but there are definitely one or two from TV as well.
Some are clips from interviews discussed and expanded upon by the DJs, some are straight interviews.
There's a lot of Japanese in there though.
The nicmac tracks have cleared up reasonably well (8½/10) the Noggin tracks are still pretty rumbly (7½). There was room on the disc, so the final track is from UK TV, but pretty difficult to find.
Notes
(Tracks 2&9):
Running fast, speed corrected @ 104%
(Other tracks):
Running fast, speed correction with a factor of 94%.
Tape flip during the Boston 83 section @ 11:22 – probably a teeny bit missing – simply joined.
New York 83 had a virtually non-existent right channel. Left channel copied with 0.002 second offset.
(All tracks):
All given a final clean with Goldwave Noise Reduction tool on Hiss Removal default setting.
Sector boundary errors tidied with TLH.
(Visited 489 times, 1 visits today)