David Bowie Rarest One Bowie (sub-standard collection of "rare" Bowie material)
Sound Quality Rating
01. All The Young Dudes –
Orginal Studio Version 1973.flac
02. Queen Bitch –
Live At Long IslandNY 26-03-1976.flac
03. Sound & Vision –
Live At Earl's Court,London 1978.flac
04. Be My Wife –
Live At Earl's Court,London 1978.flac
05. Time –
From The 1980 Floor Show 1973.flac
06. Footstomping –
From Dick carvett ,US TV Show 1974.flac
07. Ziggy Stardust –
Live At The Santa Monica 1972.flac
08. My Dead –
Live At Carnegie Hall ,NYC 28-09-1972.flac
09. I Feel free –
Live At The Kinston Polytechnic 06-05-1972.flac
Sound Quality: very good. Equals record or radio apart from a slight noise and some dullness.
This release was one in the series of mid-nineties releases by MainMan, Bowie's former management company during the seventies (other ones being Santa Monica '72 and the Ava Cherry & The Astronettes album People from Bad Homes). All these albums were released without Bowie's approval and are currently deleted.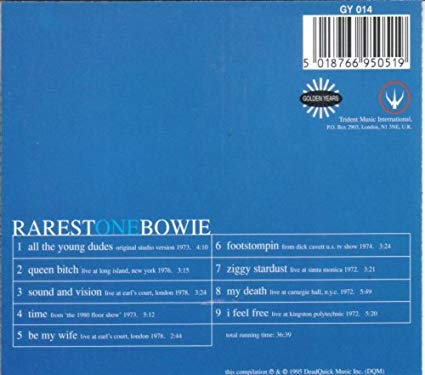 This sub-standard collection of "rare" Bowie material was released in 1995. It is short by CD standards (about 35 minutes), which is a shame considering the material which must lay hidden in Mainman's vaults. Perhaps more will see the light of day in a Rarest…Two collection. Anyhow, about half this collection features Mick Ronson on guitar, and so will be of interest to completists.
ATYD opens the album, and is at a slower tempo than Mott's version. Although planned for the Aladdin Sane album, it stayed in the can. I can see why; this version sounds half finished, with Bowie sounding bored with it. Mott's is the definitive version of Dudes, a fact Bowie himself must have realised.
Time is taken from the 1980 Floor Show performances at London's Marquee in October 1973, but lacks a certain spark… Bowie had all but disbanded the Spiders by this time and it shows in the performance.
Ziggy Stardust hardly qualifies as rare, since it has already been released on the Santa Monica live set. My Death is more interesting, as it is taken from a Carnegie Hall, NYC performance in 1972. The album closes with a live performance of the Cream classic I Feel Free, recorded at Kingston Polytechnic in 1972. Now I don't know, but it sounds to these ears like an audience recording (it is certainly in mono). Scraping the barrel or what?
Review 02
Nine tracks and 36 minutes long, the easiest way to summarize Rarest One Bowie's decidedly oddball march through David Bowie's 1970s is to regard it as an official sampler for some decidedly unofficial albums. Aside from a version of "Ziggy Stardust" lifted direct from the 1972 Santa Monica '72 album, nothing here hails from even a halfway legitimate album project. But, from a fabulous take on "All the Young Dudes culled from the Aladdin Sane sessions through "Time" from the 1980 Floor Show and "Queen Bitch" from 1976's Thin White Duke, Rarest One is essentially an echo of all that Columbia attempted with Bob Dylan's unofficial catalog — the chief difference being, the Dylan tapes were at least cleaned up first. Some of this album sounds like it came straight off a cassette tape. Two tracks ("Sound and Vision" and "Be My Wife") lifted from the 1978 London shows, which spawned the official Stage live collection, do benefit from having escaped the ambience-enhancing remix to which Bowie subjected the original tapes, and a 1973 in-concert version of "My Death" cannot reasonably be faulted. But "I Feel Free" is a murky mess, while a playful version of James Brown's "Footstompin'" sounds precisely like what it is — a domestic tape recording of Bowie's appearance on the Dick Cavett show in 1974, packed with so much distortion that you can almost see the microphone against the mono television speaker. Historically, the performance is priceless — Bowie's own "Fame" developed directly from this arrangement. It's a shame it couldn't be presented in a form that matched its pedigree. Collectors looking for a quick glimpse into the highlights of their vinyl bootleg collection will probably find Rarest One Bowie of some use — students of the Asian music industry's occasional problems with the English language will enjoy the hopelessly garbled track info placed on the Japanese reissue. But ultimately, Rarest One offers little of any real value, and nothing of sonic importance. Look out for the original bootlegs instead.
Review 03
What you need to know: this album is one for the Bowie collector only, it is a rag-bag collection of live recordings, mainly from the 70s, plus a (the only?) studio version of 'All The Young Dudes'. The sound quality on the live pieces varies wildly from the sub-bootleg to the near excellent. But what is there to interest you and make you part with your hard-earned cash? Well, Dudes is one of his finest glam-era moments and only very rarely available otherwise. The inclusion of My Death, the Brel song which featured in many of his early shows, is a welcome and high quality live recording. Those two together are worth the album price alone. Of the rest your enjoyment may well depend on which are your favourites… the not-often-performed-live 'Sound and Vision' was for me a highlight but it is not that great a recording or performance.. I just like the song… 'Hang On To Yourself' is a piece of real rock 'n' roll excitement rarely matched on the more official Bowie versions of that particular song. The bottom line is this – if you're a real Bowie fan it might add a few important missing pieces to the jigsaw, otherwise approach with caution
(Visited 1,378 times, 1 visits today)