David Bowie ‎People On Streets (Demos and Rarities – Most of them recorded between 1974 and 2016).
Sound Quality Rating
09. Cosmic Dancer.flac
01. I Do belive Il Love You.flac
02. Afther Today.flac
03. Can You Hear Me.flac
04. Under Pressure.flac
05. Let's Dance.flac
06. Let's dance.flac
07. Wild Things.flac
08. Al Alba.flac
10. A Small Plot Of Land.flac
11. Teenage Wildlife.flac
12. Little Wonder.flac
13. Repetition 97.flac
14. Trying To Get To Heaven.flac
15. Mother.flac
16. Sue (Or In Season Of Crime.flac
17. Lazarus.flac
18. I Can't Give Everting Away.flac
Label :
Golden Eggs ‎– Egg 136
Audio Source : Soundboard
Lineage : Unknown
Recording Location: Unknown
Total running time : 1:18:16
Sound Quality : Excellent quality! Equals record or Radio/TV
Artwork : Yes
David Bowie – People On Streets (Demos and Rarities) is a single disc described as "Another fantastic compilation of demo and rare songs.
Most of them recorded between 1974 and 2016 with the exception of one special track which is from 1965.
Quite a few of these are on silver pressed disc for the first time. People On Streets is named after the working title of Under Pressure".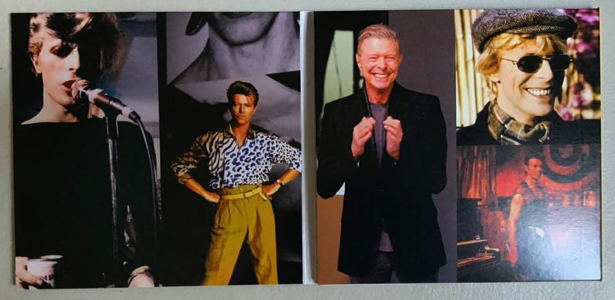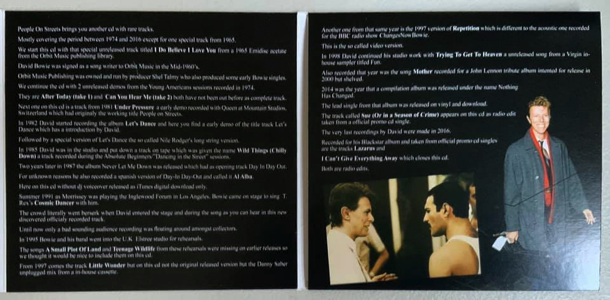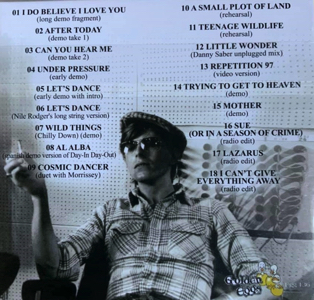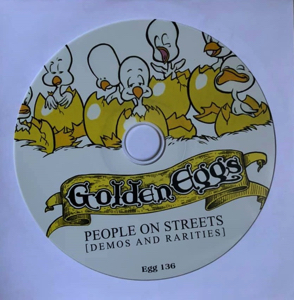 (Visited 309 times, 1 visits today)