David Bowie Changes Three Bowie (compilation ,rare B-sides ,Single versions and unreleased cuts)
Sound Quality Rating
01. London By Ta-Ta
(2nd Version – scheduled to be released as a follow-up single to 'Space Oddity' but cancelled)
02. Conversation Piece
(B-side to 'The Prettiest Star')
03. The Prettiest Star
(Original Mono Single Version)
04. Holy Holy
(Spiders Version)
05. John, I'm Only Dancing
(Sax Version)
06. 1984 – Dodo (
(You Didn't Hear It From Me ,later re-arranged to become '1984')
07. Memory Of A Free Festival
(Part 1)
08. Rebel Rebel
(US single version)
09. The Supermen
(Recorded June 1971 Trident Studio, London, First Released On Glastonbury Fayre 1972)
11. Who Can I Be Now.
(Outtake, 1975)
12. The Wild Eyed Boy From Freecloud
(rare b-side Version)
13. Memory Of A Free Festival
(Part 2).flac
14. Tired of my Life
(Haddon Hall, Beckenham May 1970)
16. It's Gonna Be Me
(Outtake Young Americans, Without Strings)
18. I'm Waiting For The Man
(BBC 1970)
19. Right On Mother
(Demo)
20. Changes
(Rotterdam Live 1976-05-13)
Label : No label > PD81989
Audio Source :
Lineage : Unknown
Total running time : 1:07:08
Sound Quality : very good. Equals record or radio apart from a slight noise and some dullness.
Artwork : Yes
Note : All these recordings were made during the period (post late 1965) when he was professionally known as David Bowie, dating from 1969 through to 1977.
A bunch of the songs from this collection of rare B-sides, single versions, and unreleased cuts from Bowie's early career did finally surface officially on Rykodisc's reissues. If you are the type who doesn't find a need to spend $100 or so to replace your vinyl LPs, though, this is a useful supplement to the late '60s/early '70s era, and the sound is barely any worse than it is on the digital versions. Contains notable single-only tracks like "Holy Holy," "Conversation Piece," and "The Prettiest Star," as well as unreleased items like "London Bye Ta-Tay" and Bowie's own version of "All the Young Dudes." It does not include everything that didn't show up on his early LPs (the B-side "Around and Around," for instance, is missing), but it's the best anthology of its type ever produced, official or otherwise.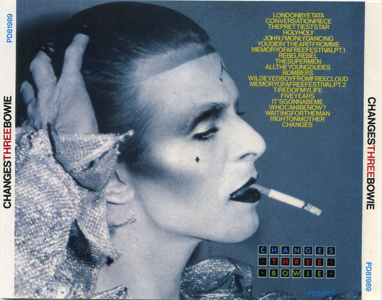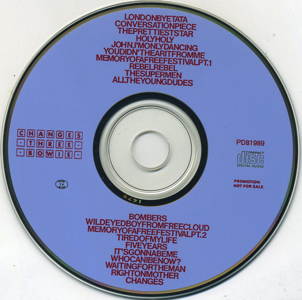 (Visited 2,123 times, 1 visits today)