David Bowie Lost In Our vaults Until Now (TV Appearances ,BBC & Outtakes 1970-1980) – SQ 8 (Diedrich)
Sound Quality Rating
Johnny Carson TV Show 1980
01. Life On Mars
02. Ashes to Ashes
Studio Outtakes from Aladdin Sane
03. Tired of my Live Alad in Vain
BBC 25-3-1970
04. BBC Introduction – Waiting for the Man
BBC 25-03-1970 ( by Tommy "The" Vance, maybe the greatest Radio-DJ in those times)
05. Width of a Circle
06. Wild Eyed Boy from Free cloud
07. Outro
Note
Very Rare Limited (1000 Copies) Bowie-Bootleg – with studio outtakes from "Aladdin Sane" (2 songs) + From Johnny Carson TV Show 1970 (2 songs) – from BBC 1970 (4 songs).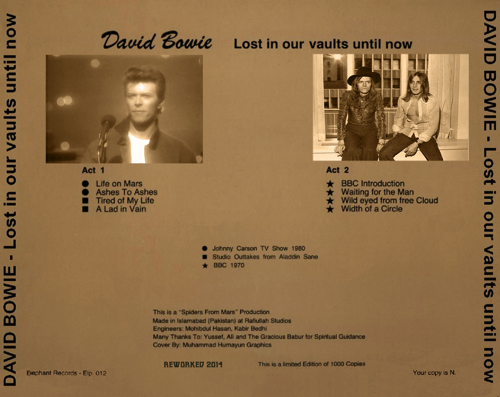 Review
Is nearly in mint-condition, you will hear nearly no crackles. If you read the songs on the back-cover, they are in wrong running order, they are pressed as noted above, but the cover mistakes 03+04 and 07+08, funny little gag that often happened with Bootleg-LPs in those times.
The sound quality of my transfer is way beyond any version I've heard before.
Declaration to 'other' : I planned to seed this record in the next days, had it recorded and then came Your seed…..but I think, as mine is a truly upgrade, You will like that I seed it so short after Yours. At least I hope You will not condemn me !
(Visited 1,047 times, 1 visits today)