David Bowie From The Vaults Of Mainman (Compilation 1972-1995) – SQ 9
Sound Quality Rating
01. My Death –
Unreleased recording from Boston 01-011-72 ,The Music Hall Boston.flac
02. Sorrow –
Soundtrack to the 1980 Floor Show ,NBC broadcast ,Recorded at the Marquee Club,London 18 & 20-10-73.flac
03. Time –
Soundtrack to the 1980 Floor Show ,NBC broadcast ,Recorded at the Marquee Club,London 18 & 20-10-73.flac
04. Everything's Alright –
Soundtrack to the 1980 Floor Show ,NBC broadcast ,Recorded at the Marquee Club,London 18 & 20-10-73.flac
05. Space Oddity –
Soundtrack to the 1980 Floor Show ,NBC broadcast ,Recorded at the Marquee Club,London 18 & 20-10-73.flac
06. I Can't Explain –
Soundtrack to the 1980 Floor Show ,NBC broadcast ,Recorded at the Marquee Club,London 18 & 20-10-73.flac
07. The Jean Genie –
Soundtrack to the 1980 Floor Show ,NBC broadcast ,Recorded at the Marquee Club,London 18 & 20-10-73.flac
08. 1984 – Dodo –
Soundtrack to the 1980 Floor Show ,NBC broadcast ,Recorded at the Marquee Club,London 18 & 20-10-73.flac
09. I Got You Babe –
Soundtrack to the 1980 Floor Show ,NBC broadcast ,Recorded at the Marquee Club,London 18 & 20-10-73.flac
10. Rebel Rebel –
Dry mix for the BBC programma TOTP broadcast 1974.flac
11. Dodo –
with Lulu orginal full leg th version ,recorded late 1973 .Intended as the follow up Single to IMWSTW.flac
12. Can You Hear Me –
Recorded at Sigma Studio's Philadelphia 1974 ,Slower early versions of the tracks to be found on the Young Americans album.flac
13. Right –
Recorded at Sigma Studio's Philadelphia 1974 ,Slower early versions of the tracks to be found on the Young Americans album.flac
14. Somebody Up There Likes Me –
Recorded at Sigma Studio's Philadelphia 1974 ,Slower early versions of the tracks to be found on the Young Americans album.flac
15. Golden Years –
Dry mix for the BBC Programma TOTP , broadcast 1975.flac
16. Imagine –
Hong Kong coliseum 12-8-83 John Lennon Performance.flac
17. I'm Afraid Of Americans –
Orginal 95 version from the soundtrack of Showgirls.flac
Notes: Re-release of the "Absolutely Rare" bootleg with a couple of extra tracks ("Imagine" Live in Hong Kong and I'm Afraid of Americans).
Sound Quality: very good. Equals record or radio apart from a slight noise and some dullness.
Notes
Track 01: live in Boston 10/01/1972
Tracks 02-08: Live in London 10/18-20/1973
Track 10: BBC version, Top Of The Pops 1974
Track 11: Original full length version recorded late 1974
Track 12-14: "Young Americans" recording sessions 1975
Track 15: BBC version, Top Of The Pops 1975
Track 16: Hong Kong Coliseum 12.08.83
Track 17: 1995 Version From Showgirls Soundtrack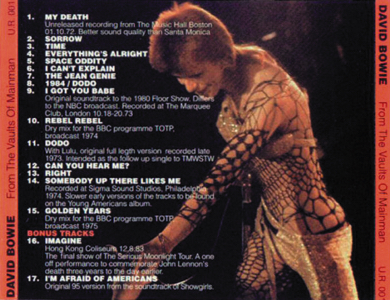 .
.
(Visited 774 times, 1 visits today)