David Bowie 1970-02-05 BBC Radio London with the Hype – Radio Hype – (+ Outtakes '69-'71)
Sound Quality Rating
BBC Radio London on Feb 5th 1970 with the Hype
01. Amsterdam
02. God Knows I'm Good
03. Buzz The Fuzz
04. Karma Man
05. London Bye Ta-Ta
06. An Occasional Dream
07. Janine
08. Wild Eyed Boy From Freecloud
09. Width Of A Circle
10. Unwashed & Slightly Dazed
11. Fill Your Heart
12. Prettiest Star
13. Cygnet Committee
Studio Outtakes 1969-1971
14. Looking For A Friend
15. How Lucky You Are
16. Shadow Man
17. I've Got Lightning
18. Rupert The Riley
19. Tired Of My Life
20. Don't Sit Down/Andy Warhol
Live in Bristol U.K
21. Oh! You Pretty Things
Friars Club, Aylesbury, July 18, 1972
22. This Boy
Label : Gold Standard – GS-96006
Audio Source :
Lineage : Unknown
Total running time : 0:00:00
Sound Quality : Much noise ,dull ,but still good listened to
Attendance : Unknown
Artwork : Yes
Note
sound quality, and will probably never be released in better sound guality since BBC erased the master tape? The other live song is THIS BOY.
The outtakes date from '69 to '71. OH! YOU PRETTY THINGS is not listed on the cover.
A small quantity was realeased as "advance copy" with a black and white paper cover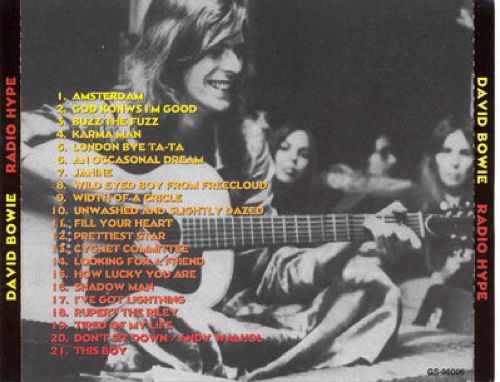 Review by Dave Thompson
Once more into the breach, dear friends, and fill the hole with our recycled outtakes. For an artist who has never suffered a shortage of circulating boots, David Bowie has suffered much at the hands of those who would deceive.
In the mid-'90s, Gold Standard released this same collection as the bootleg Semi Acoustic Love Affair, a collection which actually boasted the best ever sound for the contents. Just a couple of years later, it resurfaced, retitled, redesigned, and, frankly, revolting. In an age when most labels try to get you to buy things because they've been remastered, here's one that appears to have gone the opposite way entirely. Digitally demastered.
One can understand their motives. Great though Semi Acoustic was, it was marred by unseemly CD-R-type fades between each song.
Radio Hype does away with them, but the trade was not worthwhile. Opening with a full, but newly, horribly distorted, rendering of the January 1970 In Concert broadcast which was Mick Ronson's debut alongside Bowie, Radio Hype continues on with one track ("Unwashed") from a BBC studio session three months earlier, then winds up with a bunch of outtakes, themselves familiar from a clutch of other bootlegs.
The songs are great, of course, and the performances are phenomenal. But a so-called demo of "Cygnet Committee" meanders along with a permanent hissing hum, and the 1972 vintage live "This Boy" is pretty much all hiss. Other cuts are clearer, but there's a brittle edge to all of them.
The 1970 In Concert show ranks amongst Bowie's most expressive, and enjoyable, performances ever, and if you don't have it, and can't find a better quality copy (Semi Acoustic vanished long ago), this is probably better than remaining in ignorance. But a better sounding copy will be around again sometime — and if you've waited this long, a little longer won't kill you.
The Hype (David Bowie band)
Hype was a band formed by David Bowie in 1970.
They were originally called Harry the Butcher, then David Bowie's imagination.
Bowie settled on the name Hype. Bowie has said he choose the name tongue in cheek.
The band has been credited with helping to form the glam rock scene in the 1970s.
The band was also the debut for Mick Ronson when they played at the Roundhouse.[22nd February 1970]
Their first performance was badly received, the band was laughed and jeered at as they left the stage.
Members included:
David Bowie, alias Space Star/Rainbowman – vocals, 12-string guitar
Mick Ronson, alias Gangsterman – Les Paul guitar
Tony Visconti, alias Hypeman – bass guitar, vocals
John Cambridge, alias Cowboyman – drums (until April 1970)
Mick 'Woody' Woodmansey – drums (from April 1970)
Benny Marshall – vocals, harmonica (from November 1970)
In February 1970, David Bowie required a more permanent band to back him for the promotion of his latest album, 'David Bowie.' John Cambridge was retained from the 'Space Oddity' recording session and Tony Visconti volunteered for Bass duty. Cambridge recommended his friend Mick Ronson as guitarist.
On February 5, 1970, on John Peel's The Sunday Show on BBC Radio 1 'Hype' make their first radio appearance, performing after a short Bowie solo spot, an embryonic 'Width of a Circle', followed by 'Janine', 'Wild eyed boy from Freecloud' 'Unwashed & Somewhat Slightly Dazed', 'Fill Your Heart', 'I'm Waiting for the Man' 'The Prettiest Star', 'Cygnet Committee' and 'Memory of a Free Festival.' Later that same month Hype signed to Mercury records.
In the March 28, 1970 edition of Melody Maker, Bowie stated "I'm very happy with the band, I have Tony Visconti who has played bass on nearly all my records, John Cambridge who used to be with Juniors Eyes and Mick Ronson on guitar and I play 12 sting guitar.
Although we're all happy with the set up I can't see it becoming a really permanent thing. I want to retain Hype and myself as two separate working units whereby we can retain our own identities. We've had these costumes made by various girlfriends which make us look like Dr. Strange or the incredible hulk.
I was a bit apprehensive about wearing them at the Roundhouse gig because I didn't know how the audience would react. If they think it's a huge put on the whole thing will backfire but they seemed to accept it which was nice."
(Visited 513 times, 1 visits today)