"Be My Wife" is a song by English musician David Bowie. It was the second single from Low (1977), released on 17 June 1977.
Its presence in Low tones down the electronic feel of the rest of the album. The song also features a more conventional lyric which is closer to a traditional rock song than the more fragmented lyrics elsewhere on that album. The song features a ragtime piano opening, which serves the somewhat retro lyrics some justice, although it is soon set against a backdrop of guitars and drums. The song repeats its lyrics, changing the spacing of the lyrics amongst the song's verse. The song closes simply with a fadeout, as the song returns to the introductory ragtime riff repeating indefinitely, with the rest of the band playing behind it.
"Be My Wife" became the first new Bowie release since "Changes" to fail to break into the UK chart. It was frequently played live on the various tours after its release and Bowie is said to have repeatedly announced this song during live performances as "one of my favourites," as may be seen or heard in such concert footage or audio recordings.
side A. Be My Wife
side B. Speed Of Life
Description
Label: RCA Victor PB-1017
Format: Vinyl, 7″, 45 RPM, Single
Country: Holland
Released: 17 June 1977
Recorded at: September–November 1976 ,Château d'Hérouville (Hérouville, France)
Media Condition: Very Good (VG+)
Sleeve Condition: Good (VG+)
ring wear: No
All three seams looking perfect: Yes
Picture sleeve looks near mint: Yes
creases or folds: No
stamps or writing: No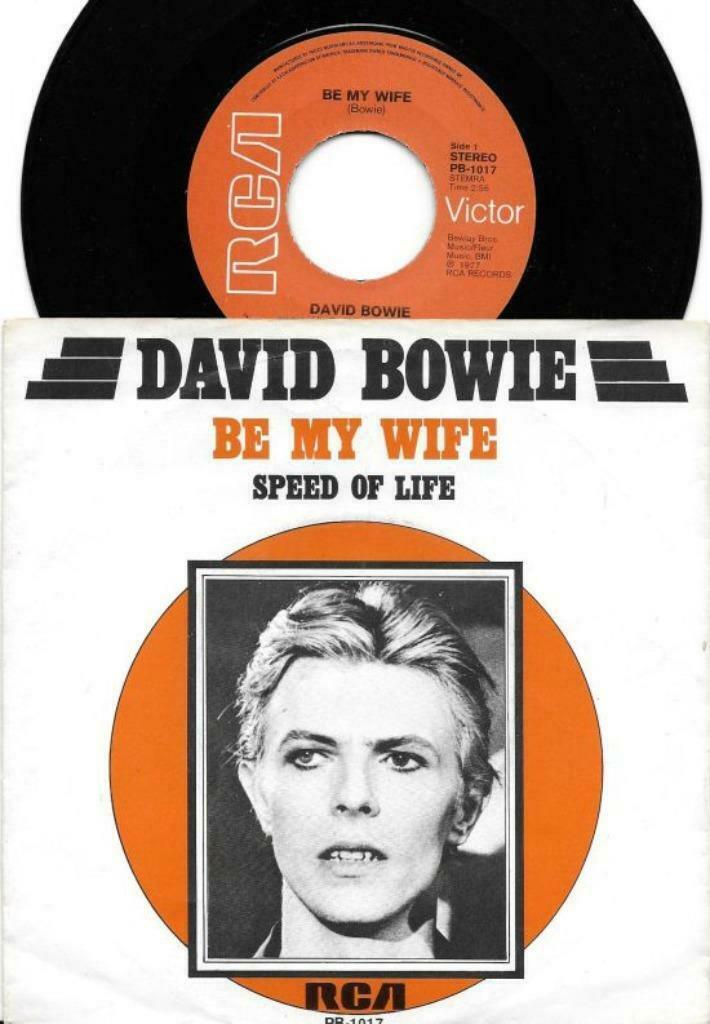 A Be My Wife
Bass – George Murray
Bass [Pump Bass] – David Bowie
Guitar – David Bowie, Ricky Gardener*
Percussion – Dennis Davis
Piano – Roy Young
Rhythm Guitar – Carlos Alomar
Vocals – David Bowie
2:55
B Speed Of Life
Bass – George Murray
Brass – David Bowie
Horn [Tape Horn] – David Bowie
Percussion – Dennis Davis
Piano – Roy Young
Rhythm Guitar – Carlos Alomar
Strings [Synthetic Strings] – David Bowie
Synthesizer [Arp] – David Bowie
(Visited 34 times, 1 visits today)