A limited-edition tome charting the singer's ascent to glory
David Bowie fans, form an orderly queue. While the singer was shimmying across stages in Lurex and blue eyeshadow during his breakthrough years of 1972-1973, someone was close behind him. Charting the singer's breakthrough years was photographer Mick Rock, who followed Bowie through his meteoric rise during the success of his album The Rise and Fall of Ziggy Stardust and the Spiders from Mars. Many of these pictures are being shown to the world for the first time in a limited-edition Taschen book, out in September, but for which pre-orders are now being taken.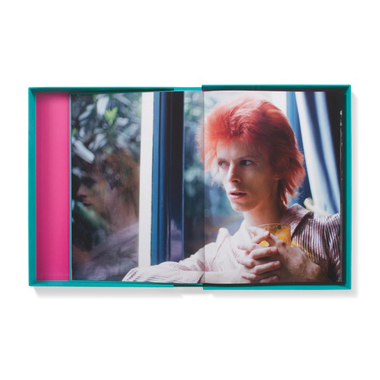 The two became firm friends over this period, which is reflected in the intimate portraits and stage shots taken over these seminal years. The book, with a cover that's a playfully kitsch hologram of the singer's face, follows the narrative of the record and is divided into 11 chapters, reflecting the 11 songs; each chapter captures the spirit of the respective lyrics. Aptly, there are 1,972 copies of the book in total (201-1,972, $700), of which 200 will be special art editions (editions a and b: 100 copies of each, with a different print signed by the photographer, $1,800). Each of these art editions will come with three foldouts in a 12.4in x 17.3in clamshell box with lenticular cover and all are signed by Bowie and Rock.
"It shows a remarkable, groundbreaking songwriter, performer and musician who wasn't quite a superstar," says the book's editor Reuel Golden. "He and his alter ego Ziggy Stardust are on this journey to get to the top and Mick Rock is along for the ride. Like all great artists, Bowie recognises the power of the image, but also that the image needs to be documented. He totally trusted Mick with the task of being the witness and custodian of his image."
Yet the book also pays homage to the singer's versatility: "He is certainly one of the most original, daring, multifaceted and talented rock stars of all time," adds Golden. "His ability to change personas, evolve as an artist and adapt different musical styles has been well documented, but really it all goes back to the songs. He is a brilliant songwriter and also a skilled collaborator who knows how to get musicians and producers to interpret his songs: a very smart and intuitive person."
For more collectable tomes, try the bohemian bookshop that serves slices of cake alongside first editions, or the Hoxton bookshop that tells a different story.
(Visited 539 times, 1 visits today)