I was born a few years after World War II and lived with my parents in a nice house in a suburb southeast of London – Bromley, in Kent. My parents got married after the war simply because that' s what everybody did. The government gave a generous allowance for children; we used to get free milk and great lunches at school. Both my parents worked: my father was a long-distance lorry driver, delivering meat, and my mother was an assistant at a dress shop in Beckenham. I don' t think my parents expected too much from me. I think they thought I would, you know, leave school, grow up, get a job, possibly get married, and live round the corner.
Well, the Swinging Sixties in London changed all of that. It was a great time to be a teenager in London. We had the best music – the Beatles and the Rolling Stones; we had the best fashion – the miniskirt – and we had the pill. The model of the day was Twiggy. She was a tall, slim thing with a flat chest and flat hair. I was challenged. I mean I was completely out of style. I had this thick, frizzy hair I couldn't do anything with, and even thicker glasses, and a waist and hips. I wasn't good at school, I didn't like school, and by the time I was fifteen, I'd had enough.
So I left school and enrolled in the Evelyn Paget College of Hair and Beauty in Bromley. I wouldn't say that hair-dressing was my dream job, but with my education it was my best option, and as it turns out I was quite good at it. So at the end of my course, I was transferred to the flagship salon, Evelyn Paget's in Beckenham.
It was here I met Mrs Jones. Mrs Jones was my quarter-to-three shampoo and set on a Thursday afternoon. Once in a while, she'd have a trim, and every now and again a chocolate-kiss rinse. As I'm doing her hair she would talk to me about her son, David.
She would say, "He was such an artistic child," and "He's a singer in a band." And she was so proud of him, you know? I would nod and smile and listen, as you do, and it wasn't until she mentioned "Space Oddity" that my ears kind of pricked up.
I said, "Space Oddity?" She said, "Yes." I said, "Well I've heard that song on the radio." It was a hit.
I said, "Are we talking about David Bowie?" "Yes," she said, "I'm his mum."
Well, I was surprised about that. There was a buzz about David in Beckenham. He played the local pub, the Three Tuns – albeit folk music – but he'd had the hit "Space Oddity." It had been a while ago, so I thought he might have been a one-hit wonder.
The first time I actually saw David, he's walking down Beckenham High Street in a dress, and he's with this girl who had these skinny black pants on. I met the girl – Mrs Jones brought her into the salon. It turned out it was Angie, David's wife. Well, I liked her immediately. She was so cool and confident, and she looked so great – she certainly didn't shop in Beckenham. She talked to me a little bit about her life. She did lights for David's shows, and they would hang out all night in London at the clubs and just have the best time. It all sounded so glamorous.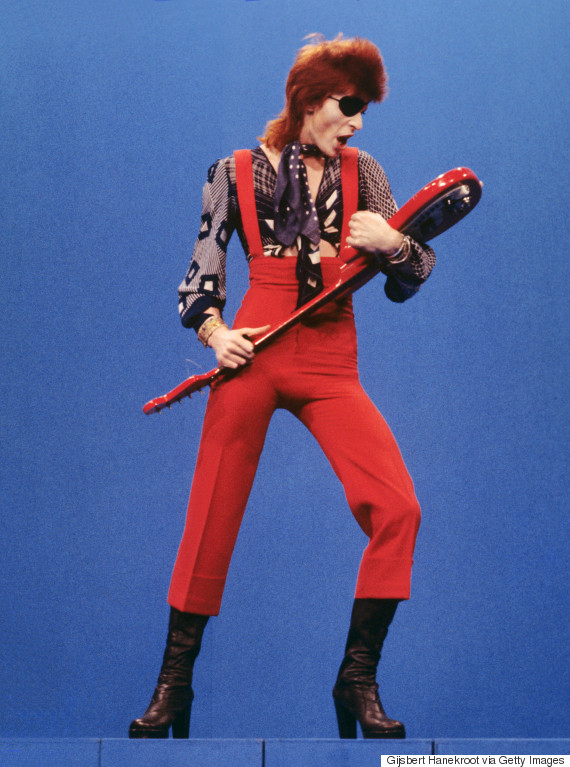 The next time I saw her, she was coming in for an appointment. It was Christmas week. Well, every self-respecting salon is full Christmas week. I took her to one side, and said, "I can't do your hair here, but here's my telephone number, give me a call. I'll come to your house."
Off I went to Haddon Hall. It was about a mile out of town, one of those huge mansions. It was divided into flats. David and Angie had the middle floor. It wasn't the sheer size of the place that was overwhelming, it was the way it was decorated: a midnight blue carpet, midnight blue walls, and a silver ceiling. There wasn't much furniture: a couch, a couple of chairs, a long, low coffee table, tons of album covers all over the place, and a guitar in the corner.
David and Angie were sitting in the middle of a bay window discussing the merits of cutting his hair short – he had this long, blond, wavy hair at the time. They asked me my opinion. I said, "Well, no one's got short hair"- because nobody did. "You would be the first."
He stood up and walked over and showed me this photograph in a magazine. It was of a Kansai Yamamoto model with short, red, spiky hair. He said to me, "Can you do that?"
As I'm saying yes, I'm thinking to myself, that's a little weird. It's a woman's hairstyle, and how am I going to actually do this? Inside, however, I'm excited – this is a chance to be very creative. He was rock-star thin, white skin, a long neck, a great face – if I could pull it off, it would look fantastic!
Well, it took me about a half an hour to cut, and when I finished, his hair didn't stand up. It kind of flopped. I looked at David, and he's panicking, and I'm not feeling too bright, and I said to him, "Listen, David, the second we tint your hair, the colour will change the texture and it will stand up." I prayed I was right. I found the colour, Schwarzkopf "Red Hot Red" with 30 volume peroxide to give it a bit of lift. There was no product in those days, nothing to help me make it stand up. So I used GARD. GARD was an anti-dandruff treatment that I used to use on the old girls at the salon – it set hair like stone.
The second David saw himself in the mirror with that short, red, spiky hair, all doubts disappeared. Angie and I looked at him in awe, he looked so good. A huge wave of relief washed over me: I'd done it, you know, I'd done it! I hadn't known it was going to work until I felt that texture changing in my hands as I was drying it, and it stood up. He looked amazing.
I started gathering my things together to leave, and Angie said, "Oh, how much do we owe you?" I think I said, "Two pounds, please." I left, and a week or so later Angie called me and said, "You know, the band are playing in London, why don't you come and see them?" I said, "Well, I'd love to."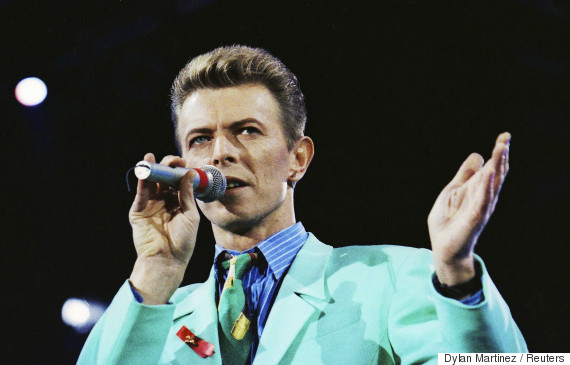 It was at a college, so I went there, and I'm still not quite sure what to expect, you know? I walked in, and the place is sold out – it's completely full – and I stood in the audience, and the lights went down, and some music came on, and it was a real 'Oh, my God' moment for me. When the band came on the stage, David was in full makeup – his red hair blazing in the lights. He'd turned himself into Ziggy Stardust. The band were all in costumes that looked like curtain material: flat pastel velvet tucked into lace-up boots. They looked incredible. And when they played, the place rocked, it was so good – so unbelievably good.
I went home thinking to myself, that wasn't folk music! I didn't know what to expect, but it wasn't that. Well, Angie called the next day and said, "Did you like it, and will you come up to Haddon Hall again?" And off I went. I met Freddie Burretti. Freddie Burretti was a friend of David and helped design the costumes. He was so fabulous. He minced, and lisped, and was just gorgeous. I was fascinated with Freddie. I'd never met a gay man before.
Sometime during that evening, David leaned over and kissed Freddie full on the lips. I didn't know which way to look, you know? I looked at Angie, and she's laughing, and suddenly I felt completely out of my depth. I wasn't like these people. I didn't know who Nietzsche was. I'd never heard of Lou Reed and the Velvet Underground or Andy Warhol. I'd certainly never seen two guys kissing before. I was from Beckenham!
Later that evening, Angie takes me to one side and she says, "You know, David and I have been speaking, and we'd like you to come and work for us full-time. Come on the road. Go up to the MainMan offices, and sort out your wages, and come and work with us."
Off I went to the MainMan offices, heart in hand. I met David's manager, Tony Defries, and by the end of the afternoon I'd got the job. It's not till I'm driving home, I realised my life's going to really change. I'm going on the road with a rock and roll band!
I was so excited. I went down to Evelyn Paget's the next day to give in my notice to my boss, and he looked at me and said, "You know, Suzanne, you should think twice before giving up a well-paying, secure job."
I said, "Yeah, I have."
Of course, after that my confidence knew no bounds. I took the drummer and turned him into a blond Ziggy, and chopped Trevor' s hair off and made it spiky on top with silver sideburns. The only holdout was Mick Ronson, the guitar player – he didn't want to look like David. I started doing shows with them. We did Top of the Pops – David played Starman and when he draped his arm around Mick Ronson during the chorus, I think it shook Britain to its core. Nobody did stuff like that in those days, they just didn' t. (It certainly shook my parents.)
David was always thinking of the next thing to do, he was always very ambitious, and he wanted to do rock and roll theatre. So we hired a theatre in London, in Finsbury Park, and he built a set – scaffolding and dry ice and lights – and it was amazing. We were all working 18 hours a day to put this show together, and he was saying, "Don't talk to anybody, don't tell anybody what it's about, no recording equipment, no cameras." Of course, the more you make of these things, the more interesting it becomes, and we opened to a fanfare of press.
All the celebs came. Kids were coming with Ziggy haircuts at that point, and it was a great show. I think the only person that didn't like it was Elton John. He walked out halfway through, saying, "This isn't rock and roll."
But it was rock and roll, because we were then running up and down England in buses, and shows were being added, the gigs were getting bigger, and everything was selling out. And I was with David and the boys all the time during this period, doing everybody's hair, looking after the costumes, doing the dry cleaning, making sure everything was right. There were many costume changes, so David would come to the side of the wings, and I would be standing there with a glass of red wine, a Gitane cigarette, and while Mick is wailing 10 feet from me, I'm changing David's clothes.
We got quite good at it. We went to America and stayed in the Plaza in New York. It was an amazing hotel. We had a great advanced team. Cherry Vanilla, who's a famous groupie, and Lee Black Childers, who was a Warhol actor. They would go to the next town, go to the gay clubs, and create fervor. It was really a good idea, because it got the kids to the gigs. I met Iggy Pop in California. We stayed at the Beverly Hills Hotel, and Iggy wanted me to dye his hair blue, and I obliged. I said to him, "You know, you might want to wash that a couple of times before going back in the pool."
Of course he paid me no mind, and by the end of the afternoon there was a blue streak from one end to the other of the Beverly Hills Hotel pool. (I think he was asked to leave after that.) We went to Japan, and I met Kansai Yamamoto, and I picked up some more wonderful costumes for David. It was exciting. Suddenly I was cool: the girl with the thick hair and the thicker glasses was in a world where everybody wanted to be. I went back to Beckenham, and I walked up and down the High Street, looked through Evelyn Paget's windows – my God, it looked so small, I was so glad I wasn't there. Nothing had changed in Beckenham, nothing had changed at home, but I was so changed, I was a million miles from here.
The last show that David ever did as Ziggy Stardust was at Hammersmith Odeon in July 1973, and he just stood on the front of the stage and said, "This is the last show we're ever going to do." Then he played Rock' n' Roll Suicide. I was sad to say goodbye to Ziggy, I think we were all sad to say goodbye to Ziggy, but I didn't go home. I went to Italy and fell in love with a guitar player and moved to London with him. I'm so grateful for my luck. I'm grateful I met Mrs Jones and Angie, grateful I gave Angie that telephone number – otherwise somebody else might have been living my life. Thrilled that I met and married the late, great Mick Ronson and had a lovely daughter with him. And, of course, I'm so grateful to David. He took a chance on me, changed my life completely. My haircut's on British currency now – the Brixton 10 pound note. Now, who would have thought I could have done that?
This story is cross-posted from The Moth's latest book, All These Wonders, for a special edition of HuffPost UK's Life Less Ordinary blog series. You can buy the book here and listen to Suzi tell her story live here.
(Visited 1,004 times, 1 visits today)