The bassist in Bowie's band remembers a towering creative force with a vision beyond music
8 January 1947 – 10 January 2016 -The Observer's obituaries of 2016
David Bowie was smart… really smart. For someone who had allegedly done so many drugs, the wealth of intellect he possessed and exuded was astonishing. He used to tell me he was thankful I didn't know him when he was on drugs, that I wouldn't have liked him very much. I was thankful too, although I couldn't imagine any drug in the world strong enough to even begin to contaminate his creative vision and focus.
David was positive and energising. He was kind, and generous in the things that truly mattered, like knowledge, humour, respect and, of course, art in all its forms. With me, he graciously and buoyantly shared his stage for many years, and at times when the stage was mine alone, he would venture out to watch me perform a solo acoustic set at some Manhattan singer-songwriter cave on a week night, lurking there in the shadows, cheering me on. Bowie loved to see artists "doing" things, trying things, not talking about them.
When David Bowie came to my home town of Philadelphia in 1974 to record the Young Americans album at Sigma Sound Studios I was only 12. It is my favourite Bowie album; it's in my personal top 10 albums of all time, and it holds a profound connection to a tender yet turbulent time in the life of a hopeful and determined young musician that was me in the spring of 1975. Something about that album, the songwriting, the ensemble of musicians, that particular sonic landscape, and then… Bowie's vocal performances, breathtakingly executed to dramatic perfection. It floored me! Nothing else like it had ever come through my radio speakers before.
Fast-forward exactly 20 years, I get a phone call from David himself. We had never before spoken, nor had we ever officially met. He politely introduced himself, although it took me a few seconds to trust it wasn't someone pulling a prank, and he asked me if I would be interested in playing bass in this "terrific line-up" he was putting together for his 1995-96 Outside Tour with Nine Inch Nails. He ran down a list of the other players he had already recruited for the tour, which included two names I was very familiar with from the liner notes of the Young Americans album sleeve, Carlos Alomar and Mike Garson. My head was spinning. Me?! Playing bass in David Bowie's band with Carlos and Mike?! What was happening? I was somehow suddenly in possession of the winning lottery ticket of a musician's dream; a chance to work with a true master of his craft, and all that would come to entail… And so began my personal and privileged education in what does a true artist make…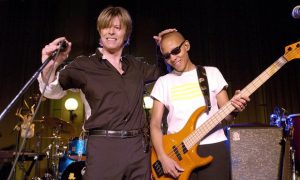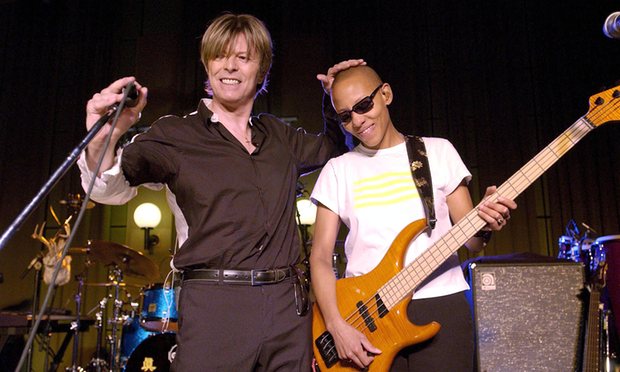 David had an uncanny ability to choose just the right people, with just the right chemistry, and all the skills necessary to execute his vision. Rarely did I see him get it wrong. He believed that once the perfect cast was in place, so to speak, the play would virtually perform itself… the most important work was done. Because of that philosophy there was an incredible amount of freedom for the musicians to "play", and by that I mean to play as a child plays – fearless and free. For David, there were treasures to be found in the unexpected. He would feed off the energy around him, and with grace, humour and enthusiasm he would effortlessly guide and shape our efforts into something inevitably awesome.
Bowie seemed to have a constant flow of ideas: not just for music, but everything and anything he put his attention to. He once dreamed up a costume for me to be custom made for the Earthling tour in 1997. He drew a pencil sketch in a little black sketchbook he carried around most of the time for scribbling ideas. We were on tour, in a tiny eastern European airport, waiting for a charter plane to the next place. He called me over to where he was sitting and showed me the sketch. "What do you think?" he said. "I'm going to have this made for you." It was kind of a female hybrid version of a Minotaur; half woman, half horse, and part devil, complete with what would be a real horse's tail and shoes that resembled cloven hooves that would be made by a special shoemaker in Brixton who could apparently fashion anything into a pair of shoes. Wow!
Watch David Bowie, with Gail Ann Dorsey, playing Rebel Rebel on his A Reality Tour in 2004.
Who knows what recesses of his mind that image sprung from, but man, was it ever fun and empowering to be the vessel to bring that sketch to life. The costume not only ended up in the Floria Sigismondi video for the song Dead Man Walking, but was also on display in the Bowie Is exhibition at the Victoria & Albert Museum. It continues to be shown, along with his original sketch, at museums around the world.
The world has had to say goodbye to a creative force like no other; I have had to say goodbye to my alien friend, who one day, unexpectedly, landed his spaceship in my backyard and took me on the ride of a lifetime; who trusted me to ride shotgun for a first-hand glimpse of the world through his wacky and wondrous eyes…
For once I feel I fully comprehend the essence of that most genius specimen of a song… "And I'm floating in a most peculiar way, and the stars look very different today"… How strange it feels to even be writing these words, to continually both remind and console myself that our Starman is no longer of this Earth… "Planet Earth is blue, and there's nothing I can do"…
If you can hear me Major Tom, thank you. You are so loved.
(Visited 711 times, 1 visits today)