David Bowie in Australia: An alien from another planet, singing for this one
In the Australian-shot video for Let's Dance, David Bowie 'appeared as if he'd just walked through the   outback and found a bottle of peroxide along the way', says Gary Kemp of Spandau Ballet. Photograph:   Patrick Jones/The David Bowie Archive
David Bowie Is, the celebrated V&A exhibition, finally arrives in Australia this week, after an extensive two-year global tour that's crisscrossed Europe and North America. Although its subject won't be touching down for the event at the Australian Centre for the Moving Image in Melbourne (rumour has it he visited the original London show in disguise in 2013), Bowie's relationship with Australia will inevitably loom large.
The singer first visited Australasian shores at the end of 1978, playing to packed outdoor stadiums in Adelaide, Melbourne and Sydney. Five years later, he emerged from a three-year hiatus to shoot two landmark music videos for MTV with director David Mallet: the politically charged Let's Dance and the suitably risque China Girl.
In 1983, Bowie purchased an apartment in the Kincoppal apartment building in Elizabeth Bay, Sydney, which he did not sell until 1992. The nearby Sebel Hotel played host to the star's entourage  (and the many rock'n'roll parties that ensued). But Bowie's curiosity about Australia dates back to when he was still the young, wide-eyed David Jones in drab 1950s London.
As a 12-year-old, he stumbled across a Stravinsky record whose sleeve featured an artist's striking impression of Uluru. When he did finally make it to Australia some 20 years later, sufficient time was worked into his touring schedule so that he could explore the mysteries of the outback with ease.
Gary Kemp of Spandau Ballet, a lifelong fan who became a chart rival to his hero in 1983, believes the attraction of Australia for Bowie made perfect sense.
"Bowie's always been very good at 'claiming' place," says Kemp. "He did it with Berlin, validating it as a city [but] no one had claimed Australia as part of pop culture. Suddenly, in Let's Dance, he appeared as if he'd just walked through the outback and found a bottle of peroxide along the way. He looked extraordinarily healthy. He also looked otherworldly, like an alien who'd fallen from another planet."
That otherworldliness somehow permitted Bowie to make the one and only overtly political statement of his career with the video for Let's Dance, which was shot on the same trip as China Girl, both in Sydney and in the remote New South Wales outback town of Carinda.
The Let's Dance video shone a light on the plight of Indigenous Australians, with dramatic imagery referencing domestic slavery, the stolen generations and the British nuclear testing of the 1950s. Two first-year dancing students, Terry Roberts and Joelene King, were cast to play the young Aboriginal couple attempting to assimilate into western capitalist society, only to reject it outright.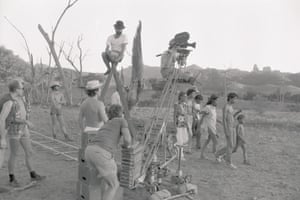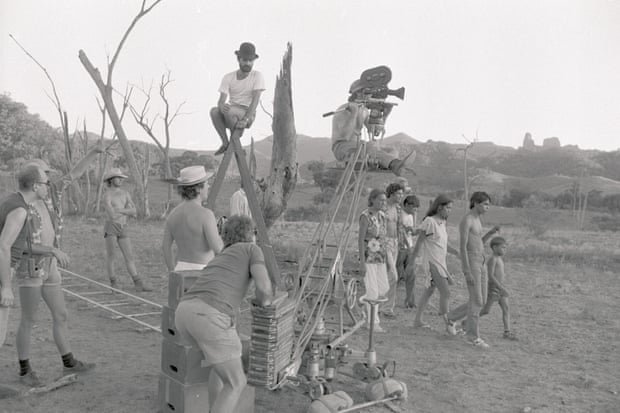 "A direct statement on integration" was how Bowie summed up the video's startling imagery to the ABC. Rolling Stone journalist (later, MTV host) Kurt Loder was on set for the 35mm, $500,000 shoot in Carinda and recalls the star being in an unusually reflective mood. The musician's outback adventures in 1978 had evidently left a mark on his psyche.
"In the north, there's unbelievable intolerance," Bowie said to Loder of the disparity between black and white Australia. "The Aborigines can't even buy their drinks in the same bars – they have to go round the back and get them through what's called a 'dog hatch'. And then they're forbidden from drinking them on the same side of the street as the bar."
While some bristled at Bowie's observations – he went on to compare the divide to South African apartheid – the wider public seemed to be more interested simply in having the star on Australian soil.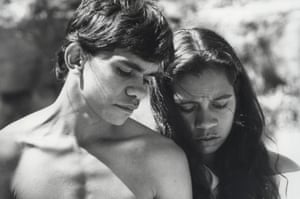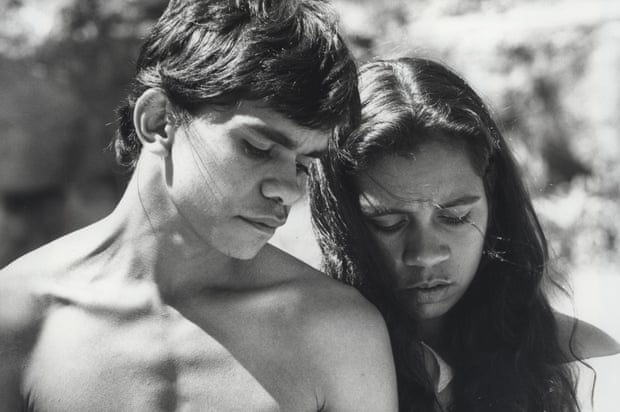 Bowie was energised by the burgeoning music video format and the platform it provided. Simon Le Bon of Duran Duran, another star whose rapid rise to fame coincided with this MTV era of Bowie's career, was a fanboy like Kemp, who confesses to "drawing Bowie on every one of my exercise books" at school.
The musician and music television were destined for a perfect marriage, he says. "Music videos were hugely important to us as a band – MTV was new and they had all this airtime to fill. But with Bowie, you're talking about somebody who's probably had the best ongoing image of any artist ever … He's got all the raw materials – great face, great eyes, he looks great in a suit."
Bowie's cultural contribution to Australia's coming of age extends far beyond his music videos. As in Europe and the US, he gave misfits – those who fell outside the mainstream – a voice. He was a figure who appeared to understand, who spoke to those who felt different, who somehow seemed to articulate their issues.
Joelene King, the female star of Let's Dance, says today, more than 30 years after its bold, provocative statement, that the video continues to educate new generations about Australia's rich cultural heritage. "It lets the world know that Australia has a black history," she says. "That this history is alive and well. We're still here."
"He challenges people," says director Julien Temple who was to follow Mallet as Bowie's go-to collaborator during the boom years of music TV in the 1980s. "He provokes them into thinking about themselves and how they fit into the world around them in a very interesting way. And he's still doing it, today."
(Visited 159 times, 1 visits today)