His son director Duncan Jones confirmed the news and a statement was released on his official social media accounts.
"David Bowie died peacefully today surrounded by his family after a courageous 18-month battle with cancer," it said.
"While many of you will share in this loss, we ask that you respect the family's privacy during their time of grief."
++++++++++++++++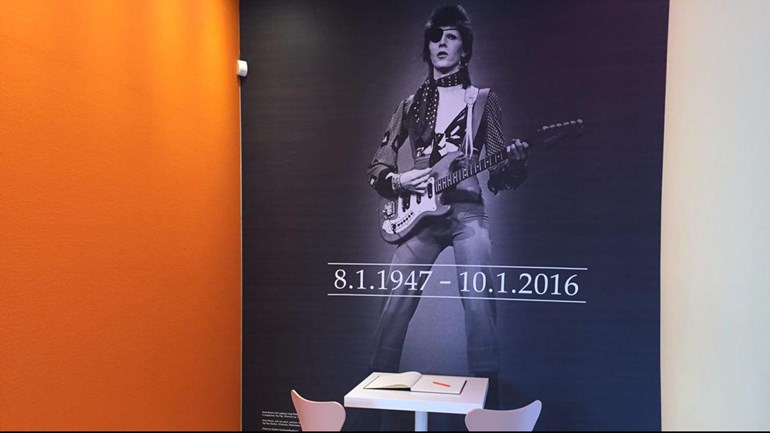 David Bowie Tribute


The world was stunned today by the death of rock legend David Bowie at the age of 69 – just three days after releasing his 27th studio album.
The London-born singer, songwriter and actor had been battling cancer for 18 months but had managed to keep his illness a closely guarded secret.
Here we look at the numbers which add up to an amazing, iconic and influential life.
51 – years his career spanned
£135million – his net worth according to the Sunday Times Rich List
27 – the number of studio albums Bowie produced.
Weeks spent in the UK's Top 40 album chart.
599
9 – Number one albums in the UK, but none reached the top spot in the US.
Read more: David Bowie's life in pictures
120 – singles were released over his career – his last being Lazarus in 2015.
61 – UK top 40 singles.
5 – UK number one singles- Space Oddity, Ashes to Ashes, Under Pressure, Let's Dance, Dancing in the Street.
13 – weeks in total the singer spent at number one in the singles chart.
7million – sales of Let's Dance.
 Bowie hits featuring the fictional character of Major Tom – Space Oddity (1969), Ashes To Ashes (1980) and Hallo Spaceboy (1996).

Tom's back: David Bowie's Ashes to Ashes video
3 – Bowie hits featuring the fictional character of Major Tom – Space Oddity (1969), Ashes To Ashes (1980) and Hallo Spaceboy (1996).
140million – estimated album sales worldwide.
6 – most singles he released in a single year, in 1974, 1997 and 2013.
37 – singles released in the 1970s
27 – films he starred in, with a further eight as a musician and three as a producer.
5ft 10in – his height, according to most sources.
2000 and 2003 – the years he declined a CBE and Knighthood
10
Bands Bowie was in, including The Konrads, The Hooker Brothers, The King Bees, The Manish Boys, The Lower Third, The Buzz, The Riot Squad, The Hype, Tin Machine and Tao Jones Index (Some of these performed under other names)
1 – O-Level he achieved at school, in art.
69 – Bowie's birthday on Friday, January 8. He released his final album Blackstar on the same day.
The singer only released his latest album Blackstar on his birthday on Friday.
There had been rumours about Bowie's health for years.
His last live performance was at a New York charity concert in 2006
Sixty-six facts about David Bowie
Blackstar, which includes just seven songs, has been well received by critics.
Bowie's breakthrough came with 1972's The Rise and Fall of Ziggy Stardust and the Spiders From Mars.
His hits include Let's Dance, Space Oddity, Heroes, Under Pressure, Rebel, Rebel, Life on Mars and Suffragette City.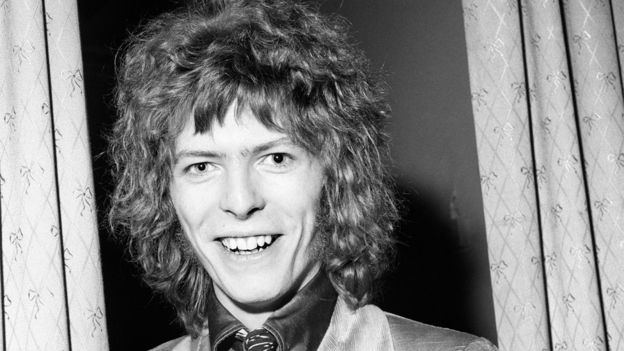 He was also well known for creating his flamboyant alter ego Ziggy Stardust.
Space Oddity
He also carved out an acting career including his role as an alien seeking help for his dying planet in Nicolas Roeg's The Man Who Fell to Earth in 1976.
He did a three-month stint as The Elephant Man on Broadway in the 1980s.
Bowie also starred in Marlene Dietrich's last film, Just a Gigolo (1978), and played Pontius Pilate in Martin Scorsese's The Last Temptation of Christ (1988).
Bowie was born David Jones in London on 8 January in 1947 but Bowie changed his name in 1966 after The Monkees' Davy Jones achieved stardom.
He was in several bands before he signed with Mercury Records, which released his album Man of Words, Man of Music in 1969, which included Space Oddity, his first UK number one.
============================
Astronaut Tim Peake, who is aboard the International Space Station:
"Saddened to hear David Bowie has lost his battle with cancer – his music was an inspiration to many."
___
Former astronaut Chris Hadfield, who performed "Space Oddity," on the International Space Station in 2013.
"Ashes to ashes, dust to stardust. Your brilliance inspired us all. Goodbye Starman."
___
German Foreign Office:
"Good-bye, David Bowie. You are now among #Heroes. Thank you for helping to bring down the #wall."
__
The Rolling Stones:
"The Rolling Stones are shocked and deeply saddened to hear of the death of our dear friend David Bowie. As well as being a wonderful and kind man, he was an extraordinary artist, and a true original."
___
Madonna:
"Im Devastated! This great Artist changed my life! First concert i ever saw in Detroit!"
___
Paul McCartney:
"His music played a very strong part in British musical history and I'm proud to think of the huge influence he has had on people all around the world.
"I send my deepest sympathies to his family and will always remember the great laughs we had through the years. His star will shine in the sky forever."
Iggy Pop:
"David's friendship was the light of my life. I never met such a brilliant person. He was the best there is."
___
Harry Potter author J.K. Rowling:
"I wish he could have stayed on earth longer. RIP."
___
Archbishop of Canterbury Justin Welby told the BBC he remembered Bowie's early rise to stardom:
"I remember sitting listening to his songs endlessly in the '70s particularly and always really relishing what he was, what he did, the impact he had," Welby said. "Extraordinary person."
___
British Prime Minister David Cameron:
"Genius is an over-used word but I think musically, creatively, artistically David Bowie was a genius."
"For someone of my age he provided a lot of the soundtrack of our lives."
___
Former British Prime Minister Tony Blair:
"From the time I saw his Ziggy Stardust concert as a student, I thought he was a brilliant artist and an exciting and interesting human being."
___
London Mayor Boris Johnson:
"No-one in our age has better deserved to be called a genius."
___
Tony Visconti, Bowie's longtime producer:
"David always did it his way and his way was the least obvious way. He was a true genius who proved it over and over again through groundbreaking albums. I co-produced his new album Blackstar. He sang with powerful energy and determination, his performances were brilliant. He will live forever in our hearts, mine especially."
___
Comedian Ricky Gervais:
"I just lost a hero. RIP David Bowie."
___
Rapper Kanye West:
"David Bowie was one of my most important inspirations, so fearless, so creative, he gave us magic for a lifetime."
___
Singer Pharrell Williams:
"David Bowie was a true innovator, a true creative. May he rest in peace."
__
Actor Mark Ruffalo:

"Rip Father of all us freaks. Sad sad day. Love always."
(Visited 438 times, 1 visits today)