[et_pb_section bb_built="1″ admin_label="section"][et_pb_row admin_label="row"][et_pb_column type="4_4″][et_pb_text admin_label="Text" background_layout="light" text_orientation="left" use_border_color="off" border_color="#ffffff" border_style="solid"]
Inside making of album that Bowie said "reflected my newfound enthusiasm for this new continent that had been opened up to me
When David Bowie began writing songs for Hunky Dory, in 1970, he had little to show for the six years he spent trying to make it as a singer. His first three albums had tanked, and he didn't have a record deal. Then, in January 1971, Bowie arrived in the United States for a three-week promotional tour, a journey that broadened his universe and inspired his first great artistic statement. "The whole Hunky Dory album reflected my newfound enthusiasm for this new continent that had been opened up to me," Bowie said in 1999. "That was the first time a real outside situation affected me so 100 percent that it changed my way of writing and the way I look at things."
Traveling by bus from Washington, D.C., to California, Bowie fell in love with the country and penned tributes to some of its most iconic artists: "Andy Warhol," "Song for Bob Dylan" and the Lou Reed-inspired "Queen Bitch." Inspired by folkie singer-songwriters like James Taylor and Cat Stevens, who were dominating the U.S. charts at the time, Bowie began composing pretty acoustic tunes with surreal lyrics like "Mickey Mouse has grown up a cow."
"When we were rehearsing songs for Hunky Dory, David was playing by himself at folk clubs in London to, like, 50 people," said Hunky Dory bassist Trevor Bolder, who also played on Ziggy Stardust and Aladdin Sane. "He had long hair and looked like a folkie."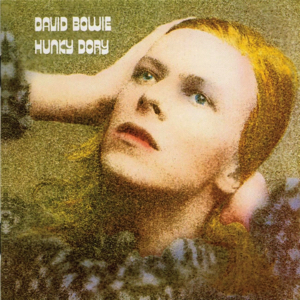 Bowie spent at least six months perfecting the songs. By the time he hit London's Trident Studios in the summer of 1971, he had completed demos for 10 of them. "He realized that the folk period was dying out and he needed to move on," says Bolder. "Especially with glam bands like T. Rex moving along."
Bowie assembled a band – including guitarist Mick Ronson and future Yes keyboardist Rick Wakeman – that could amplify his folk tunes into glammy, grandiose rockers. "We went into the studio, and I had total freedom to do whatever I liked," Wakeman said. "I still rate it as the finest collection of songs on one album."
On "Changes," Bowie offered a challenge to pop's reigning stars, singing, "Look out, you rock & rollers." "I guess it was more being sort of arrogant," he said in 2002. "It's sort of baiting an audience, saying, 'Look, I'm going to be so fast, you're not going to keep up with me.'" "Life on Mars?" (based on the 1967 song "Comme d'Habitude," by French composer Claude François) told the story of a girl with "mousy hair" who goes to the movies as an escape from life.
The album was recorded in just two weeks, with the group averaging one song per day. The band shacked up in Bowie's London apartment, crashing in sleeping bags on the balcony. "Dave would drive us and all the gear into central London in the morning," said Bolder. "Afterward, we'd all go down to the pub and drink. Nobody really knew who David was at that point."
Hunky Dory wasn't a commercial success at first, but it paved the way for Ziggy Stardust and everything that would come after it. "It provided me, for the first time, with an actual audience," Bowie later said. "I mean, people actually coming up to me and saying, 'Good album, good songs.' That hadn't happened to me before."
.
[/et_pb_text][/et_pb_column][/et_pb_row][/et_pb_section]
(Visited 387 times, 1 visits today)