David Bowie Rock review – A Critical Retrospective – (Documentary) 2005
(5/5)
At last, Angie Bowie reveals the truth about what went on behind the scenes during the birth of the Bowie legend. Also featured are candid interviews with Trevor Bolder and Woody Woodmansey making this the ultimate critical retrospective of Bowie and the Spiders: from the inside.
The film draws on rare footage of Bowie and the Spiders never before featured on DVD alongside rare live radio performances from the vaults. Every single Bowie album from 1969 to 1974 is also revisited and reassessed.
Product details
Aspect Ratio : 1.33:1
Is Discontinued By Manufacturer : No
MPAA rating : s_medNotRated NR (Not Rated)
Product Dimensions : 7.75 x 5.75 x 0.53 inches; 3.2 Ounces
Media Format : Color, DTS Surround Sound, Multiple Formats, NTSC
Run time : 1 hour and 3 minutes
Release date : July 5, 2005
Actors : Bowie, David
Language : English (Dolby Digital 5.1), Unqualified (DTS ES 6.1)
Studio : Classic Rock Legends
ASIN : B00092ZE6O
Number of discs : 1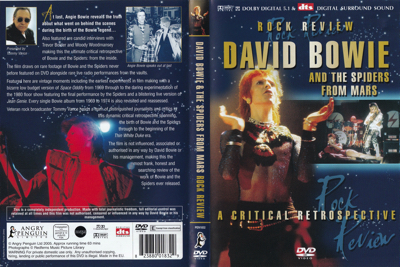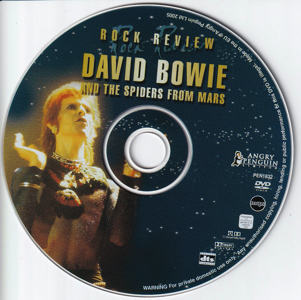 (Visited 22 times, 1 visits today)