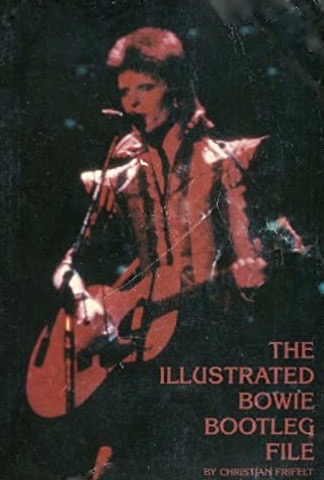 David Bowie The Illustrated Bowie Bootleg File: Bowie bootlegs released between 1972 and 1990.
Author:
Christian Frifelt
Category:
Bootlegs
Publisher:
Privately printed
Published: January 1, 1990
Pages: 139
Language: English
Dimension: 30×21 cm
Description:
---
A rare book (139 pages), released in 1990. This is the ultimate catalogue of the Bowie bootlegs released between 1973 to mid 1990.It presents around 200 lp:s, some 60 singels/ep:s, 29 of the first issued CD:s, 15 interview discs and some rumoured records.Every issue is illustrated with black and white pictures of the front, back and foldout (depending on what kind of cover the disc was released in. All picture discs are illustrated in the same way. Every issue has the folowing information: record label and/or the matrix number, cover description, number of discs, year of release, venue, bonus (like coloured wax etc), song list and comments about the issue.A True must for the old or new collector!
Limited edition of 1,000 copies. Presents black and white pictures and descriptions of a host of David Bowie bootleg albums.
.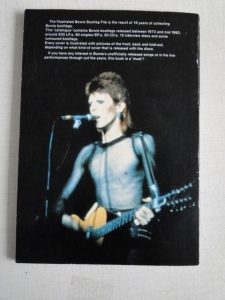 There is also a second book covering the following years, but it only circulates in a photocopied version. However, his contribution to the above-mentioned website covers the era until the mid-2000s.
(Visited 45 times, 1 visits today)
Back