David Bowie 1995 Outside Mix (Outside Tour Rehearsals 100PCB) – SQ 9,5
01 The Leek Soldiers (Outside outtake).flac
02 Boys Keep Swinging.flac
03 I'm Deranged.flac
04 Breaking Glass.flac
05 Andy Warhol.flac
06 Scary Monsters.flac
07 Look Back In Anger.flac
08 The Voyeur Of Utter Destruction (As Beauty).flac
09 The Hearts Filthy Lesson.flac
10 We Prick You.flac
11 I'd Rather Be Chrome (Outside outtake).flac
12 DJ.flac
13 My Death.lac
All tracks are Outside Tour rehearsals except tracks 1 & 11.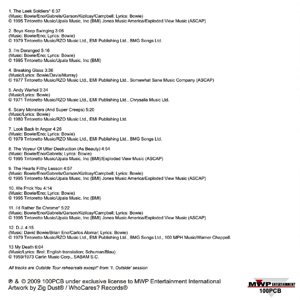 Two Outside outtakes and 11 tracks from the Outside tour rehearsals – all in excellent sound quality and neatly segued together (in a good way not a 'Stars On 45' way.) Venue(s) for the tour rehearsal tracks not known I'm afraid – any further info welcome.
It's 100% soundboard, quite superb. Can't tell whether the rehearsals tracks are from the tour rehearsals (Hartford CT 11-13/9/95) or the subsequent Elstree/Wembley rehearsals (8-13/11/95) but the whole thing is absolutely blistering.
(Visited 1,089 times, 1 visits today)