David Bowie 1995-11-30 Glasgow ,Scottish Exhibition Conference Centre – Glascow – SQ -8
101 THE MOTEL.flac
102 LOOK BACK IN ANGER.flac
103 HEART'S FILTHY LESSON.flac
104 SCARY MONSTERS.flac
105 THE VOYEUR.flac
106 OXFORD TOWN.flac
107 OUTSIDE.flac
108 ANDY WARHOL.flac
109 THE MAN WHO SOLD THE WORLD.flac
110 A SMALL PLOT OF LAND.flac
111 BOYS KEEP SWINGING.flac
201 STRANGERS WHEN WE MEET.flac
202 HALLO SPACEBOY.flac
203 JUMP THEY SAY.flac
204 BREAKING GLASS.flac
205 WE PRICK YOU.flac
206 NITE FLIGHTS.flac
207 TEENAGE WILDLIFE.flac
208 UNDER PRESSURE.flac
209 MOONAGE DAYDREAM.flac
Attendance : 9500
"Meanwhile we're breaking glass up here" said David Before Breaking Glass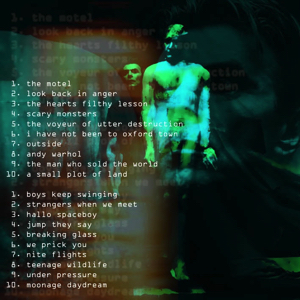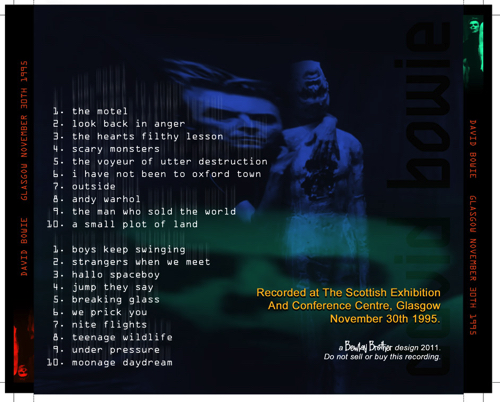 Is Bowie so far behind that he's years ahead again, as in Ziggy Stardust's bygone days of yore? Who knows. Who cares.
What really matters is that Bowie in 1995 can rock it up most deftly, despite sporting a daft-looking raggedy, barefoot, lightly-coated-in-flour ensemble which is not going to set the fashion-world alight.
He started off bravely with a lengthy selection from his current Outside album, which has likewise failed to set record retailers' cash registers a-ringing. Brave? Bowie surely diced with danger by kicking off with a song which featured the line "there's no hell like an old hell".
Oh hell; how old we have grown these past 15 years waiting for Bowie to escape his history and craft an all-good album.
Heck, but there was proof last night there is indeed good new stuff on Outside. There's Heart's Filthy Lesson, Strangers When We Meet, Hallo Spaceboy. And some of Bowie's old stuff gets a fresh seeing-to, too: Andy Warhol and Boys Keep Swinging receive delicious camp-metal make-overs; The Man Who Sold The World goes glacial trip-hop.
They all sound great. Bowie's arc'ing warble sounds better than ever. Whatever the year. Whatever fresh genre – industrial-opera? – Bowie's just invented. The old boy keeps swinging, yes.
(Visited 109 times, 1 visits today)