David Bowie 1990-09-16 Barcelona ,Olimpic Stadium (Taper Antoni Carbo) SQ 7
101. Intro.wav
102. Space Oddity.wav
103. Rebel Rebel .wav
104. Ashes to Ashes.wav
105. Bowie talk.wav
106. Life on Mars? .wav
107. Stay .wav
108. Pretty Pink Rose (Adrian Belew cover).wav
109. Blue Jean .wav
110. Let's Dance.wav
111. Sound and Vision.wav
112. Bowie Talk.wav
113. Ziggy Stardust.wav
114. China Girl (Iggy Pop cover).wav
201. Station to Station.wav
202. Parts of Baby What You want me to do and Heartbreak Hotel.wav
203. Young American.wav
204. Suffragette City.wav
205. Fame.wav
206. "Heroes" .wav
207. Changes .wav
208. Fashion .wav
209. Modern Love .wav
210. Panic in Detroit.wav
211. White Light/White Heat (The Velvet Underground cover).wav
212. The Jean Genie and Gloria (Them cover).wav
LENGHT:53′:23″ CD 1, CD 2 59′:49″
COMENTS ANTONI CARBO:
Recorded on the Lluis Companys Stadium of Barcelona .This is the second time that David Bowie plays live in Barcelona after his 2 shows of Galss Spider Tour in 1987.This show was the last one of the current Europena Tour.
This a master audience recording recorded and edited by carbobueno.The sound is not really good because I recorded on the right side of the stage on the stands near 45 m to the PA and the equipement I used was and Aiwa with external Aiwa microphone.J&B whisky was the promoter of the show and they give for the VIP and press people a J&B bag with special T-Shirt of the show , one pen and a special small binoculars to see the concert. Its another concert of my Barcelona Concert series collection.
ATTENDANCE:25.000-30.000 PEOPLE
TOUR BAND:
David Bowie – vocals, guitar, saxophone
Adrian Belew – guitar, backing vocals
Erdal KizilÁay – bass guitar, backing vocals
Rick Fox – keyboards, backing vocals
Michael Hodges – drums
TAPER ANTONI CARBO > SOURCE:AUD MASTER REC.
LENGHT:53′:23″ CD 1, CD 2 59′:49″
LIANGE:AUD WAV>AUDACITY>CD WAVE EDT.>TLH> FLAC (8)>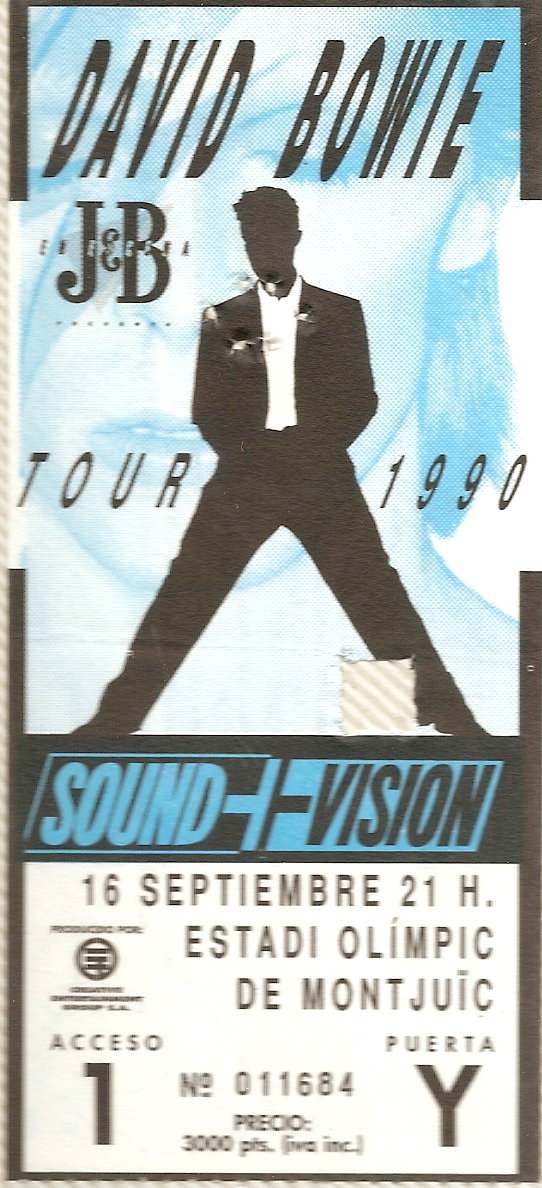 FLIPBOOK > The Sound and Vision Tour Book
.
.
(Visited 182 times, 1 visits today)