David bowie TV Appearances 1995-1999 (2 disc set Various TV appearances, mostly from the Outside era)
(3/5)
Disc 1
Bastille, Paris, MTV broadcast, 11/12/1995: (30 min)
Look back in anger
The voyeur of utter destruction (As beauty)
Under pressure
The man who sold the world
Hallo spaceboy
Strangers when we meet
NEC,Birmingham,13/12/1995,broadcasted on Twix Mix UK programme: (12 min)
Hallo spaceboy
The man who sold the world
Under pressure
The White Room, Channel 4 program, UK, 14/12/1995: (18 min)
Under pressure
The voyeur of utter destruction (As beauty)
Hallo spaceboy /
Boys keep swinging
Later With Jools Holland, BBC 2 program, UK, 2/12/1995: (24 min)
Intro (Mike Garson & Jools jam
Hallo spaceboy
Interview + clip from Cracked actor
The man who sold the world
Strangers when we meet
Top Of The Pops, BBC 1 program, UK, 10/11/1995: (5 min)
Bowie introduces the show
Strangers when we meet (live on the vocal)
European Music Awards, MTV show filmed at Le Zenith, Paris, 23/11/1995: (5 min)
The man who sold the world
Sample, audience recording, NEC,Birmingham, 13/12/1995
Look Back In Anger
The Voyeur of Utter Destruction (as Beauty)
I've not been to Oxford town
Disc 2
Jack Docherty Show,Channel 5 program, UK, 18/4/1997: (23 min)
Dead man walking (Acoustic)
Interview
Scary monsters (And super creeps)
Top Of The Pops, BBC 1 program, UK, 25/4/1997: (4 min)
Dead man walking (playback)
VH-1 Fashion Awards, 24/10/1996: (9 min)
Fashion
Little wonder
The Tonight Show With Jay Leno, NBC program, US, 11/2/1997: (8 min)
Interview
Little wonder
Interview
Wetten dass??, ZDF programme, Germany, 22/2/1997: (7 min)
Interview
A stupid bet featuring Bowie
Nulle Part Ailleurs, Canal + TV program, France, 17/2/1997 : (11 min)
Little wonder
Telling lies
Brit Awards, ITV broadcast, UK, 17/2/1999: (6 min)
Bowie footage
20th century boy (with Placebo)
Outside Press Kit, 9/11/1995. (24 min)
Directed by Jim Gable.
The O-Zone, BBC 2 program, UK,3 0/10/1995: (15 min)
Interview ,clips from Top Of The Pops 14/4/1972 (Starman) ,clips from Top Of The Pops (?) – 1991 (TM: You belong in Rock ?N? Roll),
excerpts from promo videos (The hearts filthy lesson / Let?s dance / China girl / Modern love / Ashes to ashes / Jump they say / Black tie white noise / Buddha of suburbia / Miracle goodnight), footage from Bowie?s art exhibition at The Gallery in London, popstars about Bowie (Chrissie Hynde, Mick Hucknell, Noel Gallagher, Cher, PJ Harvey, Suggs, Jazzie B, Pet Shop Boys, Damon Albarn, Red Hot Chili Peppers).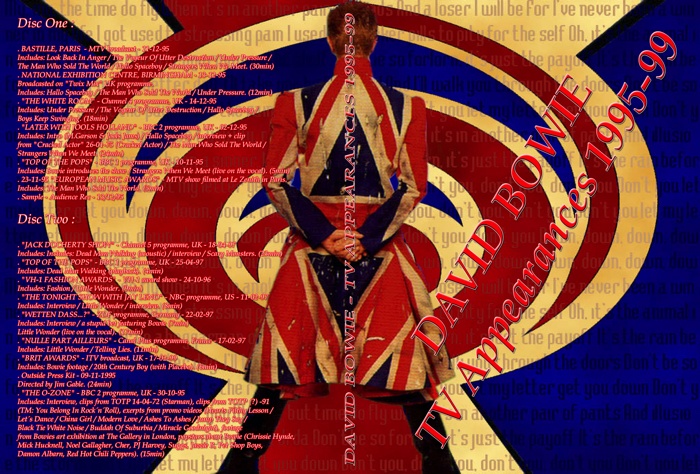 (Visited 34 times, 1 visits today)