David Bowie Earthling On TV – The Obscured Collection – 1997-10-14 – Capitol Theatre (MTV 10-Spot) ,Port Chester ,New York
Upon release of his Earthling CD David hit many of the normal places to plug it.
(3,5/5)
Also some unusual ones.On this disc are most if not all of David Bowie's American television appearances for his Earthling album.
Included is the first broadcast of Live at the 10 Spot which did not edit some of the language content of the shows.All the sources are taken directly fron VHS tapes of the original broadcasts.
DVD 1 – Earthing on T.V. (Video Source: TV Broadcasts)
101. Quicksand
102. The Jean Genie
103. I'm Afraid of Americans
104. Look back in Anger
105. Scary Monsters
106. Little Wonder
107. Fame
108. Hallo Spaceboy
109. All the Young Dudes
DVD 2 – Earthing on T.V. (Video Source: TV Broadcasts)
Late Night with Conan O'Brian
201. Dead Man Walking
202. I'm Afraid Of Americans
Saturday Night Live
203. Little Wonder
204. Scary Monsters
GQ Men Of The Year
205. Fashion
206. I'm Afraid Of Americans
207. Little Wonder
208. Moonage Daydream
Howard Stern Birthday Party
209. Fame
210. Hallo Spaceboy
211. I'm Afraid Of Americans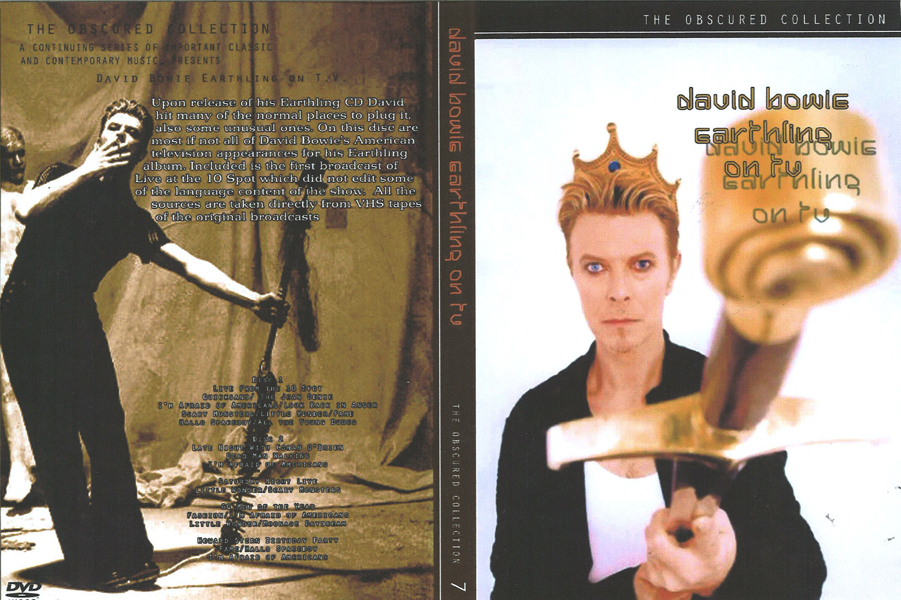 DVD 1 – Earthing on T.V. (Video Source: TV Broadcasts)
MPEG2
Menu: Yes
Chapters: Yes
Lens : 16:51.154
Frms : 30,304
kbps : 7900
Qf : 0.763
Format: NTSC 720 480
Aspect Ratio: 4:3
Pics 29.970 /Frames 29.970 / Fields 59.940
Audio AC3 0xbd[0x80]:48000Hz 448 kb/s tot , stereo (2/0)
Number of Discs: 1
Disc Type: DVD5
Artwork: yes
DVD 2 – Earthing on T.V. (Video Source: TV Broadcasts)
MPEG2
Menu: Yes
Chapters: Yes
Lens : 16:51.154
Frms : 30,304
kbps : 7900
Qf : 0.763
Format: NTSC 720 480
Aspect Ratio: 4:3
Pics 29.970 /Frames 29.970 / Fields 59.940
Audio AC3 0xbd[0x80]:48000Hz 448 kb/s tot , stereo (2/0)
Number of Discs: 1
Disc Type: DVD5
Artwork: yes
(Visited 27 times, 1 visits today)