David Bowie 1980-10-10 Friday Night Saturday Morning – BBC2, UK TV – Tim Rice interviews David in the USA (footage includes) (3/5)
Tim Rice interviews David Bowie, on the Friday Night, Saturday Morning program in 1980. Bowie, then on Broadway for his critically acclaimed portrayal of "Elephant Man" John (Joseph) Merrick, discusses the role and can be seen here in more of the play than I have ever seen anywhere else.
A friend of mine's father went to see The Elephant Man on Broadway and for some reason he asked me what he should see—I was 14, what would I know?—and I recommended that he see this play, which he thought was terrific. He brought me back the Playbill from his trip to New York and I still have it.
For those of you who don't think that David Bowie can act (and there is certainly some evidence for that position!) these extended clips from The Elephant Man will be a revelation. It seems obvious that they must've shot the entire play. If so, where the hell is it?
1. Tim Rice introduction,
2. Elephant Man play footage/audience comments on the show,
3. interview,
4. Elephant Man play footage,
5. interview,
6. Ashes To Ashes video,
7. interview,
8. Tim Rice talks about David's upcoming shows.
Label:
Format Video:
Format Audio:
Language: English
Audio: Stereo / Mono
Region: All Regions
Country:
Released:
Time: 19 min
Artwork: Yes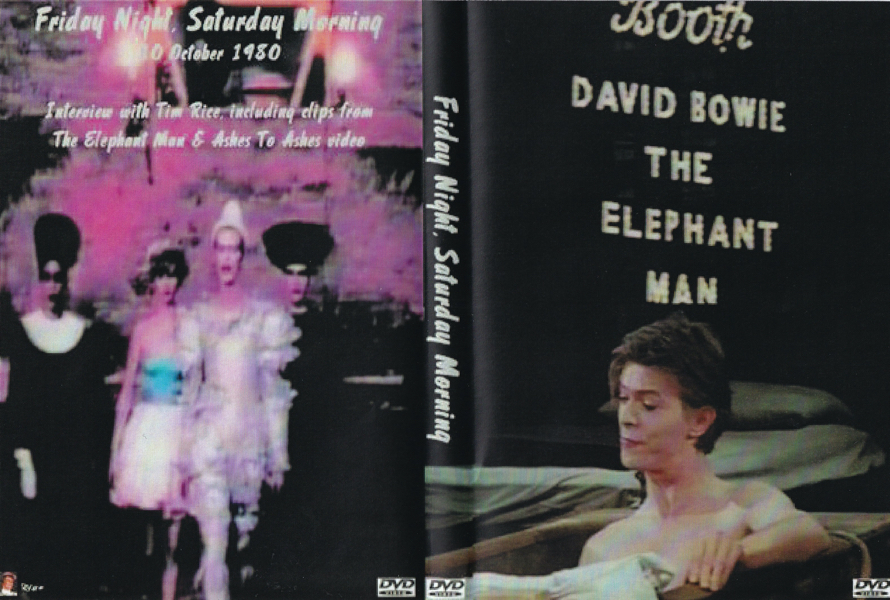 (Visited 225 times, 1 visits today)