David Bowie 2004-02-26 Melbourne ,Rod Laver Arena – David Bowie's Fantastic Voyage Downunder –
(3/5)
Songs:
Intro.
Rebel Rebel.
New Killer Star.
Fame.
Cactus.
Reality.
All The Young Dudes.
China Girl.
The Man Who Sold The World.
Fashion.
Hang Onto Yourself.
The Loneliest Guy.
Pablo Picasso.
Sound And Vision.
Always Crashing In The Same Car.
Breaking Glass.
Be My Wife.
Let's Dance.
Sunday.
Heathen (The Rays).
Under Pressure.
Life On Mars.
Hallo Spaceboy.
Changes.
Slip Away.
Looking For Water.
Starman.
Quicksand.
Days.
White Light White Heat.
Ashes To Ashes.
I've Been Waiting For You.
Never Get Old.
Panic In Detroit.
I'm Afraid Of Americans.
Heroes.
Fantastic Voyage.
5:15 Angels Have Gone.
Afraid.
Trye Some, Buy Some.
Five Years.
Suffragette City.
Ziggy Stardust.
This is a "concert movie" that I made years ago. It was more of an experiment than anything else. The idea was to try and get some kind of visual representation for every song performed by David Bowie on his 2004 Australian Tour. I had 2 video sources for the first night in Melbourne, 1 was very good quality but only clips, the other was actually from the same camera but contained more of the show (not sure why so much was missing from the other version) but was slightly lower quality. I also had a few bits and pieces from the second night in Melbourne. Then there was his appearance on Rove Live. From there, I set about finding whatever other footage was available online, finding short clips from various shows.
The audio was captured from every show on the tour, I remember back on BowieAudio, then JBT, there was a guy called 96dbfreak (or something along those lines…at least I think it was him) who not only recorded every show but then spent ages EQing to make them sound as good as possible. I had both Melbourne shows, plus a few others (Sydney, Adelaide…possibly Brisbane…can't remember).
So at that point I realized that I had audio for everything, but video for only the majority of the songs. So I was easily able to create something similar to a multi cam mix for some songs, but had other songs with no video. With some "clever" editing, I did my best to fill in the gaps. The result was a 3+ hour concert movie. I think I managed to get every song in there, there could be 1 or 2 missing. Quality varies. I should also mention that the song list on the cover is missing "The Man Who Sold The World". It is on there, after "China Girl".
It has (or was…Copyright bot may have gotten to it by now) been on YouTube in 240p since I finished it, but this is the DVD version. To my knowledge, only 2 copies of the DVD exist, unless the guy a gave a copy to (the bootlegger who gave me the original DVD of bits of the 2 Melbourne shows) then spread it around, but I doubt it.
Please be patient when trying to download this. I still live in Australia (although I do plan to move to the UK eventually, but this is another story for another time) and we are something like 75th in the world when it comes to internet connection speeds. So it may take a while. However, I personally think it is worth it…but then I would say that lol.
——————————————
David Bowie has just stepped off the stage at the Rod Laver Arena, and, as ever, the very lovely Charly has come through with the goods. Apparently David was back in the familiar stage outfit that he's been wearing throughout A reality Tour. It seems the Zoot may have been a one off.
During the band introduction after Heathen David, accompanied by the band, sang Happy Birthday to Gerry. I have to hold up my hands and admit I'm not sure if it is actually Gerry's birthday, (can't find anything online) or whether this was just some kind of private joke?
In the event that it is Gerry's birthday, perhaps you should take a look at yesterday's news and go get a Spooky CD and Screwdriver for his birthday fund!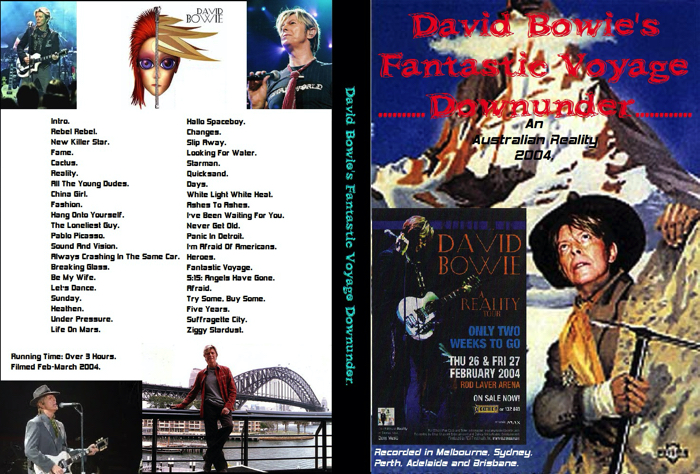 info Bowie DownUnder
The 14,820 capacity Rod Laver Arena had the honour of staging two back-to-back Reality concerts.
Built in 1988, the venue is well acquainted with international rock acts but most notably it is the home of The Australian Open tennis championship. The night of February 26, however, marked the first occasion that David Bowie would play a concert at the arena.
On the first night, Bowie's bassist – Gail Ann Dorsey (a huge tennis fan) – made note of the venue they were playing in by appearing on stage with a giant sized tennis ball.
Early in the concert, Bowie noticed a girl wearing a tiara in the front rows and later on, he addressed more people for their 'very cool outfits'. Bowie proceeded to play a solid show even if there were no new songs added from the previous downunder concerts.
Finally, Bowie closed the first night with a triple-header from Ziggy. Having already played Hang On To Yourself and Starman earlier in the set, Bowie approached the mic to sing Five Years, Suffragette City and Ziggy Stardust.
David Bowie Tour band 2003-2004 A Reality Tour
A Reality Tour was a worldwide concert tour by David Bowie in support of the Reality album. The tour commenced on 7 October 2003 at the Forum Copenhagen, Denmark, continuing through Europe, North America, Asia, including a return to New Zealand and Australia for the first time since the 1987 Glass Spider Tour. Bowie retired from performing live in 2006, making this tour his last.
The tour grossed US$46 million, making it the ninth-highest-grossing tour of 2004.
The Tour band
• David Bowie – vocals and acoustic guitar
• Earl Slick – lead guitar
• Gerry Leonard – guitar, backing vocals
• Gail Ann Dorsey – bass guitar, vocals
• Sterling Campbell – drums, percussion
• Mike Garson – keyboards, piano
• Catherine Russell – backing keyboards/backing vocals
Start date 11 June 2002
End date 23 October 2002



(Visited 26 times, 1 visits today)