David Bowie With a Little Help from David Bowie (A collection of David Bowie guest appearances from 1970 till 1975)
Sound Quality Rating
01. Dib Cochran & The Earwigs – Oh Baby 2:47
02. Peter Noone – Oh You Pretty Things 3:04
03. Peter Noone – Right On Mother 2:38
04. Arnold Corns – Moonage Daydream 3:52
05. Arnold Corns – Hang On To Yourself 2:52
06. Arnold Corns – Man In The Middle 4:07
07. Arnold Corns – Looking For A Friend 3:16
08. Mott The Hoople – All The Young Dudes 3:25
09. Lulu – The Man Who Sold The World 3:49
10. Lulu – Watch That Man 4:57
11. Lulu – Dodo 4:29
12. Mick Ronson – Growin' Up And I'm Fine 3:08
13. Mick Ronson – Music Is Lethal 5:07
14. Mick Ronson – Hey Ma Get Papa 2:18
15. Steeleye Span – To Know Him Is To Love Him 2:41
16. Dana Gillespie – Andy Warhol 3:01
17. Dana Gillespie – Backed A Loser 4:48
18. Dana Gillespie – Mother, Don't Be Frightened 4:15
19. Mick Ronson – Stone Love (Soul Love) 3:27
Bonus
20. Mott The Hoople – All The Young Dudes – Posthumous Mix 4:24
Label : No label
Audio Source : Mostly official releases
Lineage : Unknown
Taping Gear : Unknown
Taper: Unknown
Recording Location: Unknown
Total running time : 1:12:26
Sound Quality : very good. Equals record or radio/TV apart from a slight noise and some dullness.
Attendance : Unknown
Artwork : Yes
A compilation (recorded between 1970 & 1975) of twenty songs where David helped out his friends. Mostly official releases
All tracks on this cd were released in the past on vinyl or cd by various artists.
Track 1 is a song by Bob Dylan performed by Dib Cochran and the Earwigs. Rumours had it for years that Bowie was present on this recording but Tony Visconti claimed a few years ago that this recording doesn't feature David but all other tracks have in some way or another vocal or musical help from David or were written by him.
DC & The Earwigs isn't T. Rex strictly speaking. They were: Marc Bolan – guitar, Tony Visconti – bass & lead vocals, Rick Wakeman – keyboards, John Cambridge – drums. The song was Bolan's.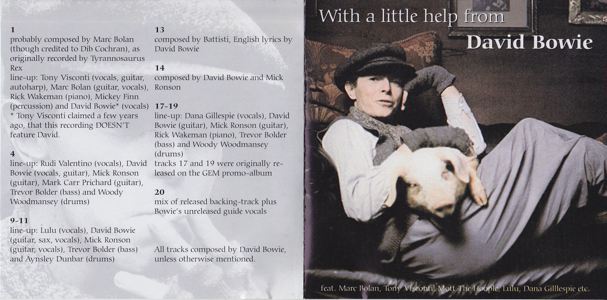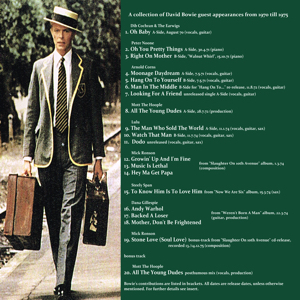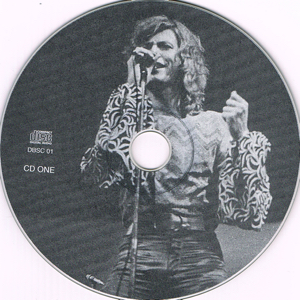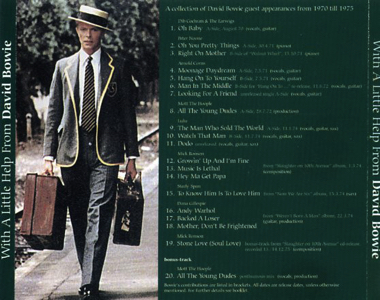 (Visited 60 times, 1 visits today)