David Bowie Duets 1.
Sound Quality Rating
– 01. WITHOUT YOU I'M NOTHING – WITH PLACEBOY.flac
– 02. 20 TH CENTURY BOY – WITH PLACEBOY.flac
– 03. HALL SPACE BOY – WITH FOO FIGHTERS.flac
– 04. FAME – WITH CHER.flac
– 05. CAN YOU HEAR ME – WITH CHER.flac
– 06. YOUNG AMERICANS – WITH CHER.flac
– 07. DANCING IN THE STREET – WITH MICK JAGGER.flac
– 08. UNDER PRESSURE – WITH ANNIE LENNOX.flac
– 09 TONIGHT – WITH TINA TURNER.flac
– 10. LET'S DANCE – WITH TINA TURNER.flac
– 11. "HEROES" – WITH BING CROSBY.flac
– 12. PEACE ON EARTH – WITH BING CROSBY.flac
– 13. WAITING FOR THE MAN – WITH LOU REED.flac
– 14. QUEEN BITCH – WITH LOU REED.flac
– 15. UNDER PRESSURE – WITH GAIL ANN DORSEY.flac
Label : No label
Audio Source :
Lineage : Unknown
Total running time : 1:02:11
Sound Quality : Excellent quality! Equals record or Radio/TV
Artwork : Saloca 2004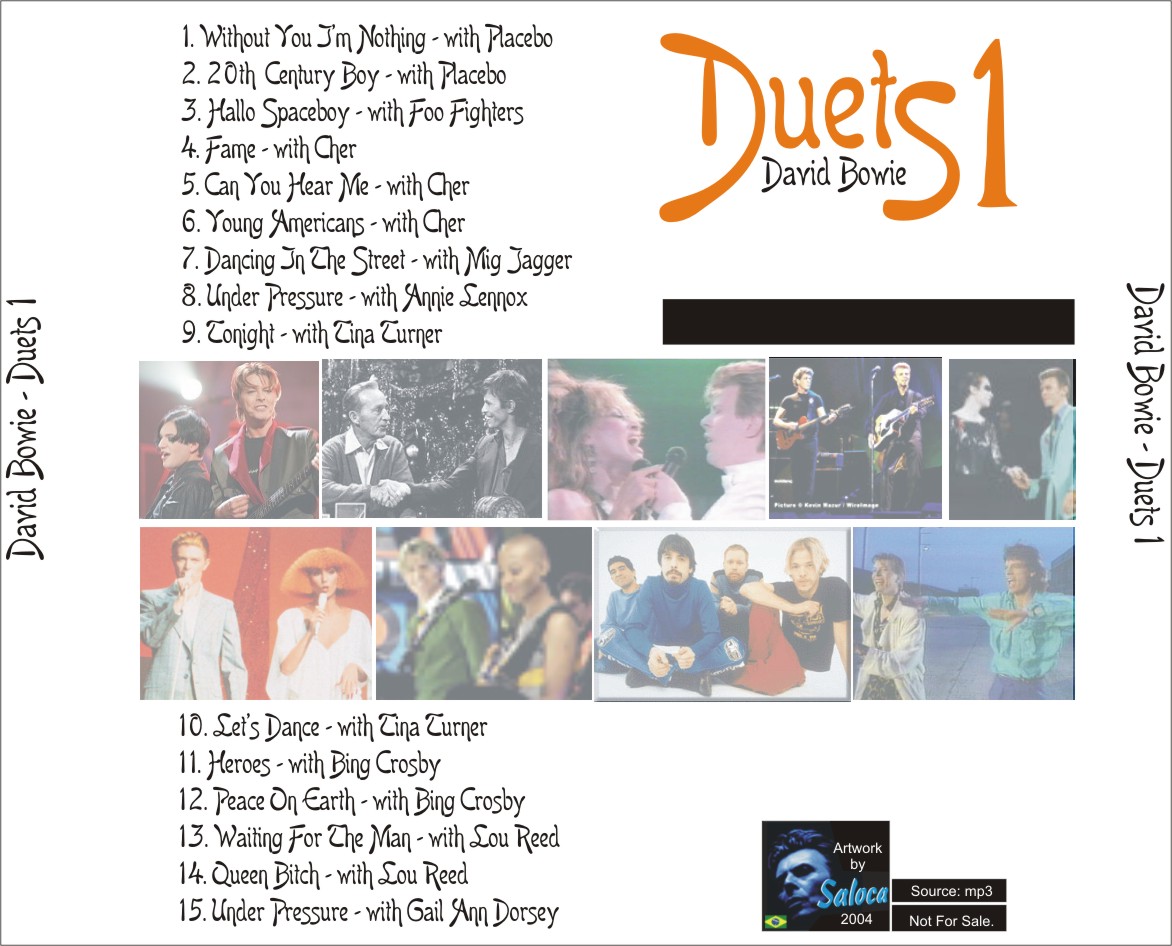 5 Legendary Bowie Duets
Even Ziggy needed the Spiders from Mars. Just because Bowie has enough personality and personas to be a one-man band, doesn't mean the Thin White Duke is adverse to collaboration. Brimming with ingenuity, genius and style, throughout his career Bowie has shared his glittering spotlight with some of music history's most acclaimed performers. From the weird to the wonderful, we take a look at some of the best Bowie collaborations.
Mick Jagger and David Bowie – Dancing in the Street
Apparently Bowie had kicked his coke habit by the 80s, but this Mick Jagger duet of the 1964 tune "Dancing in the Street" may make you reconsider. Incomparably camp and eerily deranged, Jagger and Bowie mimic courting peacocks, aggressively serenading one another while draped in the finest threads the 80s had to offer – oversized trench coats atop silk pajamas and puffy lime shirts. Not content to simply show off the era's fashions, the dueling cocks also employed the cinematic style of the times, complete with slow-mo jumping to nowhere and a memorable fade-out on the pairs' protruding derrieres. Though they're singing that 'every guy, should grab a girl', most people view this collaboration as thinly veiled proof of the superstars' rumoured dalliance.
Can you blame them?
And then there's the time Bowie and Jagger performed this live with Keith Richards and Paul McCartney, which is way, way better than the video clip.
Marianne Faithfull and David Bowie – I Got You Babe
Aside from Bowie and Jagger's artistic and interpersonal experimentation, the two rockers were connected by Marianne Faithfull, who was the Rolling Stones front man's girlfriend from 1966 to 1970. In those years, Bowie was undergoing a stellar rebirth, emerging in 1972 as Ziggy Stardust. In this 1973 clip, Bowie and Faithfull turn Sonny and Cher's 1965 hit, "I Got You Babe" into a weird and bittersweet farewell to Ziggy Stardust. Bowie is in full-feathered drag as Ziggy with Marianne alongside as a wayward nun, offering a uniquely zany and sacrilegious take on the originally saccharine serenade.
Queen and Bowie – Under Pressure
Once you've heard this 1981 classic, you'll forget that Vanilla Ice ever sampled the iconic opening bars. Beginning with that memorable bass line and Freddie Mercury's scat singing, the song evolves into a crescendo of vocal aerobatics from two of rock's greatest singers, with Bowie's baritone the launching pad for Mercury's soaring falsetto. While the song is polished and perfect vocally, the genesis of "Under Pressure" is a little more discordant, with Mercury and Bowie reportedly clashing over the mixing. According to a 2008 Mojo article, Queen guitarist Brian May recalled "David took over the song lyrically. Looking back, it's a great song but it should have been mixed differently. Freddie and David had a fierce battle over that."
David Gilmour and David Bowie – Comfortably Numb
When you're David Bowie, it's likely that you can pick who you want to do a duet with, so why not yet another legend, like Pink Floyd's David Gilmour. Joining Gilmour on stage in 2007 at legendary venue Royal Albert Hall, Bowie ads his signature vocals to "Comfortably Numb", and while it's a pretty by-the-numbers rendition, there's something haunting about the Thin White Duke's take on the iconic first verse.
Lou Reed and David Bowie – Waiting for the Man
Another duet, another legend. This time Bowie joins Lou Reed, the late Velvet Underground front man, on the epochal, musical journey to score $26 worth of junk from a Harlem brownstone. Bowie's strained timbre, particularly on the second verse, mimics Reed's rougher voice, so that their trade of vocals sounds scrappy, just like you'd expect a song about going on the nod to sound. Aside from the musicality, the collaboration signposts the broader 60s and 70s NYC counterculture scene (and particularly, artists on heroin), the ideas of which inevitably influenced Bowie, with a kind of six degrees of separation via Lou Reed's orbit around William S. Burroughs, the city's original junky, who Bowie got the cut-up technique from.
Check out Burroughs and Bowie interviewing each other upon their first meeting in London in 1974, where Bowie professes that "Lou Reed is the most important definitive writer in modern rock."
Honourable Mention
This might actually be the weirdest of the bunch…
(Visited 4,019 times, 1 visits today)