David Bowie 1999-10-14 Paris ,Elysee Montmartre – Paris 1999 – (CD + Bonus DVDR – Wardour-328).
Sound Quality Rating
01. Life On Mars.flac
02. Thursday's Child.flac
03. Something In The Air.flac
04. Word On A Wing.flac
05. Can't Help Thinking About Me.flac
06. China Girl.flac
07. Always Crashing In The Same Car.flac
08. Survive.flac
09. Drive-in Saturday.flac
10. Changes.flac
11. Seven.flac
12. Repetition.flac
13. I Can't Read.flac
14. Band Introductions.flac
15. The Pretty Things Are Going To Hell.flac
16. Rebel Rebel.flac
DVD: Pro-Shot 75 minutes.
Label : Wardour – 328
Audio Source: Stereo Soundboard Audio
DVD Source: Pro-Shot Colour NTSC approx 75 minutes
Total running time Audio : 1:17:36
Total running time DVD : 1:15:00
Sound Quality : Excellent quality! Equals record or radio
Attendance : 1.000
Artwork : Yes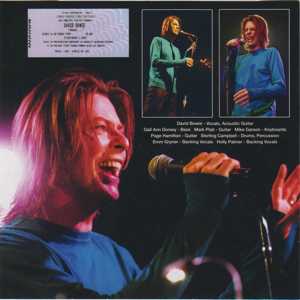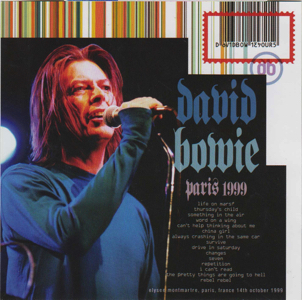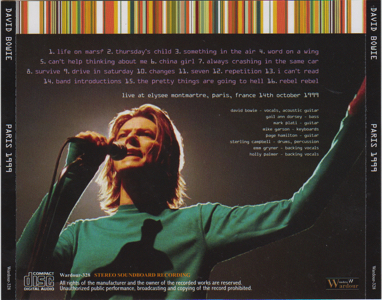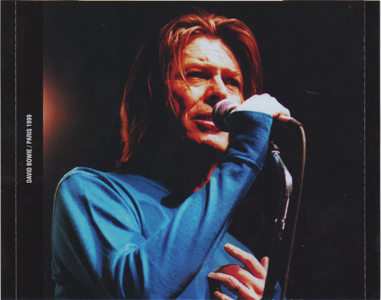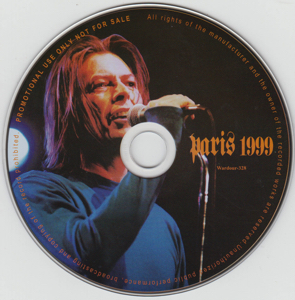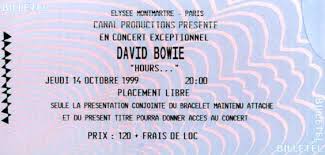 David Bowie Tour band 1999 Hours Tour
The Hours Tour was a small-scale promotional concert tour by David Bowie comprising eight live performances and numerous television appearances in support of the album Hours. Guitarist Page Hamilton, founding member of Helmet, was drafted to replace Reeves Gabrels whose final performance and association with Bowie ended at the VH1 Storytellers performance on 23 August 1999. Rumours of a split were denied by both parties, until a few months later the story changed as the guitarist admitted that he and Bowie had drifted apart.
The Tour band
• David Bowie: vocals
• Page Hamilton – lead and rhythm guitar
• Gail Ann Dorsey: bass guitar, vocal
• Sterling Campbell – drums, percussion
• Holly Palmer – backing vocals, percussion
• Mark Plati – lead and rhythm guitar, acoustic guitar, bass guitar, backing vocals, Music_director
• Mike Garson: keyboards, backing vocals
• Emm Gryner – backing vocals
 
 
 
(Visited 543 times, 1 visits today)