David Bowie 1999-10-10 Dublin ,The HQ Club – A Small Affair in Dublin –  
Sound Quality Rating
01. Life on Mars_1.flac
02. Thursday's Child_1.flac
03. Can't Help Thinking About Me_1.flac
04. Word On A Wing.flac
05. China Girl.flac
06. Repetition.flac
07. Always Crashing In The Same Car.flac
08. I Can't Read.flac
09. Survive.flac
10. Drive-In Saturday.flac
11. Changes.flac
12. ThePretty Things Are Going To Hell.flac
13. Seven.flac
14. Rebel Rebel.flac
Bonus: Tibet House Benefit New York, February 26, 2001
15. Silly Boy Blue.flac
Bonus: Tibet House Benefit New York, February 22, 2002
16. Waterloo Sunse.flac
Label : Golden Eggs – Egg 140
Audio Source : Audience recording
Lineage : Unknown
Taping Gear : Unknown
Taper: Unknown
Recording Location: Unknown
Total running time : 1:18:28
Sound Quality : Good. Equals record or radio/TV apart from a slight noise and some dullness.
Attendance : 1.200
Artwork : Yes
This is a great Boot, it was the First gig after a few weeks rehearsing in Factory Studios, and Bowie is nervous but in Great form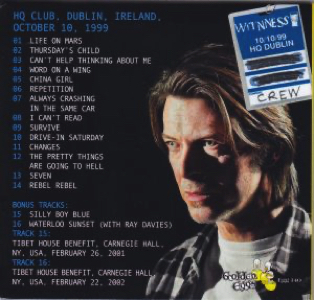 This fabulous audience recording – Rich of a stereo effect, ever so slightly distant from the stage with enough audience participation to sound like you're in the middle of the crowd while David a his band sound like they're panned to the left a little. There's a a little disruption as Bowie gets loud.
Just like the official release, "Something In The Air", It begins with a Garson lead solo-piano lead 'Life On Mars', a grandiose reading of the track that would lead Bowie to fame (As an aside, a song that Bowie thought up as he was on the No. 47 bus to Lewisham to buy a shirt from his fave boutique, with 'My Way' ringing in his ears.)
This is followed by the first track from the promotional album, "Hours", which David proudly tells the audience went straight in to the charts at #5, the very same day. The lilting, soft rock ballad comes alive mainly for Stirling Campbell's driven pulse and the bands nuanced harmonies behind Bowie's impassioned vocals.
We then head right back to the 60's and a track that Bowie seemed to have a love hate relationship with – He apparently disliked it because of the third person reference, however, it took some distinction as the first song that David wrote as a solo artist and Bowie was obviously considering it for his next album, the famously unreleased, "TOY". 'Can't Help Thinking About Me', is exhumed in a proto-industrial punk style. It's always been a personal favourite and it's Kinks stylings are perfect – unaffected by it's reappraisal. The story that tracks it out is brilliant as David describes the effort that the band put in to being studio ready when they obviously weren't.
Introducing 'Word On A Wing', Bowie suggests that the crowd would be hearing a track from "Station To Station", before throwing in the aside, "Don't get too excited, it's probably not the one you want." – It's safe to suggest that had David offered a neu-wave version of 'The Laughing Gnome' the audience would still have been floored, this grandly wide version of the song is perfect however, it holds true to the original while being worlds-bold of it's own place.
After an introduction to another section of the band (With a friendly dig at Reeves Gabriel who had split earlier this year), the band pummel through a hard-rock version of 'China Girl' before bringing 'Repetition' out of retirement. From the "Lodger" album, it's weird, new wave stomp brings it right back in to theme with the set – a relentless industrial vibe, cracking drums, theamin, B52-style backing vocals. A very different take on a rock from the past is 'Always Crashing In The Same Car' – it's gentle electric rhythm gives way to an acoustic style that builds as Mike Garson adds a delicate piano vein underneath, the harmonies exemplified for this new band in to a thrillingly haunting vibe.
Back to the present, 'I Can't Read' and 'Survive' both come next, the first track one very similar in thought to 'I Can't Help ..', as it first appeared on the Tin Machine debut, only to be re-recorded for "Earthling", however, it was chosen as separate single. The send track, beginning as an acoustic, languorous movement before erupting in to a grand pean to loss.
We shift back to classics again and 'Drive In Saturday' is reproduced in a harder style – Slick guitar lines glide against the chimes of the shoo-waa harmonies, the theremin also screams it's approval to join in. From this we're in to 'Changes', not before David makes a joke about his smoking. The crowd explode at the second key change and chime along with each and every word.
The final two tracks from "Hours" are 'The Pretty Things Are Going To Hell' and 'Seven', neither as instantly chantable as what came before but either rockable as Bowie was still swimming through his hard industrial phase or lilting but undeniable that he had a way of being anthemic in which ever way he wrote.
Of course, it wouldn't be a live show without a barn storming closer and tonight's was reignited this year and would stick with Bowie until the end of his touring years, 'Rebel Rebel'. Speedy, wham-bam, calling and reactive, Bowie's call to teenage unconformity by way of a Stonesian riff is sneeringly punky, iconoclastic and radio-friendly all at once – The sound suffers as the band get louder but it still keeps in with the joy.
Of the bonus tracks, they're of lesser quality than the main attraction but still listenable – If we're still to capture the magnificence of a Bowie appearance, it's better than nothing – 'Silly Boy Blue' is a Scott Walker styled Ballard of swooning strings and Hollywood romance, the only time that Bowie would prepare this track for an outing. His duo with Ray Davies, one year later has the pair working the song Simon and Garfunkel style, it would work a little better for both voices being clearer, however, it's David's that appears as the main lead, slightly over shadowing Ray's attempts to get out there.
The trifold cover is decorated in many era perfect shots of David, alone and with Iman, there's also a short bit of literature, half of which is cheekily taken from Wikipedia.
A very nice little set to have – To me, it would be a close call between this and the Kit Kat club if you were picking up unofficial releases, that said, I have the feeling that if you're going this far down the rabbit hole, you'll be picking up more than just one.
Certainly recommended though – a very nice recording from a very good short promotional tour and at least David had by then really started to enjoy his past a little more.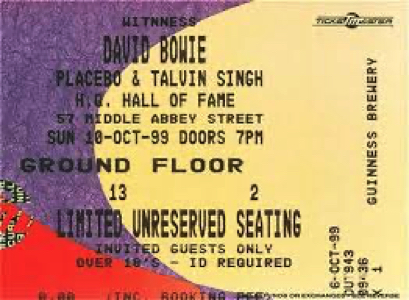 David Bowie Tour band 1999 Hours Tour
The Hours Tour was a small-scale promotional concert tour by David Bowie comprising eight live performances and numerous television appearances in support of the album Hours. Guitarist Page Hamilton, founding member of Helmet, was drafted to replace Reeves Gabrels whose final performance and association with Bowie ended at the VH1 Storytellers performance on 23 August 1999. Rumours of a split were denied by both parties, until a few months later the story changed as the guitarist admitted that he and Bowie had drifted apart.
The Tour band
• David Bowie: vocals
• Page Hamilton – lead and rhythm guitar
• Gail Ann Dorsey: bass guitar, vocal
• Sterling Campbell – drums, percussion
• Holly Palmer – backing vocals, percussion
• Mark Plati – lead and rhythm guitar, acoustic guitar, bass guitar, backing vocals, Music_director
• Mike Garson: keyboards, backing vocals
• Emm Gryner – backing vocals
 
 
 
(Visited 37 times, 1 visits today)