David Bowie Westwood One Superstars Series Presents – David Bowie 1990-1996 – .
Sound Quality Rating
NHK Hall, Tokyo, Japan, may 16 1990 .
01. Show Promo.flac
Phoenix Festival, Stratford, England, july 18 1996 .
02. Introduction.flac
03. The Heart's Filthy Lesson.flac
04. "Heroes".flac
05. Lust For Life.flac
06. All The Young Dudes.flac
07. White Light White Heat.flac
08. Moonage Daydream.flac
NHK Hall, Tokyo, Japan, may 16 1990 .
09. Space Oddity.flac
10. Changes.flac
11. TVC 15.flac
12. Rebel Rebel.flac
13. Ashes To Ashes.flac
14. Starman.flac
15. Fashion.flac
16. Blue Jean.flac
17. Let's Dance.flac
18. Suffragette City.flac
Label : No label
Audio Source : Soundboard – original Radio Station version (Pre-FM)
Lineage : Unknown
Taping Gear : Unknown
Taper: Unknown
Recording Location: Unknown
Total running time : 1:14:09
Sound Quality : very good. Equals record or radio apart from a slight noise and some dullness.
Attendance : Phoenix Festival, Stratford, England, july 18 1996 – 7.000
Attendance : NHK Hall, Tokyo, Japan, may 16 1990 – 45.000
Artwork : Yes
As with all these Pre-FM Broadcast discs, the songs and commercials all run together in huge "tracks".By removing the commercials, this now fits on one disc.i re-tracked the songs from 2-4 song "blocks" to individual tracks.
this Was originally broadcast in 1997 (in support of EARTHLING). that broadcast DID NOT CONTAIN several songs (Blue Jean and STARMAN come to mind).It DID CONTAIN YOUNG AMERICANS (which is not present on this re-broadcast,presented in support of HEATHEN).
if demand warrants, i can upload the post-FM, 97 version at a later date.This torrent is the PRE-FM 2002 version.
I love the fact that DAVID, (once again) has added a raving western audience into the mix. Yes, i know a huge multitude attended the Phoenix Festival, but anyone who has watched the 1990 NHK video, or listened to the concert audio, (both torrented here on DIME) will immediately recognize that the reserved, JAPANESE audience has been replaced with a screaming throng of adorers!
(I suspect that the Nassau colliseum broadcast in 1976 was also doctored with this embelishment.i KNOW that it was used to create a "false" live version of DIAMOND DOGS (broadcast on the GLASS SPIDER SPECIAL) in 1987.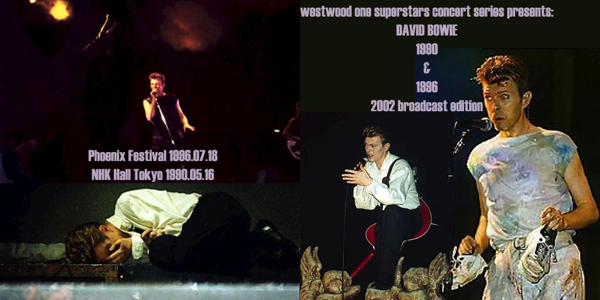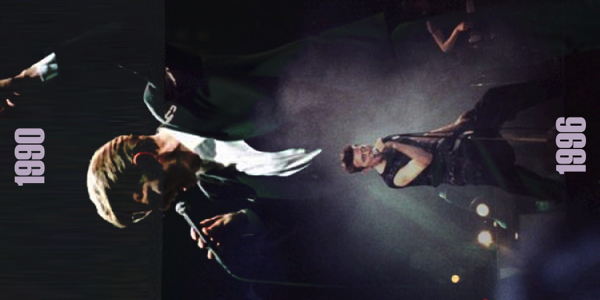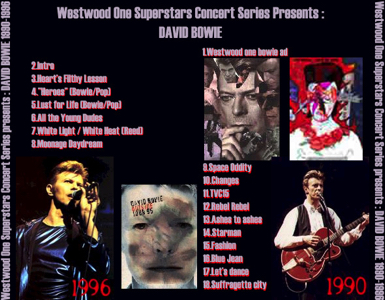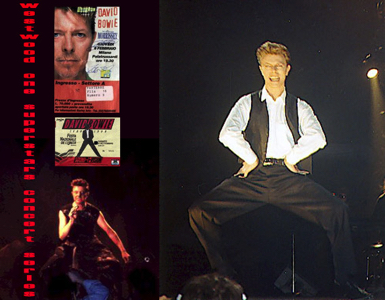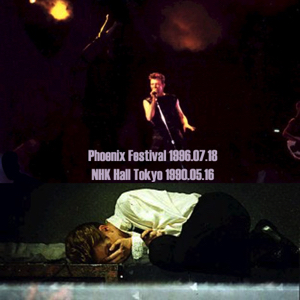 David Bowie Tour band 1996 – Outside Summer Festivals Tour & East Coast Ballroom Tour
Outside Summer Festivals Tour was a concert tour by David Bowie. Following on from the Outside Tour which ended in February 1996, the tour opened at Nippon Budokan in Tokyo, Japan on 4 June 1996. With a slimmed-down tour band from the previous tour, this tour visited to Japan, Russia and a string of performances on the European Summer festivals circuit.
Personeel
• David Bowie: vocals
• Reeves Gabrels: guitar, backing vocals
• Gail Ann Dorsey: bass guitar, vocals
• Zachary Alford: drums
• Mike Garson: keyboards, backing vocals


 
(Visited 231 times, 1 visits today)