David Bowie 2004-05-11 St.Louis ,Fox Theatre – Hard Days Night –
Sound Quality Rating
01- Intro.flac
02- Rebel Rebel .flac
03- New Killer Star.flac
04- Battle For Britain (The Lette.flac
05- Cactus.flac
06- Fashion.flac
07- Hang Onto Yourself.flac
08- All The Young Dudes.flac
09- China Girl.flac
10- Afraid.flac
11- The Lonliest Guy.flac
12- The Man Who Sold The World.flac
13- A New Career In A New Town.flac
14- Be My Wife.flac
15- Hallo Spaceboy.flac
16- Sunday.flac
17- Heathen (The Rays).flac
18- Band Introduction.flac
19- Under Pressure.flac
20- Days.flac
21- Changes.flac
22- Ashes To Ashes.flac
23- Quicksand.flac
24- White Light White Heat.flac
25- "Heroes".flac
26- Station To Station.flac
27- Suffragette City.flac
28- Ziggy Startdust.flac
Label : No label
Audio Source : Audience recording
Lineage : Unknown
Taping Gear : Unknown
Taper: Unknown
Recording Location: Unknown
Total running time : 2:09:38
Sound Quality : Good. Equals record or radio/TV apart from a slight noise and some dullness.
Attendance : Unknown
Artwork : Yes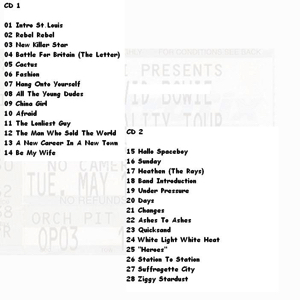 David Bowie's last St. Louis concert was one for the books
By Kevin C. Johnson St. Louis Post-Dispatch Jan 11, 2016
When news hit of David Bowie's quiet death from cancer shortly after midnight Sunday, it looked like one of the greatest death hoaxes of all time.
That's how unbelievable it was to me.
The Hollywood Reporter, a source I trust immensely, was the first traditional media to report it, but it did so suspiciously low on its website homepage initially.
The news was on Bowie's official Facebook and Twitter, but surely those things had been hacked I figured, and the Hollywood Reporter fell for it.
After all, he'd just released his new album "Blackstar" on Friday, his 69th birthday.
But we all know the sad news of Bowie's death now, that the kept his cancer private, and that his last album was a well-planned parting gift to fans.
There really are no words to do justice to Bowie and his contribution to music and pop culture.
Instead, I'm instantly reminded of the one time I saw Bowie live at a May 11, 2004 concert at the Fox Theatre.
A show that stands out as great even without my favorite Bowie song "Fame." The headline "Ch-Ch Changeable Bowie is still the coolest" doesn't make me cringe too too. And apologies for the review's first sentence, which in hindsight could have been deleted.
Here's the text of my review that ran May 13, 2004
"Concerts by classic-rock powerhouses such as the Eagles, Fleetwood Mac, Billy Joel and Elton John just can't match the feeling of a David Bowie concert, as proved at a packed Fox Theatre on Tuesday night.
The cult-inspiring Bowie is the ultimate rock star, with a life and career that has included a supermodel wife, bisexuality, drugs, colorful costumes and ever-changing stage personas, and he offers an evening that's a true event. Other classic rockers tour routinely, which can dull the impact, but Bowie's latest trek is his first in eight years, giving it must-see status. Featuring a set, sound and scope that seemed to extend beyond the parameters of the Fox's walls, Bowie's 2 1/2-hour show joyfully showcased what a vital live performer he remains. At the age of 57, he's still the coolest person in any room, full of cocksure English swagger.
Looking fit and almost handsome in a mix of denim and velour, Bowie opened with "Rebel Rebel" from 1973's "Diamond Dogs" album and "New Killer Star" from the new "Reality" CD. The pairing clued in the audience on just how wide the material would stretch, even if the new song quickly drained some of the energy that the older song generated.
Boldly forgoing some of the songs most popular with the early-MTV generation ("Let's Dance," "Modern Love," "Blue Jean") and several all-time favorites ("Fame," "Young Americans," "Golden Years"), Bowie appeared to tailor the set toward more devout fans by featuring vintage gems such as "Heroes," "Suffragette City" and, of course, "Ziggy Stardust."
"Under Pressure" was another oldie-but-goodie offered, with Bowie explaining that his "Under Pressure" partner, the late Freddie Mercury, couldn't make it and so bassist/singer Gail Ann Dorsey was filling in. Bowie instigated a sing-along for the still-winning "All the Young Dudes," and he cheekily strutted around the stage as though he were strolling a catwalk on "Fashion" (wife Iman should be proud).
He paid tribute to the Pixies with "Cactus," calling it one of the band's greatest songs. The trippy "Hallo Spaceboy" was a welcome surprise from his "Outside" CD, and "Station to Station," which opened the encore, was performed for only the second time this tour. He also performed off-kilter ballad "The Loneliest Guy, " and the melodic "Days" came from his "Reality" CD. Bowie then followed "Days" with a song he promised that everyone knew: "Changes."
Throughout the night, Bowie was warm, light and humorous. At one point, he asked audience members what their names were.
"Yeah, yeah, forget it, " he said. "I don't want to know."
He launched into a lengthy explanation of "The Man Who Sold the World" before stopping himself and asking, "Why am I going on like this? They (the band) usually stop me." Later Bowie said he wanted to introduce the band but joked that he couldn't remember their names.
Let's hope that fans won't have to wait another near-decade before Bowie appears in town again — not at his age. But this current tour is one for the books.
Stereophonics opened, demonstrating Bowie's ongoing respect of new talent. Singer Kelly Jones told the crowd his band was "massive" back home in South Wales, and it looks to be equally massive in the United States. Songs such as "I Miss You Now" and "Help Me (She's Out of Her Mind)" from "You Gotta Go There to Come Back" made a strong case for the band.
But given the accidental death of a stagehand at concert in Miami last week, Jones' comment that it had been a good week playing with Bowie seemed odd."
David Bowie Tour band 2003-2004 A Reality Tour
A Reality Tour was a worldwide concert tour by David Bowie in support of the Reality album. The tour commenced on 7 October 2003 at the Forum Copenhagen, Denmark, continuing through Europe, North America, Asia, including a return to New Zealand and Australia for the first time since the 1987 Glass Spider Tour. Bowie retired from performing live in 2006, making this tour his last.
The tour grossed US$46 million, making it the ninth-highest-grossing tour of 2004.
The Tour band
• David Bowie – vocals and acoustic guitar
• Earl Slick – lead guitar
• Gerry Leonard – guitar, backing vocals
• Gail Ann Dorsey – bass guitar, vocals
• Sterling Campbell – drums, percussion
• Mike Garson – keyboards, piano
• Catherine Russell – backing keyboards/backing vocals
Start date 11 June 2002
End date 23 October 2002



(Visited 509 times, 1 visits today)