David Bowie 2003-12-16 Uncasville (Connecticut),Mohegan Sun Arena – Little Secret –
Sound Quality Rating
01. Introduction.flac
02. Rebel Rebel.flac
03. New Killer Star.flac
04. Reality .flac
05. Fashion .flac
06. Hang On To Yourself .flac
07. Fame .flac
08. Cactus .flac
09. All The Young Dudes .flac
10. China Girl .flac
11. The Loneliest Guy.flac
12. The Man Who Sold The World .flac
13. Hallo Spaceboy.flac
14. Sunday .flac
15. Introductions.flac
16. Under Pressure .flac
17. Life On Mars?.flac
18. Ashes To Ashes.flac
19. Afraid *.flac
20. Let's Dance .flac
21. Changes.flac
22. Five Years .flac
23. I'm Afraid Of Americans.flac
24. "Heroes" .flac
25. Clapping.flac
ENCORE
26. Suffragette City.flac
27. Ziggy Stardust.flac
Label : No label > From The Hunky Geordie Tapes – From The 100& British Archives –
Audio Source : Reasonable enough audience recording – echoey sound
Lineage : AUD Master
Taping Gear : Sony ECM-717 stereo condenser mic -> Sony MZ-NF810CK Minidisc
Taper: CEddy10165
Recording Location: Unknown
Total running time : 1:58:23
Sound Quality : Noise ,dull ,but still good listened to
Attendance : Unknown
Artwork : Yes
*: The beginning of Afraid is cut due to a disc flip
This recording has never been traded or uploaded. I am conservative about circulating Minidisc recordings of artists that don't have a open taping policy – both for concerns of quality and respect.
I usually assumed a better quality DAT recording would surface, but as far as I know, this is the only source for this date. In the days following his passing, I revisited this recording and realized that it was both an excellent recording and performance and should be shared with history.
It's release is in honor and gratitude for the lifelong inspiration and enjoyment Bowie's art has given me.
After Fame: "So you're on the phone ,What are you so busy talking about?.Buy …. sell….sell….oh .your ordered drinks".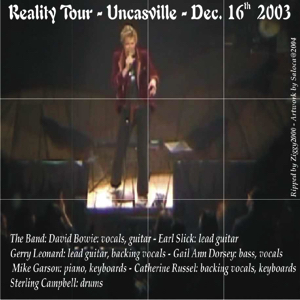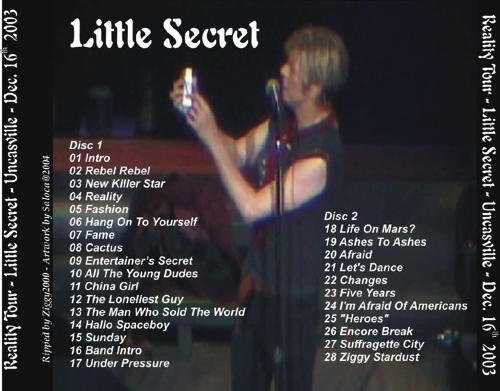 David Bowie Tour band 2003-2004 A Reality Tour
A Reality Tour was a worldwide concert tour by David Bowie in support of the Reality album. The tour commenced on 7 October 2003 at the Forum Copenhagen, Denmark, continuing through Europe, North America, Asia, including a return to New Zealand and Australia for the first time since the 1987 Glass Spider Tour. Bowie retired from performing live in 2006, making this tour his last.
The tour grossed US$46 million, making it the ninth-highest-grossing tour of 2004.
The Tour band
• David Bowie – vocals and acoustic guitar
• Earl Slick – lead guitar
• Gerry Leonard – guitar, backing vocals
• Gail Ann Dorsey – bass guitar, vocals
• Sterling Campbell – drums, percussion
• Mike Garson – keyboards, piano
• Catherine Russell – backing keyboards/backing vocals
Start date 11 June 2002
End date 23 October 2002



.
(Visited 629 times, 1 visits today)