David Bowie 2004-05-25 Buffalo ,Shea's Performing Arts Center – That Damn Curfew – (Upgrade).
Sound Quality Rating
101. Rebel Rebel.flac
102. Cactus .flac
103. Sister Midnight.flac
104. New Killer Star.flac
105. Looking For Water.flac
106. All The Young Dudes.flac
107. China Girl.flac
108. The Loneliest Guy.flac
109. The Man Who Sold The World.flac
110. The Motel.flac
111. The Battle For Britain.flac
112. Sunday.flac
113. Heathen.flac
114. Hallo Spaceboy.flac
201. band introductions.flac
202. Under Pressure.flac
203. Reality.flac
204. Station To Station.flac
205. Ashes To Ashes.flac
206. Quicksand.flac
207. Modern Love.flac
208. I'm Afraid Of Americans.flac
209. "Heroes".flac
Encore:
210. The Bewlay Brothers.flac
211. Queen Bitch.flac
212. Suffagette City.flac
213. Ziggy Stardust.flac
Label : Producer Product
Audio Source : Audience recording
Lineage : Unknown
Taping Gear : In Ear Monitor (IEM) Recording (Matrix IEM Master Conan & Audience)
Taper: Unknown
Recording Location: Unknown
Total running time : 2:11:45
Sound Quality : Good. Equals record or radio/TV apart from a slight noise and some dullness.
Attendance : Unknown
Artwork : Yes
Upgrade : yes: I must have used my Sony MZ-NF610.
New in circulation. Upgrade from original IEM recording. It took a few years, but I finaly got a hold of a good audience recording to matrix the original IEM recording.
I didn't go back and re-mix from the original IEM files, I've long lost the original settings, and there was a good amount of digital editing on the IEM recording.
Conan… AKA "The Producer"
Apart from the return of The Motel and Battle For Britain, two brand new additions to the setlist were selected from David's classic Hunky Dory album: The Bewlay Brothers and Queen Bitch!: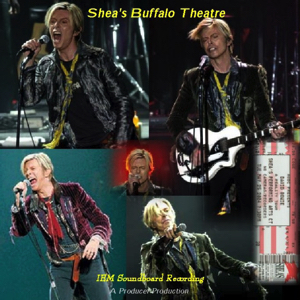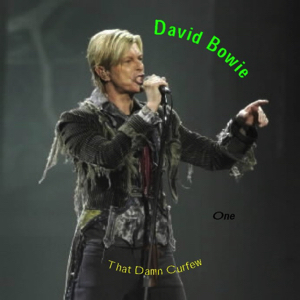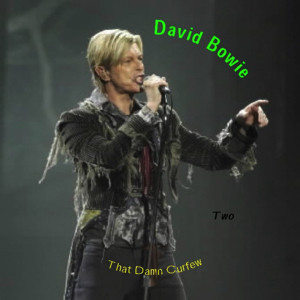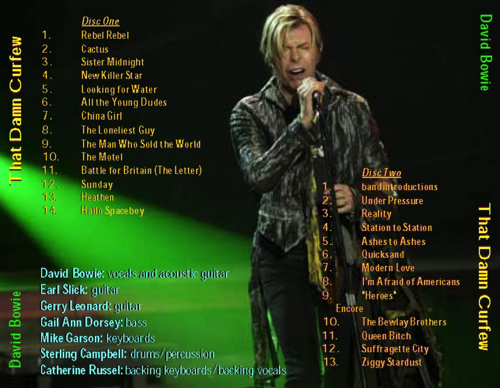 THE BAND
David Bowie vocals guitars harmonica
Earl Slick guitar
Gerry Leonard guitar
Mark Plati bass guitar, guitar
Gail Ann Dorsey bass guitar backing vocals
Sterling Campbell drums
Mike Garson keyboards, piano
Catherine Russell keyboards percussion acoustic guitar backing vocals
.
.
(Visited 286 times, 1 visits today)