David Bowie 2004-03-04 Singapore Island ,Singapore Indoor Stadium – Sing Along In Singapore –
Sound Quality Rating
01 – intro.flac
02 – Rebel Rebel.flac
03 – New Killer Star.flac
04 – Fame.flac
05 – Cactus.flac
06 – All The Young Dudes.flac
07 – China Girl [audience version].flac
08 – China Girl.flac
09 – Battle For Britain (The Letter).flac
10 – The Loneliest Guy.flac
11 – The Man Who Sold The World.flac
12 – Afraid.flac
13 – Sunday.flac
14 – Heathen (The Rays) -> band introduction.flac
15 – Under Pressure.flac
16 – Life On Mars?.flac
17 – Looking For Water.flac
18 – Quicksand*.flac
19 – Days.flac
20 – Ashes To Ashes [incl. false start].flac
21 – I'm Afraid Of Americans.flac
22 – "Heroes".flac
23 – Changes.flac
24 – Five Years.flac
25 – Suffragette City.flac
26 – Ziggy Stardust.flac
Label : No label
Audio Source : Audience recording
Lineage : Unknown
Taping Gear : Unknown
Taper: Unknown or Milan?
Recording Location: Unknown
Total running time : 2:04:48
Sound Quality : very good. Equals record or radio/TV apart from a slight noise and some dullness.
Attendance : Unknown
Artwork : By Milan
Quicksand * : This version has one track of the show missing: Quicksand ,This one track I have added from gregory2005
Remaster : Yes
The show itself is great and this is the reason why I decided to make this remaster.
David is talking a lot to the audience who is (like most of the other audiences of the tour) is responding well. Only when Bowie tries to stimulate the crowd to sing along to China Girl this fails completely and the song is stopped after some seconds.
Bowie takes it with humour and funnily some songs later in the show Ashes To Ashes again has to be stopped but this time because Bowie misses his entry.
Still David is very relaxed and even makes some allusions about some specialties of the legal situation in Singapore (in particular concerning drugs) not forgetting to point out how harmful the use of drugs is (and who knew it better?).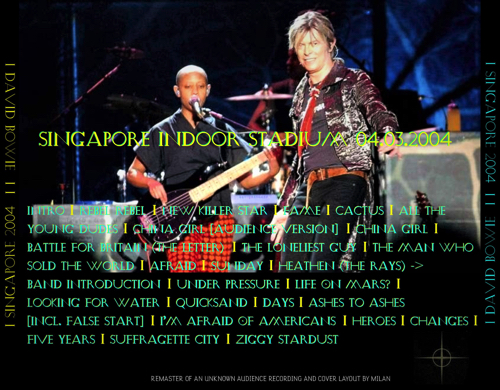 David Bowie Tour band 2003-2004 A Reality Tour
A Reality Tour was a worldwide concert tour by David Bowie in support of the Reality album. The tour commenced on 7 October 2003 at the Forum Copenhagen, Denmark, continuing through Europe, North America, Asia, including a return to New Zealand and Australia for the first time since the 1987 Glass Spider Tour. Bowie retired from performing live in 2006, making this tour his last.
The tour grossed US$46 million, making it the ninth-highest-grossing tour of 2004.
The Tour band
• David Bowie – vocals and acoustic guitar
• Earl Slick – lead guitar
• Gerry Leonard – guitar, backing vocals
• Gail Ann Dorsey – bass guitar, vocals
• Sterling Campbell – drums, percussion
• Mike Garson – keyboards, piano
• Catherine Russell – backing keyboards/backing vocals
Start date 11 June 2002
End date 23 October 2002



(Visited 419 times, 1 visits today)