David Bowie 2003-10-26 Stuttgart ,Hans Martin Schleyer Halle – Pfff….It's Stuttgart –
Sound Quality Rating
01 – Intro.flac
02 – Rebel Rebel.flac
03 – New Killer Star.flac
04 – Fame.flac
05 – Cactus.flac
06 – China Girl.flac
07 – Bomb Dog Falls The Moon.flac
08 – I Walk The Line [tease].flac
09 – Hallo Spaceboy.flac
10 – Sunday.flac
11 – Under Pressure.flac
12 – Ashes To Ashes.flac
13 – Fashion.flac
14 – Never Get Old.flac
15 – The Motel.flac
16 – 5.15 The Angels Have Gone.flac
17 – Loving The Alien.flac
18 – She'll Drive The Big Car.flac
19 – I'm Afraid Of Americans.flac
20 – "Heroes".flac
21 – Heathen (The Rays).flac
Encore Break 1:59
22 – Bring Me The Disco King.flac
23 – Changes.flac
24 – Let's Dance.flac
25 – Suffragette City.flac
26 – Ziggy Stardust – Applause – Bowie Talk.flac
Label : No label
Audio Source : Audience recording
Lineage : Unknown
Taping Gear : Unknown
Taper: Unknown
Recording Location: Unknown
Total running time : 2:12:35
Sound Quality : Good. Equals record or radio/TV apart from a slight noise and some dullness.
Attendance : Unknown
Artwork : By SomeoneSpecial
David Bowie's A Reality Tour reached Stuttgart's Hanns Martin Schleyer Halle in Germany last night. The main set was almost identical to the previous show in Zurich, but with the addition of She'll Drive The Big Car, which, by all accounts had a new acoustic intro. Slip Away was omitted from the encore.
David was in fine voice and typically playful mood, announcing that he only intended to play a fifteen-minute set, and then counting down to announce the remaining time after each song, finally announcing the last song early on in the set… he's such a wag.
After Fall Dog bombs the moon: "Thank You folks, it's been a wonderful show tonight .Thank you very much ,see you the next time"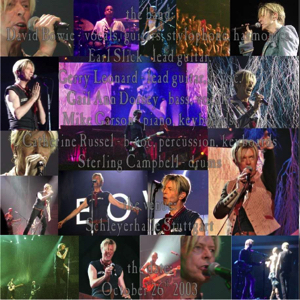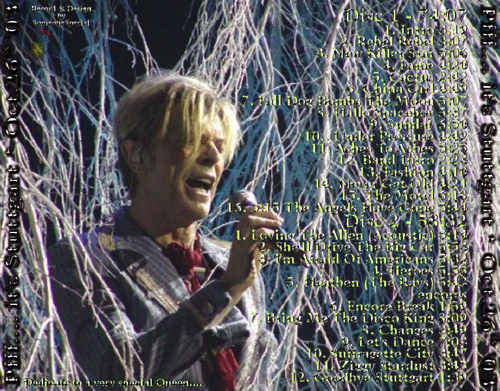 David Bowie Tour band 2003-2004 A Reality Tour
A Reality Tour was a worldwide concert tour by David Bowie in support of the Reality album. The tour commenced on 7 October 2003 at the Forum Copenhagen, Denmark, continuing through Europe, North America, Asia, including a return to New Zealand and Australia for the first time since the 1987 Glass Spider Tour. Bowie retired from performing live in 2006, making this tour his last.
The tour grossed US$46 million, making it the ninth-highest-grossing tour of 2004.
The Tour band
• David Bowie – vocals and acoustic guitar
• Earl Slick – lead guitar
• Gerry Leonard – guitar, backing vocals
• Gail Ann Dorsey – bass guitar, vocals
• Sterling Campbell – drums, percussion
• Mike Garson – keyboards, piano
• Catherine Russell – backing keyboards/backing vocals
Start date 11 June 2002
End date 23 October 2002



(Visited 722 times, 1 visits today)