David Bowie 2004-05-10 Kansas City ,Starlight Theatre – No Life In Kansas – (MP3 128) – SQ 8,5
101 Intro
102 Rebel Rebel
103 New Killer Star
104 Battle For Britain (The Letter)
105 Cactus
106 Fashion
107 All The Young Dudes
108 China Girl
109 Pablo Picasso
110 Fame
111 The Loneliest Guy
112 The Man Who Sold The World
113 Breaking Glass
114 Be My Wife
115 Hallo Spaceboy
116 Heathen (The Rays)
117 Sunday
201 Band Intro
202 Under Pressure
203 Days
204 Changes
205 The Supermen
206 Ashes To Ashes
207 Quicksand
208 White Light-White Heat
209 "Heroes"
210 Encore Break
211 Station To Station
212 Suffragette City
213 Ziggy Stardust
Label: No label
Audio Source: audience
Total running time: 2:15:538
Note: Good quality audience recording – I'd give it SQ 8,5
Attendance: . . . . . . .
Artwork: Yes.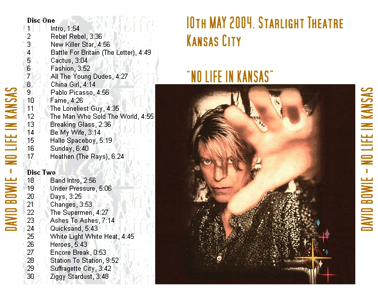 Review: Don Ignacio
It was in early February of 2004. I was sitting in my car, listening to the raydeeoh and reminiscing about that really bizarre road trip I took not a month ago to Chicago when I really wanted to see my favorite rock star in person. Unfortunately, Paul McCartney wasn't there, so I had to settle for David Bowie. And that was a great concert! I loved every second of it! (I had better have … I drove 800 miles to be there.)
Anyway, as I was driving on that fateful February morn, "Changes" by David Bowie came-up on the radio. And I was like: "Hey! I know that song!" I listened to it mighty pleasantly. And then it ended. (Which is good … because I would have lived quite a bit of life up until now in that car if the song never ended … albiet, I'd imagine you could extend those "Ch-Ch-Ch-Ch-Ch-Ch-Ch's" for quite awhile if you really wanted to.) The annoying disc jockey then tuned in and said something like: "Hay Hay Hay!!! Zingo Zango Zoo!!! That was David Bewee with "Changes." He is going to be in Kansas City on May 10!!!" And my heart skipped a beat. Apparently, that beat was a needed one, because I blacked out for a few minutes. And, when I came to, I was parked rather closely to a street sign (the sign was closer to me than the front of my car was) and I was like: "Kansas City? No waaaaaaaaayyyyyyyyyyy!!!!." (Right after coming from the Chicago concert, I wrote and posted a review of that concert on this site with a paragraph or two wondering why he can't come someplace closer to me … and he did just that! What a great guy!)
Anyway, since David Bowie was polite enough to come to Kansas City, I simply had to go. This time, my best bud from high school was going to come with me. A few weeks later, the day the tickets went on sale, I got seats as close-up as I could get (which was still a bit unsatisfactory … but it was quite a bit closer than the balcony seat I had in Chicago. Plus, Bowie and I were basically on the same elevation). Right after purchasing the tickets, I was ready to go! … Except I had to wait until May 10. … I had to wait a long time for that, too. It almost seemed like three months.
As I predicted, May 10th came right after May 9th. I picked up my friend (by tossing him over my shoulder), stuffed him in the car, and drove away to Kansas City. (It was a good opportunity to sing the Rogers and Spammerstein song "I went to Kansas City on a Friday," except it was Monday.) As my friend can also attest to, I didn't take very many wrong turns! (There was one point, however, when I sort of forgot that I drive a manual car, but I don't think he noticed.)
And so, when I arrived at the concert place, it was verrrrrry moist. It was also an outdoor theatre, and I was rather concerned that it might start raining! Thankfully, it didn't. It was just quite moist.
The opening act was a typical post-grunge band called Stereophonics. (Yay!! BOWIE DUMPED MACY GRAY!!!) Although, he was touring with The Polyphonic Spree a month before this … who I really would have liked to see. You see, The Polyphonic Spree is a band with dozens of band members who are dressed like they are in a religious cult of some sort. Stereophonics consists of four guys who are all dressed like people I used to try veering towards the lockers whenever I passed them down the hallway in middle school and high school. Just the same, Stereophonics was a good band. They were loud and they didn't strike me as being exceptional, but they were enjoyable. Most of the audience didn't care about them, though their reception was a tiny bit warmer compared to the Macy Gray performance in Chicago all those months ago! (It must be that way with all opening acts … remember, I'm a novice with concerts.)
After the lead singer kicked the microphone stand (he didn't destroy his guitar, though … amateur!), they left and the stagehands rolled in a new floor. And then it got dark (spooky). And then a video came on! (It was the exact same video that I saw in Chicago! … Come on! In every new town, you've got to make a new video!) And then Bewee himself came on stage! Ooooooooohhhhhhh jooooooooooyyyyyyyyyeeeeeeee! (Really … I was happy when he showed his fayce.)
And he sung "REBEL REBEL!" (Oohhhh baby!) And then he sung "New Killer Star." And then I called out to him: "HEY I HEARD THESE ONES ALREADY IN CHICAGO!!!!" And then he was like: "Oh, alright." and sung "Battle for Britain (The Letter)" from his Earthling album. Alright … let me tell you a story about "Battle for Britain (The Letter)" … it's not a great song. But that's okay. Now I can tell my grand-children that I saw David Bowie live performing "Battle for Britain (The Letter)." After that, he graced us with his 2002 cover of the Pixies' "The Cactus." That's a good song!
After everyone in the audience was thinking to themselves "I've never heard this song before … What's a 'Britain?'" The next three songs he performed were all certified Bewee classics! The disco-robotic thing from Scary Monsters ("Fashion"), the gay anthem thing he wrote for Mott the Scoople ("All the Young Dudes") and then that new romantic thing he sung about a female of the Asiatic persuasion ("China Girl"). They were all great! Although, (and he did this in Chicago as well) the notes he sang for "China Girl" seemed kind of random, and it's not at all like I've heard it sound on the raydeeeeo (and that made it verrry difficult to sing along with). But it was David Bowie! And he sung "China Girl" … what more could you ask for (besides backstage passes)?
Then, Bowie decided to sing "Pablo Picasso," the Modern Lovers cover he did for Reality … and that was GREAT! I sort of regretted missing that one in the Chicago concert, and that regret turned into a non-regret! (Yay!) That's a wooooooonderful song! And then he performed one of his most popular ditties ("Fame"), and, let me tell ya, that completely rocked the house down (even though there was already no ceiling). The guy standing in front of me was absolutely INSANE … He never took a dance lesson in his life, but it was the early 80s since he sort of figured out how the dancing thing works … sort of. Eh! It was "Fame!" That's a good time to do a quasi-Mr. Roboto dance if there ever was one!
After that, he performed "The Lonliest Guy" from Reality. The people standing next to me went to the bathroom. And then it was "THE MAN WHO SOLD THE WORLD!" (Yaaaaaaaaay!) That's the coolest song that ever lived, almost. After that, he said he would perform a song from Low. I guess he was expecting everyone to boo or something … but he got such an enthusiastic response from that announcement that he said he would perform another Low song afterwards. And he did! The songs were "Breaking Glass" (cool song) and "Be My Wife" (another COOL song). And, after that, it was "Hallo Spaceboy." I never liked "Hallo Spaceboy," but I will admit that it's a much better concert song than it sounded on that 1995 album Outside. (I wish he would perform "Strangers When We Meet" instead of "Hallo Spaceboy" all the time, but … I don't care! It's a freaking live concert!) It was loud. That's why it was cool. After that, it was "Sunday" from Heathen. I will be the first to say that Heathen is a much better studio creation, and it is really not filled with too many songs that scream out for concert performances. But I liked hearing "Sunday." ("Slow Burn" would have made a great concert song, but … eh … I'm not going to complain about anything! … Or, if I do, I will always follow it by saying "I'm not going to complain.") Then, he sang "Heathen (The Rays)," which pretty much nobody in the audience liked, because it seems everyone sat down … except for me, of course. (My posterior area was kept clean of Jerry Stiller lookalikes this time, and I was happy never to sit down! And I had a great view anyway, 'cos the seats in directly in front of me were empty! Yay!) At this point, Bowie said something like (and I'm not making it up this time): "I know what you're thinking … when is he going to sing something that we know?" And anyone who was thinking that got their wish granted, because he sang "Under Pressure," which everybody in the world thinks is so great … but I never cared a whole heck of a lot for it. But it's better than "Battle for Britain (The Letter)" and so it was all good. And then there was "Days" from Reality! I like that one! (Yay!)
(Time to start a new paragraph.) And next came the song that started it all! "Ch-Ch-Ch-Ch-Ch-Ch-Ch-Ch-Ch-Ch-Ch… etc." We all liked this song. It was a partyful song! Next, it was time for everyone to fall asleep again, because he performed one of his more obscure songs from That One Album Where He's Wearing the Dress called "The Supermen." Me, I never cared a whole heck of a lot for that one, but … until David Bowie wants to embark on a road trip to Wichita, Kansas to hear me read my music reviews live and he wants to make requests, I probably don't have much of an influence of what songs he performs. But, heck! It's David Bowie! He could sing "Highlights from the Phantom of the Opera" on stage, and I'd be perfectly happy. Then, to my uttermost merriment, he sang one of my all-time favorites (from any artist) "Ashes to Ashes" (that was worth the ticket-price alone). And next was one of his good obscure songs: "Quicksand" from Hunky Dory. When the goodness of the last notes of "Quicksand" died down, Bowie performed what I'm almost positive is his favorite song to sing in concert The Velvet Underground's "White Light/White Heat" … because I saw a video of him singing this back in the 70s when he used to dressed up like a freak in rock-and-roll pajamas. He also sang that one in Chicago. … He laaahkes that one …
And then when he performed "Heroes," I knew the concert was almost over. ("Heroes" is the last song he performs in ALL of his concerts, pretty much!) And that's a great one! It's my third favorite Bowie song! And then he left, and he made everyone in the audience scream and rattle the seats for nearly five minutes until he came out again. To my happy surprise, the first song he performed in the encore was "Station to Station!" It was the first time he performed it in a decade, he said, which made me feel like the special person that I am! (And I loooooooove that song, too!) After that point, 88 percent of the audience wondered why he wasn't signing anything from Ziggy Stardust, so he closed the concert with a GREAT rendition of "Suffragette City." Since I've been to Chicago, I realized that "Wham Bam Thank You, Ma'am" means something really naughty, so I resisted calling that out, but … everyone else did, and that was cool. After that, it was a wonderful chorus of "Ziggy Stardust" to close the concert with. (I noticed, at this point, that he pushed his hair back, making it vaguely resemble the old Ziggy Stardust hair-do.)
And then the concert was over … and so was that particular stage of my life …
(Visited 117 times, 1 visits today)