David Bowie 2004-01-11 Minneapolis ,The Target Center – Minneapolis Forever – (LOSSY MP3 160).
Sound Quality Rating
01. intro.mp3
02. Rebel Rebel.mp3
03. New Killer Star.mp3
04. Reality.mp3
05. Fashion.mp3
06. Hang on to Yourself.mp3
07. Fame.mp3
08. Cactus.mp3
09. All the Young Dudes.mp3
10. China Girl.mp3
11. Fall Dog Bombs the Moon.mp3
12. The Man who Sold the World.mp3
13. Hallo Spaceboy.mp3
14. Sunday.mp3
15. band intro.mp3
16. Under Pressure.mp3
17. Life on Mars.mp3
18. Battle for Britain.mp3
19. Ashes to Ashes.mp3
20. Changes.mp3
21. Panic in Detroit.mp3
22. I'm Afraid of Americans.mp3
23. "Heroes".mp3
ENCORE
24. Pablo Picasso.mp3
25. Be My Wife.mp3
26. Fantastic Voyage.mp3
27. White Light White Heat.mp3
28. Five Years.mp3
29. Suffragette City.mp3
30. Ziggy Stardust.mp3
Label : No label
Audio Source : Audience recording (This is unfotunately in MP3)
Lineage : Off DAT master
Taping Gear : Unknown
Taper: The Fridge
Recording Location: Unknown
Total running time : 2:11:32
Sound Quality : very good. Equals record or radio/TV apart from a slight noise and some dullness.
Attendance : 5.500
Artwork : Yes
Playing for 5,500 fans, Bowie was "very comfortable in his own skin," reported Bream. He encouraged the crowd to sing along on "All the Young Dudes" and took a mulligan on the opening of "China Girl." He was still in great voice — in fact, wrote Bream, "in concert, he is a better singer than on CD/record — more intense, more dynamic, with more range and power. He sang as if the songs mattered to him as much as they obviously did to his fans."
Bowie played for about 135 minutes, with a set about evenly divided among hits, deep tracks, and new material. Among the numbers he pulled out were the then-new "Reality," "Life On Mars," "Suffragette City," "Fashion," and "I'm Afraid of Americans," which had been his calling card at Roy Wilkins seven years prior. "The Rock and Roll Hall of Famer had enough arena-anthem choruses to keep the crowd rocking," wrote Bream, "and enough genre-expanding experimentation to please the aging hipsters."
On HowWasTheShow.com, David de Young wrote that it was "unquestionably a great rock show, but not for the reasons commonly cited. Neither the music nor the production were over the top. No new musical ground was broken. Instead, this show stands out because it was such pure David Bowie."
At Target Center, Bowie also met his entire local audience — at least, in a manner of speaking.
"Saying he didn't know our names," wrote de Young, "he asked us to each introduce ourselves starting with the guy in the first seat, first row stage right. As this would have taken a while in a venue that seats up to 15,000, Bowie decided to have us all scream our names at once. Even those of us who might not normally do such things gladly participated, and I must say it was a cathartic as well as proud experience for me to scream, 'DAVID!!!!!' at the top of my lungs."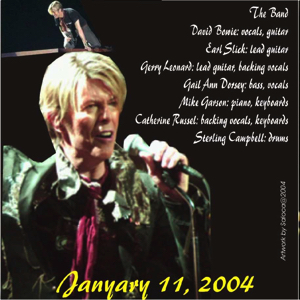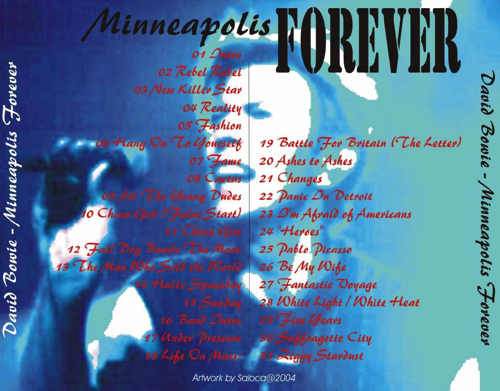 David Bowie Tour band 2003-2004 A Reality Tour
A Reality Tour was a worldwide concert tour by David Bowie in support of the Reality album. The tour commenced on 7 October 2003 at the Forum Copenhagen, Denmark, continuing through Europe, North America, Asia, including a return to New Zealand and Australia for the first time since the 1987 Glass Spider Tour. Bowie retired from performing live in 2006, making this tour his last.
The tour grossed US$46 million, making it the ninth-highest-grossing tour of 2004.
The Tour band
• David Bowie – vocals and acoustic guitar
• Earl Slick – lead guitar
• Gerry Leonard – guitar, backing vocals
• Gail Ann Dorsey – bass guitar, vocals
• Sterling Campbell – drums, percussion
• Mike Garson – keyboards, piano
• Catherine Russell – backing keyboards/backing vocals
Start date 11 June 2002
End date 23 October 2002




.
(Visited 794 times, 1 visits today)