David Bowie 2003-11-15 Lyon ,Halle Tony Garnier ,Place Antonin Perrin – Let's Face The Music In Lyon –
Sound Quality Rating
101. Intro.flac
102. Rebel Rebel.flac
103. New Killer Star.flac
104. Reality.flac
105. Fame.flac
106. Cactus.flac
107. Afraid.flac
108. China Girl.flac
109. The Loneliest Guy .flac
110. Band Introduction.flac
111. The Man Who Sold The World.flac
112. Hallo Space Boy.flac
113. Sunday.flac
114. Under Pressure.flac
115. Live On Mars.flac
116. Ashes To Ashes.flac
201. The Motel.flac
202. Loving The Alien .flac
203. Never Get Old.flac
204. Changes.flac
205. I'm Afraid Of Americans.flac
206. "Heroes".flac
Encore:
207. Five Years.flac
208. Suffragette City.flac
209. Ziggy Stardust.flac
Label : No label > 2003
Audio Source : Audience recording
Lineage : Unknown
Taping Gear : Unknown
Taper: Unknown
Recording Location: Unknown
Total running time : 1:56:15
Sound Quality : Good. Equals record or radio/TV apart from a slight noise and some dullness.
Attendance : Unknown
Artwork : Yes
This performance by David Bowie, in the beautiful French city of Marseille, made it difficult to believe that only a few days previously he had been suffering from laryngitis. But, in typical Bowie style, rather than take it easy he chose to include Life On Mars? in the set for the first time… one of the most vocally challenging songs of his repertoire!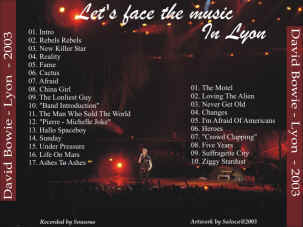 David Bowie -Rebel Rebel – Lyon 2003
Comment :
November 16, 2015 at 9:53 AM
Lyon ou Marseille??? I was there in Marseille…mind blowing
.
Here's my report of the concert (Christian R. – 2007)
We arrive in Lyon, Halle Tony Garnier around 3:30 pm. some 200 persons are already waiting… It's quite a lot of people, for this day is Saturday…
We immediately feel that we are observed by some old fans : are we true fans or just curious who see Bowie for the first time ?
On the first rows of the queue I recognize some fans I see at every french Bowie show. You can for sure distinguish them by their erudition in Bowie's life, trying to teach the new fans the Bowie « religion »…!
Some came only to see The Dandy Warhols, the first part for the night !
Sign of the times, now if you want to know more about some Bowie news , you »ve got to go on the net : the good old fan-club is no more !
I myself don't have a PC (at that time), so the only way to know a little bit more about it is to ask the guys I've mentioned before !
Difficult to hide your frustration when some guys give you flyers to make you visit these sites !
The doors open about 5:30 pm. we entry the hall in small groups to several queues again. We're being frisked but the security guys aren't very meticulous… That's great so I will be able to take some photos of the show !
The only thing they absolutely don't want to see in the hall are the plastic stoppers of bottles more than the cameras !
They fear someone could throw anything on stage, more than anything else…
I think it's a bit strange, for you can buy each kind of bootle (beer, Coca-Cola etc…) you want inside the hall !!!
As we entry from the back of the hall I'm always amazed as it's really immense !
My girlfriend and I run to the first rows, and we quickly give a glimpse at the stands selling all sorts of Bowie things : T-shirts, posters… I chose to buy a t-shirt from the tour for I find them great and that's a kind of tradition for me ….
There's already a lot of people aside the stage, but we manage to find a place amidst the 4th row at the right of the stage. Big deception, a small collection of giants stands just before us making espacially my girl friend difficult to have a good view (There are always giants before you, that's the rule !)
We are asked to sit down… We know we have to wait for 2 more hours, so we oblige…
Around 7:00 pm, everyone stand up and rush to the stage without knowing why, we 've got to follow them or we'll be stomped under hundreds of feet !
We suuceed in being closer from the stage two but again some « Gullivers » will give hard times for some people wo wish to have a good view of the show.
8:00pm : the audience wants the show to begin and yells it ! The Dandy Warhols enter the stage cut in its depth by a large white sheet. Their set will last 45 mn which is a bit short for the lyon audience will ask for more !!!
They play quiet songs with an almost cosmic feel, synth-rock tracks mainly from their last album, and more hard-edged guitar oriented songs. There's also a guy in this group who plays some trumpet and who does a great solo during a long instrumental.
I never succeded in knowing with certainty its title but recently discovered what it could be, maybe a live version of 'Pete International Airport'.
We sure know this will be a perfect first part before Bowie…
9:10pm : Some songs are played before in prelude for the show.'Queen Of All The Tarts (Overture)' is one of them, a bonus track for the limited edition's 'Reality' album. This is rather a strange song I dare say…
Now the large white sheet screen has been taken off and the whole stage shows a huge screen at the back of the stage
Just above the audience three screens suspended just above the audience show a fashion parade (?).
Then the intro itself, with what appears to be a harmonica version of 'Heroes' from what I read somewhere, and which is not recognizable at once by far ! The band appears on the screen with David playing harmlonica but as a cartoon first !
The projection on the screen goes on as the first members of the real band enter the stage from the left side.



David Bowie Tour band 2003-2004 A Reality Tour
A Reality Tour was a worldwide concert tour by David Bowie in support of the Reality album. The tour commenced on 7 October 2003 at the Forum Copenhagen, Denmark, continuing through Europe, North America, Asia, including a return to New Zealand and Australia for the first time since the 1987 Glass Spider Tour. Bowie retired from performing live in 2006, making this tour his last.
The tour grossed US$46 million, making it the ninth-highest-grossing tour of 2004.
The Tour band
• David Bowie – vocals and acoustic guitar
• Earl Slick – lead guitar
• Gerry Leonard – guitar, backing vocals
• Gail Ann Dorsey – bass guitar, vocals
• Sterling Campbell – drums, percussion
• Mike Garson – keyboards, piano
• Catherine Russell – backing keyboards/backing vocals
Start date 11 June 2002
End date 23 October 2002



(Visited 914 times, 1 visits today)