David Bowie 2003-10-24 Zurich ,Hallenstadion – Fantastic Zurich –
Sound Quality Rating
101. Intro.flac
102. Rebel Rebel.flac
103. New Killer Star.flac
104. Fame.flac
105. Cactus.flac
106. China Girl.flac
107. Fall Dog Boms The Moon .flac
108. Hallo Spaceboy.flac
109. Sunday.flac
110. Under Pressure.flac
111. Ashes To Ashes.flac
112. Fashion.flac
113. Never Get Old.flac
201. The Motel.flac
202. 5-15 The Angels Have Gone.flac
203. Loving The Alien.flac
204. I'm Afraid Of Americans.flac
205. "Heroes".flac
206. Heathen (The Rays).flac
207. Bring Me The Disco King.flac
208. Slip Away.flac
209. Changes.flac
210. let's Dance.flac
211. Suffragette City.flac
212. Ziggy Stardust.flac
Label : No label
Audio Source : Audience recording
Lineage : Unknown
Taping Gear : Unknown
Taper: Unknown
Recording Location: Unknown
Total running time : 2:09:48
Sound Quality : Good. Equals record or radio/TV apart from a slight noise and some dullness.
Attendance : 12.000
Artwork : Yes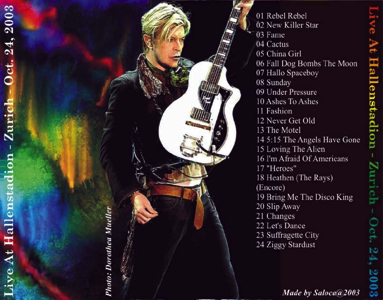 David Bowie – Konzert im Hallenstadion Zürich (ausverkauft 12'000 Besucher)
Vorprogramm: The Dandy Warhols
Schon seit mehreren Wochen, ja sogar Monaten, war die Show von David Bowie im Zürcher Hallenstadion ausverkauft. Ist ja auch kein Wunder, den Bowie hatte dem Zürcher Publikum letzmals am 14. Februar 1996 die Ehre gegeben. Ich war damals auch mit von der Partie. Doch damals hatte mir der Auftritt von Bowie nicht gross Spass bereitet. Er spielte damals höchstens 2-3 alte Klassiker und ansonsten nur neue, weniger bekannte Stücke. Die Schlagzeilen zum Konzert in der Presse waren damals:
Der Star sang laut, Fans blieben ruhig
Gedämpfte Stimmung. Die Fans werden nicht warm, fordern trotzdem Zugaben. Die Pop-Legende bringt zwei Songs. Verschwindet in der Garderobe.
(Blick)
Des arrivierten Sängers Fluch
David Bowie enttäuschte seine alten Fans
(Tages Anzeiger)
Auch die Aargauer Zeitung hatte im Konzertbericht keine lobende Worte für Bowie's Auftritt übrig.
"Lieder, die aus der Kälte kamen", lautete die Überschrift
(Aargauer Zeitung)
Vorgruppe war damals übrigens Morrissey, welche auch nicht unbedingt überzeugten.
Aber gehen wir nun zurück zum heutigen Bowie-Abend.
Schon frühmorgens freute ich mich wie ein kleines Kind auf den Abend im Hallenstadion. Bowie, welcher mitten auf seiner Europatournee weilt, hat schon für ettliche Schlagzeilen gesorgt, das die Fans sich auf alte Klassiker freuen können. Mal schauen, ob er auch in Zürich die Stange hält.
Leider wurde der heute Konzertabend von einem tragischen Zugunfall beim Bahnhof Oerlikon überschattet. 2 Schnellzüge sind aufeinander geprallt und das Chaos war perfekt. 1 Tote Person und 45 Verletzte (davon 8 schwer) waren zu beklagen. Die Folge war ein Grossaufgebot an Rettungskräfte und somit war auch ein absolutes Verkehrschaos rund um das Hallenstadion nicht zu verhindern. Der Verkehr kam total zum Erliegen, sodass nichts anderes übrig blieb, als das Auto irgendwo in Seebach hinzustellen und den Restweg ins Hallenstadion zu Fuss anzutreten.
Der Weg führte zwangsläufig an der Unfallstelle vorbei, wobei sofort klar wurde, das hier Verkehrsmässig gar nichts mehr gehen kann. Zwischen 20-25 Ambulanzfahrzeuge, 20 Feuerwehren und zahlreiche Polizeiwagen belagerten den Platz rund um die Unfallstelle. Dazu landete der Rettungsheli der Rega mehrmals auf der grossen Kreuzung. Auch alle öffentlichen Verkehrsmittel kamen zum Erliegen. Es ging einfach nichts mehr.
In der Regel benötige ich für die Anreise ins Hallenstadion höchstens 20-30 Minuten. Heute dauerte die Aktion gute 1,5 Stunden!
Bereits um 19.30 Uhr hatte die Vorgruppe The Dandy Warhols gestartet. Auf Grund des Unfalls bin ich erst um 19.45 Uhr in der Halle eingetroffen. Aber ich war nicht der einzige welcher zu spät kam. Die Halle war zu dieser Zeit erst um die Hälfte gefüllt. Eigentlich Schade, dass die Good News nicht reagiert hat und den Beginn um 30 Minuten verschoben hatte. Denn auch die Vorgruppe hatte viele Fans angezogen.
Der Auftritt der Dandy Warhols war irgendwie speziell. Die Jungs standen da auf der Bühne trällerten Ihre Songs herunter. Irgendwie total kalt; es kam keine richtige Stimmung auf. Oder warteten alle schlicht nur auf Bowie?
Aber dennoch waren alle Lieder in einer guten Qualität rübergekommen.
Zum Glück haben die Dandy's die Klassiker erst gegen den Schluss ihres Auftritts zum Besten gegeben, sodass ich trotz meiner Verspätung auf meine Kosten gekommen bin. "Godless" ist einfach ein toller Song, welcher natürlich nicht fehlen durfte. Selbstverständlich spielten die Jungs auch ihren Durchbruch-Song "Bohemian Like You". Eine spezielle Version erfreute die Ohren der Fans. Der Song wurde ja durch die vodafone-Werbung bekannt. Auch "Shakin' " durfte natürlich nicht fehlen.
"Big Indian" hätte ich auch noch gerne gehört, aber eventuell war der Song ja bereits schon gespielt, als ich noch in der Kälte stand.
Obwohl die Band aus Amerika (Portland, Oregon) kommt, klingt sie sehr britisch, da sie die typischen Sounds und Melodien des BritPop in ihre Songs miteinfliessen lässt.
Die Band wurde übrigens 1992 gegründet und hat bis heute 3 CD's herausgebracht.
1995 – Dandy's rule ok?
1997 – Dandy Warhols come down
2000 – Thirteen tales from Urban Bohemia.
Ich gebe der Vorgruppe die Note 7 (Bestnote 10) in Sachen Sound. Über die Bühnenshow müssen wir gar keine Noten verteilen, denn da war schlicht nur ein Vorhang mit ein paar Farben und die Bandmitglieder standen wie angeklebt auf der Stage. Ach ja, der Auftritt dauerte übrigens bis 20.10 Uhr.
So nun war ein kleiner Imbiss, sowie ein kühles Bierchen angesagt, um die halbstündige Pause zu verkürzen.
Um 20.50 Uhr löschten die Lichter im Hallenstadion und die Show konnte beginnen. Unterdessen haben sich auch die letzten Fans in der Halle eingefunden. Am nächsten Tag wurde jedoch im Radio erwähnt, das die allerletzten Fans infolge des Unfalls erst gegen 22.00 Uhr eingetroffen waren.
"Rebel Rebel" war der Opening Song und der haute schon gewaltig rein. Begleitet wurde der Song mit einem Comics-Clip, welcher Bowie und seine Band während einem Konzertauftritt zeigte. Die Grossleinwand ziirte die ganze Rückwand der Bühne. Zusätzlich waren weitere Monitore am oberen Konzertrand angebracht. Es konnte sich also niemand beklagen, er oder sie hätte nichts gesehen.
Der gebürtige Engländer (am 8.1.1947 in London geboren) war heute auch sehr gut drauf und grinste und gröllte regelmässig via Mikrofon den Fans zu. Ja sogar lange Gespräche führte er mit der Fangemeinde. Wie schön es doch in der Schweiz sei und sein Deutsch sei sehr sehr schlecht. Dennoch faselte er ein paar Brocken auf Deutsch.
Schon bald kamen auch alte Hits wie "Under Pressure" (welcher er ja damals mit Freddie Mercury in der Schweiz eingesungen hat), "Fame", "Ashes to Ashes", usw. Echtes Balsam für die Ohren.
Dazwischen hat er auch einige neue Songs zum Besten gegeben. Ich habe die Songs sicher schon im Radio gehört, kann aber die Titel nicht erkennen. Ich kenne vorwiegend die alten Songs und die kommen heute nicht zu kurz. Es folgten dann "China Girl", "Let's Dance", "Sound and Vision", "Heroes" (bekannt vom Film Wir Kinder vom Bahnhof Zoo, Christiane F.),
Als er seine Zugaben beginnt, fragt er das Publikum "Do you have time?" "We've got time!" und alle waren happy und genossen die weiteren Klassiker. Dazwischen experimentierte er mit einer kleinen funky-jazzie Jam-Session, welche ziemlich schräg aber dennoch interessant rüber kam.
Der heutige Konzertabend war im Vergleich zum Gig im 1996 überhaupt kein Vergleich. Ich habe mir damals geschworen, ich werde nie mehr ein Bowie-Konzert besuchen und siehe da, 2003 sah alles wieder ganz anders aus. Aber ich habe die Entscheidung am Konzert beizuwohnen absolut nicht bereut. Schöne alte Songs, welcher an die früheren Zeiten erinnerten. Zum krönenden Abschluss sang David noch "Suffragette City" und "Ziggy Stardust", welche nun auch den letzten Fan aus dem Stuhl riss.
Um 22.50 Uhr war die Session dann vorbei und Bowie zündete nach guten 2 Stunden die Beleuchtung in der Halle an und schickte die Fangemeinde wieder zufrieden nach Hause. Bowie bekommt von mir die Note 9 für den Sound und für die Bühnenshow gibt's eine 6. Es war ein erfüllter Konzertabend, obwohl einige Songs fehlten. "Space Oddity" (Major Tom), "This is not America" und "Blue Jean" fehlten im Repertoire einfach noch.
David Bowie kommt so alle 7 Jahre für ein Konzert in die Schweiz. Dann warten wir mal ab, wie er die Hits im 2010 im Hallenstadion zum Besten gibt.
Und nun ab durch die kalte Nacht zu meinem Auto, das irgendwo auf einem Firmenparkplatz in Seebach steht.
weitere Informationen zu David Bowie unter www.davidbowie.com
weitere Informationen zu The Dandy Warhols unter www.dandywarhols.com und www.dandywarhols.de
Anmerkung: Anscheinend hat mein Konzertbericht auch über die Landesgrenze hinaus gefallen gefunden! Auf der David Bowie Fanpage von weinschenk.de gibt's diesen und auch andere zu lesen.



David Bowie Tour band 2003-2004 A Reality Tour
A Reality Tour was a worldwide concert tour by David Bowie in support of the Reality album. The tour commenced on 7 October 2003 at the Forum Copenhagen, Denmark, continuing through Europe, North America, Asia, including a return to New Zealand and Australia for the first time since the 1987 Glass Spider Tour. Bowie retired from performing live in 2006, making this tour his last.
The tour grossed US$46 million, making it the ninth-highest-grossing tour of 2004.
The Tour band
• David Bowie – vocals and acoustic guitar
• Earl Slick – lead guitar
• Gerry Leonard – guitar, backing vocals
• Gail Ann Dorsey – bass guitar, vocals
• Sterling Campbell – drums, percussion
• Mike Garson – keyboards, piano
• Catherine Russell – backing keyboards/backing vocals
Start date 11 June 2002
End date 23 October 2002



(Visited 1,219 times, 1 visits today)