David Bowie 2004-05-29 Atlantic City ,Borgata Hotel Casino and Spa – Borgata 2004-05-29 –
Sound Quality Rating
101. Intro.flac
102. Rebel Rebel.flac
103. Cactus.flac
104. Sister Midnight.flac
105. New Killer Star.flac
106. Looking For Water.flac
107. All The Young Dudes.flac
108. China Girl.flac
109. The Loneliest Guy.flac
110. The Man Who Sold The World.flac
111. Battle For Britain.flac
112. Pablo Picasso.flac
113. Heathen (The Rays).flac
114. Hallo Spaceboy.flac
115. Band introduction -.flac
116. Under Pressure.flac
117. Reality.flac
201. Station To Station.flac
202. The Bewlay Brothers.flac
203. Ashes To Ashes.flac
204. Hang On To Yourself.flac
205. Quicksand.flac
206. Modern Love.flac
207. I'm Afraid Of Americans.flac
208. "Heroes".flac
209. Diamond Dogs.flac
210. Queen Bitch.flac
211. Suffragette City.flac
212. Ziggy Stardust.flac
Label : No label
Audio Source : Audience recording
Lineage : Unknown
Taping Gear : Unknown
Taper: Unknown
Recording Location: Unknown
Total running time : 2:22:02
Sound Quality : Very good. Equals record or radio/TV apart from a slight noise and some dullness
Attendance : Unknown
Artwork : By JTB Artwork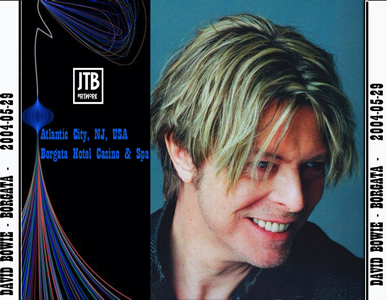 Amazing gig from Bowie's last tour was packed with rarities like "Station to Station" and "Diamond Dogs"
BY ANDY GREENE December 4, 2015 – RollingStone
When David Bowie launched his Reality Tour in the fall of 2003 it didn't get a ton of attention. After all, he'd been on the road pretty steadily over the last three decades and his recent albums, despite being absolutely incredible, didn't generate much commercial heat. The long tour began by hitting arenas in Europe, but when it came to America it alternated between theaters and smaller arenas. He simply wasn't the draw he was in the 1970s and 1980s, even though he was putting on some of the best shows of his entire career.
Backed by a killer band that included Earl Slick, Spiders From Mars keyboardist Mike Garson and bassist/backing vocalist Gail Ann Dorsey, Bowie played stunning shows that drew equally from all eras of his career. Big hits like "Rebel Rebel," "Heroes" and "Ziggy Stardust" were in regular rotation, but they also dug deep for tunes like "Win," "Always Crashing in the Same Car," 'Fantastic Voyage" and "Loving the Alien." New songs were introduced all the time, and Bowie seemed to have a great time. It all came to a crashing halt after Bowie underwent emergency heart surgery for a blocked artery following a show at the Hurricane Festival in Germany on June 25th, 2004. That was well over 11 years ago, and he hasn't played a show since.
Less than a month before the tour came to a premature end, Bowie played a two-night stand at the Borgata Event Center in Atlantic City, New Jersey. The first show was packed with rarities, and one fan walked away with a remarkably clean audience tape that founds its way to YouTube (click to listen to the show). Here are the highlights:
#14:22 – "New Killer Star." After spending much of the 1990s struggling to recapture the magic of his early years, Bowie came roaring in the early 2000's when he finally reunited with producer Tony Visconti. In a span of under a year and a half, they created Heathen and Reality. The latter album failed to climb higher than Number 29 on the Billboard 200, but it has aged remarkably well. Lead-off track "New Killer Star" focuses on life in New York after 9/11 and the "great white scar over Battery Park." Bowie lived a short walk from the Twin Towers and this was immensely personal. The song is even more powerful in a live setting.
#55.25 – "Hallo Spaceboy." The 1990s may have been Bowie's single weakest decade as a recording artist, but he still produced a ton of great songs during those 10 years. One of the best is "Hallo Spaceboy," which was produced by Brian Eno. The influence of Nine Inch Nails is quite obvious and he played it every night when they toured together. An entire great album could be assembled of Bowie's space songs, and this would easily stand up next to "Ashes to Ashes," "Starman" and "Space Oddity." When he screams "This chaos is killing me" he sounds like he means it.
#1:14:05 – "Station to Station." It became clear that nearly any song was fair game on the Reality Tour in May of 2004 when the 10-minute title track to Station to Station first emerged. "This is from back in the 1970s," Bowie tells the crowd at the Borgata. "Well, my 1970s. Maybe not your 1970s." As the song suggest, his 1970s involved doing insane amounts of cocaine and creating fantastically bizarre songs like this in the dead of the night. Station to Station guitarist Earl Sick was on this tour, so it only made sense they'd drag it out at some point. Topping the live renditions from the 1976 Station to Station tour is pretty tough, but this one comes close.
#1:23:15 – "The Bewlay Brothers." "Have we done this one?" Bowie asks his band. "Have we done this onstage? Once? We've only do this once. It's so old that it's older than I am, and I wrote it. I can't remember so I'm going to read this one. With a bit of luck, this could be the 'The Bewlay Brothers.'" The Hunky Dory song never surfaced again on the tour, meaning he'll almost certainly never play it again. This one is about as rare as it gets.
#2:04:50 – "Diamond Dogs." This is the very first time [we're doing this song], so I'm still in the reading stage," Bowie said near the end of the show. "I can't even remember the last time." (It was 1996.) Bowie was clearly in a bold mood this night since he decided to also resurrect the title track to Diamond Dogs. Bowie might have had to read the lyrics, but the band had obviously been rehearsing since they absolutely nail it.
#2:17:30 – "Ziggy Stardust." He didn't have to read the lyrics to this one. "Ziggy Stardust" had been his go-to closer for years at this point, and it's clear why. What other song could wrap up the whole evening this perfectly? And even after well over two hours of continuous singing, he was still hitting the high notes on "Ziggy plaaaaaayed guitaaaaaar." In the extremely good chance he never tours again, this tour was an amazing way to say goodbye.
David Bowie Tour band 2003-2004 A Reality Tour
A Reality Tour was a worldwide concert tour by David Bowie in support of the Reality album. The tour commenced on 7 October 2003 at the Forum Copenhagen, Denmark, continuing through Europe, North America, Asia, including a return to New Zealand and Australia for the first time since the 1987 Glass Spider Tour. Bowie retired from performing live in 2006, making this tour his last.
The tour grossed US$46 million, making it the ninth-highest-grossing tour of 2004.
The Tour band
• David Bowie – vocals and acoustic guitar
• Earl Slick – lead guitar
• Gerry Leonard – guitar, backing vocals
• Gail Ann Dorsey – bass guitar, vocals
• Sterling Campbell – drums, percussion
• Mike Garson – keyboards, piano
• Catherine Russell – backing keyboards/backing vocals
Start date 11 June 2002
End date 23 October 2002



(Visited 565 times, 1 visits today)