David Bowie 2003-11-03 Berlin ,Max Schmeling Halle – Fucking Amazing –
Sound Quality Rating
101. Intro.flac
102. Rebel Rebel.flac
103. New Killer Star.flac
104. Reality.flac
105. Fame.flac
106. Cactus.flac
107. Afraid.flac
108. China Girl.flac
109. The Man Who Sold The World.flac
110. Fall Dog Bombs The Moon.flac
111. Hallo Spaceboy.flac
112. Sunday.flac
113. Under Pressure.flac
114. Ashes To Ashes.flac
115. The Motel.flac
116. Loving The Alien.flac
201. She'll Drive The Big Car.flac
202. The Loneliest Guy.flac
203. All The Young Dudes.flac
204. Changes.flac
205. Slip Away.flac
206. Battle For Britain (The Letter).flac
207. I'm Afraid Of Americans.flac
208. "Heroes".flac
209. Heathen (The Rays).flac
210. A New Career In A New Town.flac
211. Bring Me The Disco King.flac
212. Sound And Vision.flac
213. Fantastic Voyage.flac
301. Five Years *.flac
302. Hang On To Yourself.flac
303. Suffragette City.flac
304. Ziggy Stardust.flac
Label : No label
Audio Source : Audience recording
Lineage : Off Master >
Taping Gear : OKM IIr mic. > A3 > SONY D 100 MDAT recorder
Taper: Vortex242
Recording Location: Unknown
Total running time : 2:49:38
Sound Quality : Good. Equals record or radio/TV apart from a slight noise and some dullness.
Attendance : 20.000
Artwork : Yes
* Denotes: first time performed on tour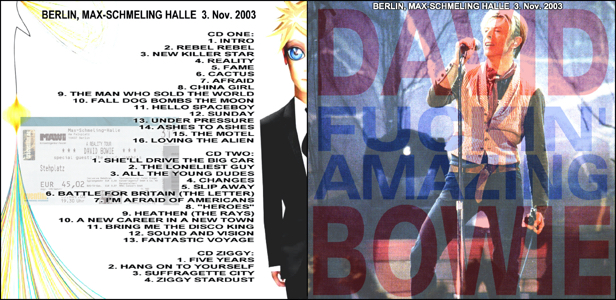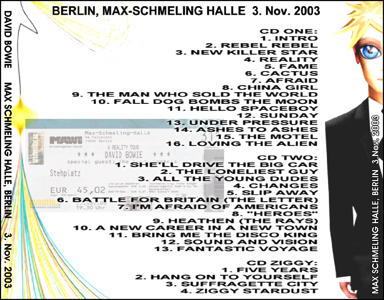 Sorry, below is in the german language > (Maybe there is someone who wants to translate this for me into English :-). )
20.000 Fans auf den Rängen der Max Schmeling Halle. Von 14 bis 60 Jahren waren alle Altersgruppen vertreten. Das letzte Deutschlandkonzert für dieses Jahr. Man wartete geduldig auf den Meister. Die Stimmung war gelassen. Auch die Dandy Warhols, die uns eine Stunde mit ihren nicht endenden Songs quälten, konnten uns nichts anhaben.
Nach einer weiteren halben Stunde des Wartens, war es endlich so weit. Da kam, sah und siegte er, der Thin White Duke, Ziggy Stardust oder war es doch einfach nur David Bowie pur. Heroisch stand er da, mit einem breiten Lächeln im Gesicht. Rebel Rebel war der erste Song dieses Abends. Danach folgten 3 Stunden Entertainment pur. Der fast auf die 60 zugehende David Bowie, tobte auf der Bühne hin und her, wie ein junger Gott. Hach, ich hoffe ich bin später auch so rüstig. Der Meister sprach bzw. dirigierte das Publikum, mit einer Perfektion, die ich so noch nie gesehen habe. Damit sich das Publikum von dem nicht aufhörenden Musikmarathon erholen konnte, erzählte Bowie zwischendurch kleine Anekdoten. Gespielt wurde das komplette Reality Album, sowie fast alle Songs seines Greatest Hits Albums. New killer star, the loneliest guy, I´m afraid of americans, Hallo spaceboy… Aber dem nicht genug. Er coverte auch Songs von Nirvana, den Pixies und Queen. Abgerundet wurde das Ganze, durch eine riesige Videowall. Die, die Songs mit wunderschönen, lustigen und auch melancholischen Bildern begleitete. Üblicherweise sagt man, die Band hört sich auf dem Album besser an. An diesem Abend übertraf sich die Band selbst. Besser hätte man diese Lifeperformance auf ein Studioalbum nicht pressen können. David Bowie spielte unablässig. Man sah ihm an, dass er sehr, sehr viel Spass auf der Bühne hatte. Das Publikum, musste nicht einmal Zugabe rufen, damit es weiter ging. Wer dieses Spektakel nicht gesehen hat, der hat ein Stück Musikgeschichte verpasst. Es tat so gut einen Künstler auf der Bühne zu sehen, der noch all seine Instrumente selber spielen kann und kein Retortenkind von "Deutschland sucht den Superstar ist." Bowie ist für mich einer der letzten musikalischen Lichtgestalten. Danke David Bowie, für diesen unvergesslichen Abend. Und Junge komm bald wieder!



David Bowie Tour band 2003-2004 A Reality Tour
A Reality Tour was a worldwide concert tour by David Bowie in support of the Reality album. The tour commenced on 7 October 2003 at the Forum Copenhagen, Denmark, continuing through Europe, North America, Asia, including a return to New Zealand and Australia for the first time since the 1987 Glass Spider Tour. Bowie retired from performing live in 2006, making this tour his last.
The tour grossed US$46 million, making it the ninth-highest-grossing tour of 2004.
The Tour band
• David Bowie – vocals and acoustic guitar
• Earl Slick – lead guitar
• Gerry Leonard – guitar, backing vocals
• Gail Ann Dorsey – bass guitar, vocals
• Sterling Campbell – drums, percussion
• Mike Garson – keyboards, piano
• Catherine Russell – backing keyboards/backing vocals
Start date 11 June 2002
End date 23 October 2002



(Visited 475 times, 1 visits today)