David Bowie 2004-04-07 Winnipeg ,Arena – All The Crackles In Action –
Sound Quality Rating
101. Rebel Rebel.flac
102. Modern Love.flac
103. New Killer Star.flac
104. Fame.flac
106. All The Young Dudes.flac
107. China Girl.flac
108. Hang On To Yourself.flac
110. The Loneliest Guy.flac
111. The Man Who Sold The World.flac
112. Afraid.flac
201. Hallo Spaceboy.flac
202. Sunday.flac
203. Heathen (The Rays).flac
204. Under Pressure.flac
205. Days.flac
206. Looking For Water.flac
207. Ashes To Ashes.flac
208. Quicksand.flac
210. I'm Afraid Of Americans.flac
211. "Heroes".flac
212. Five Years.flac
213. Suffragette City.flac
214. Ziggy Stardust.flac
Label : No label
Audio Source : Audience recording
Lineage : Minidisc
Taping Gear : Unknown
Taper: Unknown
Recording Location: Unknown
Total running time : 2:02:30
Sound Quality : Good. Equals record or radio/TV apart from a slight noise and some dullness.
Attendance : Unknown
Artwork : By Saloca 2004
Remake: Zannalee1967
He was clearly in a good mood, smiling, telling stories and joking with the audience of 8,000 throughout the night. "Good evening Toronto," he deadpanned after the first song to a chorus of boos. "Sorry Winnipeg, you crazy motherf—ers. It's great to be back. It's been a long time."
While songs like New Killer Star and Never Get Old might not be as well-known as Fame, Modern Love or The Man Who Sold The World, they mixed seamlessly into the set and proved Bowie can still write a good tune and stay somewhat relevant in today's musical landscape. The new material was warmly received by the crowd, which spanned from teenagers to people who were teenagers when Bowie was making musical history with every album.
You can read the whole thing here.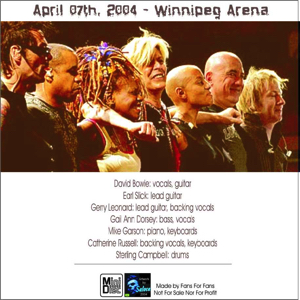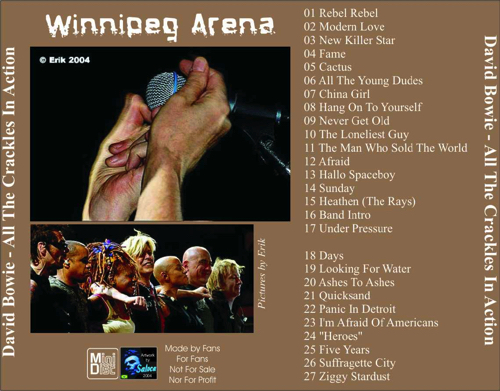 David Bowie Tour band 2003-2004 A Reality Tour
A Reality Tour was a worldwide concert tour by David Bowie in support of the Reality album. The tour commenced on 7 October 2003 at the Forum Copenhagen, Denmark, continuing through Europe, North America, Asia, including a return to New Zealand and Australia for the first time since the 1987 Glass Spider Tour. Bowie retired from performing live in 2006, making this tour his last.
The tour grossed US$46 million, making it the ninth-highest-grossing tour of 2004.
The Tour band
• David Bowie – vocals and acoustic guitar
• Earl Slick – lead guitar
• Gerry Leonard – guitar, backing vocals
• Gail Ann Dorsey – bass guitar, vocals
• Sterling Campbell – drums, percussion
• Mike Garson – keyboards, piano
• Catherine Russell – backing keyboards/backing vocals
Start date 11 June 2002
End date 23 October 2002



(Visited 416 times, 1 visits today)